While our Twin Cities Habitat for Humanity team handles all the face-to-face work with Homeownership Program clients, we have a key partner working hard behind the scenes: Sunrise Banks. Since 2016, the underwriting team at Sunrise has partnered with Twin Cities Habitat to review homebuyer mortgage documentation and ensure Habitat is complying with lending industry regulations.
It might sound boring, but it's super important. Here's why: Sunrise is a third-party partner confirming Habitat has done our job in preparing clients for a mortgage.
"Our partnership with Sunrise gives Habitat supporters confidence that your gifts will reach families who are truly ready for a mortgage," said Chris Coleman, President & CEO, Twin Cities Habitat for Humanity.
"Twin Cities Habitat for Humanity believes in making homeownership a reality for everyone – and that's something we wholeheartedly agree with," said David Reiling, CEO of Sunrise Banks. "Sunrise Banks is a proud partner of Habitat for Humanity and we admire the work Habitat does every day to make the Twin Cities a better, more equitable place for everyone."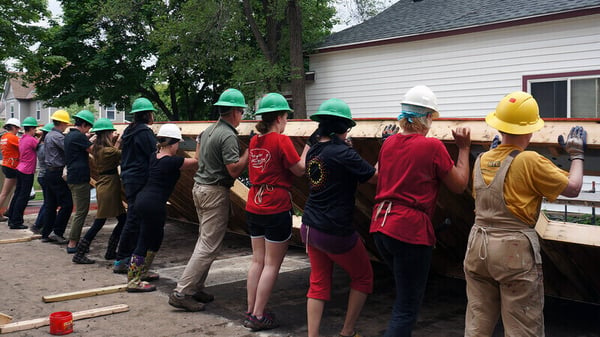 Sunrise volunteers raising the first wall on the Habitat home the bank sponsored in 2016.
How does the partnership work?
Homebuyers work diligently with Habitat staff to get financially and mentally ready to buy a house. Clients work on debt, savings, and credit with Habitat homeownership advisors. They attend education classes to learn about the responsibilities of homeownership. Then, when Habitat staff believe homebuyers are financially ready for a mortgage, homebuyers apply for a mortgage through our lending subsidiary, TCHFH Lending, Inc.
At that point, Sunrise takes all the necessary steps to confirm clients are, in fact, ready for a mortgage. Sunrise affirms Habitat's belief that each client is mortgage ready.
Sunrise's underwriting team reviews all mortgage documents and verifies homebuyer income, assets, credit history, and employment.
"The Sunrise and Habitat teams are working together daily to process mortgage paperwork and ensure Habitat is adhering to important mortgage industry regulations," says Betsy Mills, Director of Lending at TCHFH Lending, Inc. "Sunrise's diligent review of client documentation gives us all peace of mind."
Why does Sunrise partner with Habitat?
The partnership between Habitat and Sunrise is mutually beneficial. Habitat gets great underwriting service from highly training professionals in the field at a discounted rate, and Sunrise advances its mission of community development.
"Sunrise balances profit and purpose to empower financial wellness," David added. "We partner with like-minded organizations that are trying to effect positive impact in their communities – Habitat is one of those organizations."
Sunrise has played a key role in helping Habitat to double our homeownership program capacity. In the last few years, we've grown from originating about 50 mortgages per year to more than 100 last year.
In addition to partnering with Habitat to originate mortgages, Sunrise has also been involved as a corporate sponsor since 2010. The bank has been part of the Entrepreneurs House for many years, collaborating with other mid-sized companies to sponsor a Habitat house and rally volunteers.
In 2016, Sunrise stepped up to sponsor an entire Habitat house on its own, raising more than $125,000 and engaging 750 volunteers.
"For nearly a decade, Sunrise has been a steadfast supporter of our work, impacting countless lives," Chris added. "Sunrise sets a high bar for how small and medium companies can give back to the local community."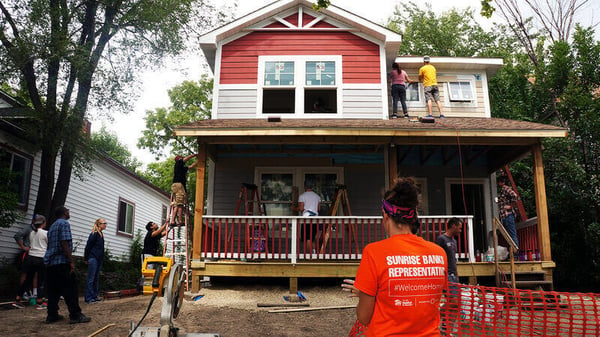 When asked what else Habitat supporters and community members should know about Sunrise and Habitat's work, David shared:
"We'd like to remind people that there's strength in numbers. And this partnership is a prime example of the amount of change you can create when you collaborate with like-minded organizations.

Look for organizations you could team up with to do great things. Be an active member of your community and never stop meeting new people. There's no limit to what we can do when we work together."
We're so grateful to Sunrise and to all our partners in the community. I agree with David—when we work together, we can accomplish great things.