Contributed by Sharon Pfeiffer
Costa Rica Global Village Team Member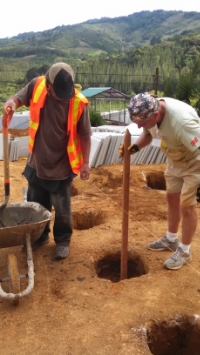 Word was that we were going to dig 32 holes at 30 centimeters deep. Ok, morning group cheer: "30 32 Yea!" Everyone find a team mate and find a pre-marked square and start digging.
It was a glorious morning... the sun was bright, the birds were singing, the breeze whispered through majestic tall pines -yep, they were towering over the coffee fields right behind us. In the foreground you could hear the thumping of the picks breaking up the clay followed by the scooping sound of shovels and post holediggers. We had a fabulous mix of music playing over the blue tooth speaker and lots of enthusiastic chatter. Suddenly we all grew silent as a team invited the foreman to measure the depth of their hole. "You're half way there, it needs to be 60 centimeters" (that's about 27 inches). What?!? So much for the 30 32 cheer, it should have been 60 32... oh well, we're a resilient group... no big deal, reset expectations and continue.
First hole complete, yea! Then the second and third... we were on a roll, and we had well better than half the project done by lunch. What a team! Lunch was sensational, complete with a white tablecloth- whaattt? Yep, really. They even allowed us a brief siesta before going back to work. I'm pretty sure this was a strategy move to ensure we'd give it our all and wrap up the digging before the end of the day, and it worked. All the holes were completed and the foreman was setting some footings so we'll be ready to jump right in tomorrow.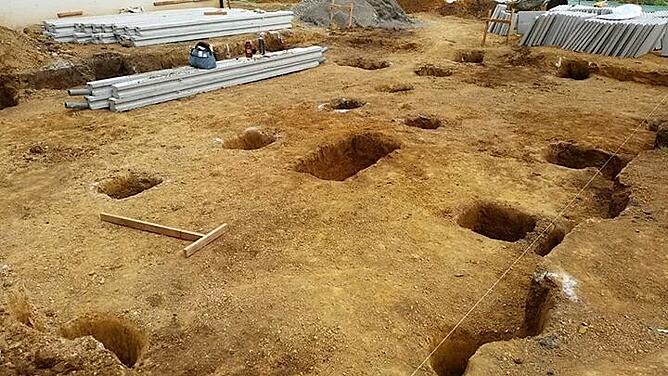 Marcella's mother stopped by this afternoon to see the progress on her daughters new home. What a privilege to see her, and what a gift to be a part of a new beginning for Marcella and her son. May they be blessed with a very bright future in their new home!