As the coordinator of the Jewish Community Relations Council (JCRC) regular crew for Twin Cities Habitat, Mike Frisch has worked on a lot of homes. He's always enjoyed doing home repairs, and volunteering with Habitat has given him a chance to put those skills to good use at new construction sites.
After retiring from a career as a computer programmer, Mike joined the JCRC regular crew in the spring of 2009, and took on the primary leadership role around 2012. The group was started in 2007 by the Bet Shalom Synagogue and St. Bartholomew's Catholic Faith Community, and began working under the Jewish Community Relations Council. The group welcomes all members of all faiths to volunteer with them.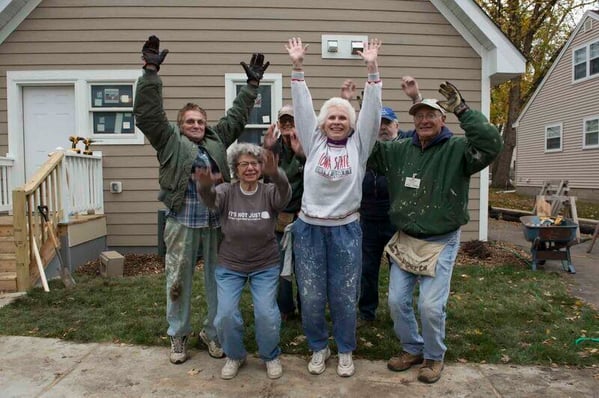 Mike (far right) with the JCRC regular crew in 2014.
The first home build that Mike worked on was in south Minneapolis, where he helped with laying down flooring on his first day. He recently got to work on a site near that first home, which offered a nice bit of nostalgia. Early on in his work with JCRC he also did some work at the panel plant, building walls that would later be raised while constructing the frame of the home.
JCRC has contributed to the construction of homes across the Twin Cities. From north to south Minneapolis, to St. Paul, to multiple suburbs like Bloomington and St. Louis Park, they've been all over. The crew meets on Fridays, and while it's mostly comprised of volunteers who come back week after week, single-day volunteers are also welcomed with open arms.
New home construction is not the only thing JCRC contributes to. They've also worked on a few repair projects for A Brush With Kindness, which Mike says is a challenge that requires different methods of thinking. You need to make things work with the existing structure of the home. One example he provided was that newer lumber is sometimes a different height or width from the lumber used to build the house, so if you're replacing or installing something, you sometimes need to be creative to find a solution.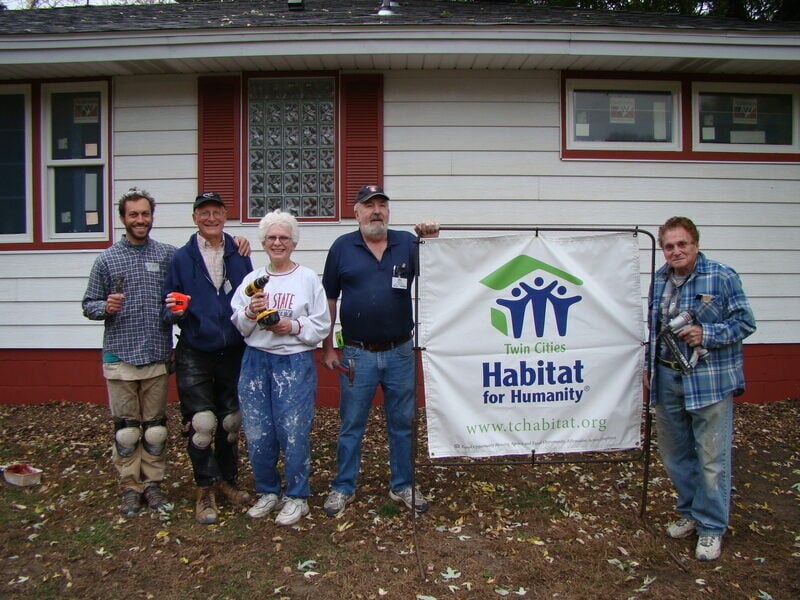 Mike (second from left) with the JCRC regular crew in 2014.
One of the best parts of JCRC, according to Mike, is working together on projects with other people. The mix of people with different levels of experience is also of great benefit to the crew, as skills can be taught to each other within the group and everyone's background brings something different to the table.
During COVID-19, the crew has kept in touch with periodic emails to check in on how people are doing, and to update each other on important events and upcoming changes. They're all looking forward to getting back out into the field when it's safe to do so.
Despite the pandemic significantly impacting volunteerism opportunities, before volunteering was shut down there was one upside that JCRC found. Due to the COVID-19 restrictions, they worked on one home from start to finish. Typically JCRC moves from house to house and doesn't have a chance to see their work through until the end, so that was a unique and memorable experience for them.
"I enjoy the feeling of accomplishment, of building something with others."
One of the reasons Mike keeps coming back is there's always an opportunity for everyone to learn something. He says he's learned a lot from his fellow crew members, and can't wait to get back out into the field once it's safe.
To stay connected with the latest news and to be the first to hear about future volunteer opportunities, make sure to sign up for our Volunteer Newsletter!