At Twin Cities Habitat, the idea of generational impact is extremely prevalent. For partnering families, the stability and safety of home will be passed from parent to child for years to come. But, the generational impact does not stop at families and can be witnessed out on site with our volunteers.
This summer, there were hundreds of volunteers that picked up their hammer and hard hat to build Habitat homes. These volunteers were friend groups, co-workers, regular crews, and for some, father and son.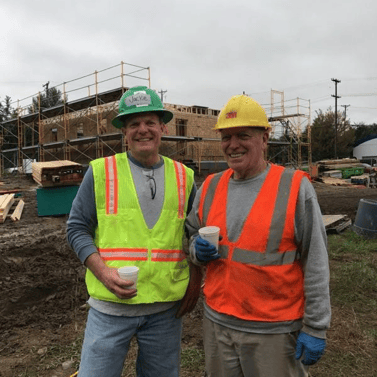 Bob is a retiree from 3M that joined the group of 90 volunteers called 3Mgives Regular Crew. The crew comes together two to three times a week to assist Habitat in completing homes. "In 2005, I read about a Habitat retirement group and decided to start working with them. I like to do carpenter work," said Bob. Bob's favorite part is being able to work outside and experience building with the comradery between the 3Mgives members.
The crew gained an extra volunteer on a build day this past September: Bob's son and current 3M employee, Steve. This wasn't the first time that Bob and Steve built something together. "My dad has been doing construction projects since I was a young child. He has always included us in those projects, giving us tasks that often felt like they were slightly beyond what I thought I was capable of, but he knew we were," said Steve.
Steve has volunteered with his dad on a Habitat site three times. "Being able to spend the day at a construction site with him not only makes new memories of working together, it brings back memories of projects we've done in the past," said Steve. With all the work came some laughs as well. When Steve arrived on site, he grabbed a hard hat that had the name Jackie on it. The name was from a previous volunteer who wore the same hat, but Steve didn't notice. Throughout the morning, Steve heard some people asking "Jackie" to do something not realizing it was written on his forehead. Bob didn't notice until a fellow volunteer said "Hey Bob, there is someone here that looks just like you and his name is Jackie!"
With his son on site, Bob knew the work day would have great outcomes, "We put down some flooring and we worked together so well. It was excellent." Bob hopes that they can continue to volunteer together once a year. Bob and Steve are a great example of how the generational impact at Twin Cities Habitat extends beyond the families we serve. We hope that their story can inspire others to get involved and volunteer.