Consumers will demand homes that are efficient, built to last, and attractive—three qualities that are already true of Twin Cities Habitat homes.
Each new home built by Twin Cities Habitat volunteers, staff, homebuyer families, and licensed subcontractors is designed to last 200 years—ten families (or more) could call it home before it succumbs to some futuristic demolition machine around the year 2217. All Twin Cities Habitat homes are built to meet LEED certification standards and keep energy costs low for families. And, with 50+ house designs, Twin Cities Habitat has a home to match almost any taste.

Sue Haigh, President and CEO of Twin Cities Habitat, explained why we go to such lengths at a breakfast put on by Fresh Energy, a 25-year-old nonprofit focused on improving building and energy policies. The breakfast's theme was how Minnesota can use high performance buildings to create healthy and great communities. About 100 eco-friendly leaders in construction, planning, and policy were in attendance.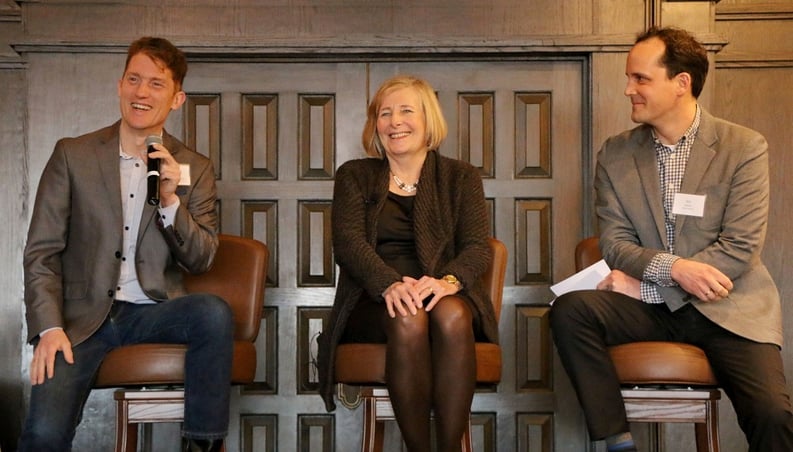 "We look at it a little different than for-profit builders because we are the builder, the bank, and the bridge for our families when it comes to homeownership," Sue told the audience. "We build homes that will have lower energy costs because our homebuyers need to be able to afford their mortgages long-term."
A perfect example of our "green" building practices are the 95% efficient furnaces that go into Habitat homes. The upfront cost can be a few thousand dollars more, but the savings to the family over 15 to 20 years in lower heating bills more than make up for it. Plus, CenterPoint Energy offers efficiency rebates that cover part of the extra upfront costs.
Jacob Corvidae, who works on sustainable communities at the Rocky Mountain Institute in Colorado, also spoke at the Fresh Energy breakfast. He says he expects to see rapid change in how homes are built and marketed in terms of energy use in the years ahead.
"Consumers want it. They're not seeing it," says Jacob. "More and more there is visible value in energy-efficient homes . . . Minnesota is doing tremendous leadership on this. You're just doing it very quietly and very humbly."
Fresh Energy, and Twin Cities Habitat along with it, is at the forefront of that work. When Fresh Energy was advocating that every new home in Minnesota be put through a blower door test to determine its airtightness, it pointed to the fact that Twin Cities Habitat was already doing these tests on its homes as evidence that for-profit builders could, too. Blower door tests were added as requirements to Minnesota's building code in 2015.
St. Paul Mayor Chris Coleman opened the Fresh Energy breakfast by saying he thinks government at the city and state level will have to lead the way in demanding more efficient and better quality construction in the years ahead.
Twin Cities Habitat is working on it. We are already the #1 builder of Energy Star rated homes in Minnesota. And currently we're testing two new wall designs created in partnership with researchers at the University of Minnesota. One design has three inches of rigid insulation, the other has four inches. We're analyzing how easy the wall designs are to work with and how well they hold up against moisture. This testing is part of the Department of Energy's Building America initiative, which aims to bring new products to market and spread best practices across the construction industry.
These efforts, and many more, are designed to deliver a Habitat home that our buyers, our volunteers, and our entire community can be proud of today and for centuries, literally, to come.