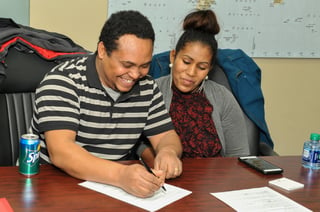 Making an offer on a house is exhilarating for any homebuyer, but it's especially thrilling for those who haven't done it before. However, along with the excitement can come uncertainty if you're unfamiliar with the process.
To make an educated and appropriate offer, ask the following questions.
What is the market value of the house?
You want to pay a fair price for a house, but you don't want to overpay. Avoid this risk by looking at the sale prices of similar houses in the neighborhood that sold in the past six months to a year.
In the video below, Adade Amenounve, Homeowner Development Coordinator with the Homeownership Program tells us that your realtor will look at "comps," or comparables, to make sure that you're getting the best deal:
How long has the house been on the market?
There is often a reason why a house sits on the market for a long time (say, for six months or more). It could be overpriced or has issues not included in the listing. An experienced real estate agent familiar with the neighborhood should be able to provide some answers.
Have there been other offers?
Typically, the seller will say if there have been other offers on the house. This is an attempt to create a sense of urgency and get two or more potential buyers to make higher offers. Real estate agents can be very helpful in these situations and it's wise to ask them to share their experiences.
"Your realtor will help you figure out if the house has other offers on it," says Adade. "With the market we're in now, it's common to be dealing with multiple offers."
Is the seller flexible on the asking price?
Identify the maximum amount you're willing to spend on a house. That way, if the seller counters your first offer, you're prepared and know how high you're willing to go. If the seller is standing firm on the price, he/she may be willing to make other arrangements. Again, real estate agents should be able to help.
What is the seller's timetable?
Knowing when a seller prefers to (or has to) close on the house can help you make a more attractive offer. This is beneficial for both you and the seller.
Does the neighborhood appeal to you?
The type of neighborhood you're looking for should affect the offer you make on a house. Is it located in a top school district? Are there nearby parks and trails? These can all increase property value.
Are any changes in store for the neighborhood?
A new school could increase housing prices. The arrival of a store could bring steady traffic and decrease property values. Ask a real estate agent or a city staff member about plans for the neighborhood. This will help you make an educated offer.
Is it a good location compared to the places you have to travel to often?
Is the home you're looking at close to work, your kid's school, the grocery store, your bank? Is it near your family and friends? The more convenient the location, the more you may be willing to spend to get the house.
What are the home's drawbacks?
No matter what a listing sheet says, most houses have a few drawbacks such as dated kitchen appliances, worn carpeting, or deteriorating windows. A home inspection will reveal the full extent of a house's condition. But an inspection doesn't occur until after your offer is accepted. So, add up the home's issues in order to get a fair price on a house.
Make sure you review home inspection deal breakers.
What is the age and condition of the home's major features?
The roof, windows, furnace, and central air conditioner (and septic system, if it has one) are the most expensive items in a house. They're also the most expensive to replace. Many sellers are willing to replace or grant credit for these items if they're nearing the end of their lifespan. Keep that in mind when determining your offer.
Ultimately, what you offer on a house is up to you. But answering these questions could help you make an offer the seller will gladly accept.
Alternatively, there are options through TCHFH Lending, Inc. where making offers isn't a part of the home buying process. For more information, click here to learn about buying a house through their homeownership program.