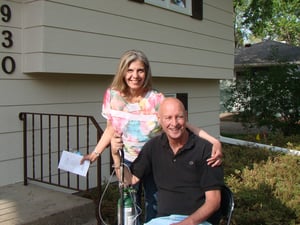 Having a good understanding of basic real estate concepts will help you feel confident in the choices you make when buying your first house.
You will likely make a down payment on the property, usually 20% of the value of the house, but could be as low as 3.5% with some mortgage products. The rest of the money for the house is likely to come from a mortgage loan.
Who your mortgage lender is and what kind of loan you take out matters. Here are seven common mistakes that can impact whether or not you get the best deal on your first home.
Taking the first loan you're approved for
Just like looking at houses, you should look at a lot of different loans.
Not all mortgage products are the same, and neither are the lenders. Shop around like you do for any large purchase. Request the total fees associated with the mortgage in writing so that you can easily comparison shop. Look at what each lender offers and ask what they can provide regarding:
Type of mortgage loan:
Current interest rate of each mortgage product
Total cost of each mortgage product (see below)
Credit score minimum for each mortgage product
Customer service after signing
15-year or 30-year loan?
Conventional, FHA or VA loan?
Not checking the total cost of the loan
There is more to a mortgage loan than the interest rate.
Look at the Annual Percentage Rate (APR), which will tell you the total cost of the loan including all closing costs, assorted fees, and points. Also understand if you will need to add in the cost of mortgage insurance, property taxes, and assessments to the monthly payment. This is called escrow and it's very common for mortgage lenders to require.
Making a small down payment
Many lenders require a down payment of 20% of the purchase value of the house in order to avoid paying mortgage insurance. Mortgage insurance is an insurance policy that the lender has in case you stop making payments on your loan. Many lenders will require you to pay mortgage insurance if your down payment is less than 20%. It will be important to understand how much the mortgage insurance will cost and compare that across the different lenders.
Not checking your credit report and fixing the problems
Your credit score is your financial reputation and determines what kind of home loan and what rate is available to you.
Make sure to look at your credit report before you begin this process to identify if there are any errors. It can take up to six months for changes to show up. It is recommended that you review your credit report on an annual basis to make sure that everything is accurate.
Neglecting to look into VA loans (if you are a veteran)
Veterans, active duty soldiers, and National Guard and reserve unit members are eligible for VA mortgage loans which have no down payment, low interest, and relaxed qualifications.
Not getting pre-approved for a loan
Pre-qualification is not the same as pre-approval.
Get pre-approved for a mortgage by providing proof (pay stubs, tax returns, credit report, etc.) that allows the lender to approve you for a specific mortgage value before you apply for a specific loan.
Not locking in the interest rate at application
Interest rates change according to fluctuations in the market that can occur a daily basis.
A mortgage rate lock guarantees a specific interest rate at the time of application. Without locking in the rate, you risk that the interest rate will rise before closing and the loan will now cost more.
Understanding your mortgage is one of the most important parts of every home buying journey. After all, the terms of your loan will impact how much you pay monthly until you sell (or possibly refinance) your home. By avoiding these common mortgage mistakes, you will make buying your first house an even better experience.