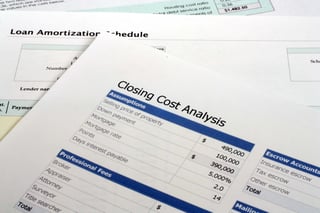 Even if you haven't paid them, chances are you've heard of "closing costs" associated with buying a home. But what are mortgage closing costs? What do they mean? And why do you have to pay for them?
In short, when you "close" on the purchase of a property, ownership of that property is legally transferred to you, the buyer. More often than not, paying to purchase the property requires borrowing money from a bank in the form of a mortgage. Mortgage closing costs are those expenses that are required in order for the bank to originate the mortgage. These costs can vary, but they often equal between two percent and five percent of the purchase price. This means, if you're buying a home for $100,000, your mortgage closing costs could range between $2,000 and $5,000.
Prior to your closing, you will receive a closing disclosure statement with specific fees listed. Here are some of the fees you will likely see and what they mean:
Appraisal Fee
This fee, often between $400 to $600, pays an independent appraiser (someone who determines how much the home is worth). The appraisal is designed to ensure that you pay a fair price for the house, and the lender extends a fair mortgage amount.
Home Warranty
Think of a home warranty as a form of insurance. It protects you in the event an expensive appliance in your new home — the air conditioning, furnace, water heater, etc. — fails within the first year. Often, sellers pay $300 to $500 for a warranty, but a buyer can choose to buy a home warranty if they didn't negotiate to have the seller pay for it. (It doesn't hurt to ask the real estate agent, either. Some agents offer a home warranty as a "thank you" gift.)
Points
Points, also known as origination fees, represent the fee from the bank for taking out a loan. Each point is worth one percent of the total loan amount. Some people prefer to pay points at closing and subtract them on their income taxes rather than add them to the cost of the home loan.
Property Insurance
There is no getting around insurance. Lenders require it in case your home is damaged by a storm, fire, or other causes. You will have to show proof of a property insurance policy at closing. The cost of property insurance varies depending on which insurance company you choose to buy the insurance from and the replacement value of your property.
Property Taxes
These are the taxes you will be required to pay to your county because you own property. The amount of your property taxes will be determined by the county you live in and based on the value of your property. Property taxes pay for things in your neighborhood including local schools, libraries, police departments and fire departments.
Recording Fee
A recording fee makes your home purchase official. When a property is purchased, the deed that is signed, which transfers ownership, needs to be recorded with the county so that the county can track who owns each property. Additionally, the mortgage is also recorded with the county to indicate that there is an obligation against that property. Typically, the seller will pay for the recording fees for the deed and the buyer will pay for the recording fees for the mortgage.
Survey
A survey is a legal drawing that shows your property lines, or where your property ends and the one next door begins. If you ever want to install a fence or patio on your property, you will need a survey before you can begin work.
Title Search and Title Insurance
A title search is conducted to make sure that no one else has a claim to the house you want to buy. Basically, it provides an "all clear" to proceed, eliminating the risk of a tax lien or previous, unpaid mortgage. As the new owner of the property you will have the option to purchase a title insurance policy, this will protect you against claims to your property for the duration of ownership. The cost of the title search and title insurance depend on which title company you choose to use.
It's important for potential home buyers to take as much time as they need to feel comfortable and informed about their first mortgage. If you choose to pursue a mortgage with TCHFH Lending, our team will walk you through the process and answer any questions you may have.