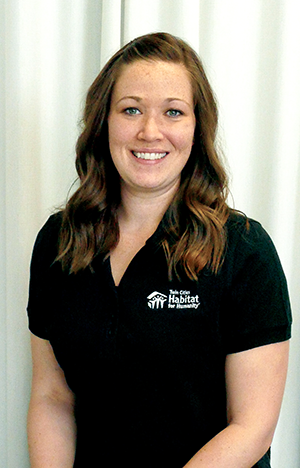 Betsy describes herself as being able to communicate better with numbers, so when it began time to find a career path, she chose Accounting. After completing her Accounting degree, she became a bank teller and moved into different roles such as personal banking, commercial loans, home equity loans, and lending. While this provided great work experience, she felt as if her job was creating more wealth for people who already had it. One day, she volunteered for Twin Cities Habitat for Humanity on a homebuilding project in Shakopee, Minnesota. That's when things changed.
Betsy learned about Twin Cities Habitat for Humanity's mission of affordable housing and thought her skills and experience could be put to good use. She kept her eye on open positions and noticed there was a newly created lending and mortgage portfolio manager position with Twin Cities Habitat. Bingo, she jumped at the opportunity and got the job! Finally, she could do what she does best while also having a sense of fulfillment that her previous jobs lacked. "Housing is the root for so many aspects of life. It really can be a turning point," Betsy says. "Working in a space with so much impact is wonderful. When I think about my home, it's safe, and comfortable. Everyone deserves that."
After working for Habitat for a few years, she received a scholarship to join a Global Village trip to Addis Ababa and Fiche, Ethiopia. Daily she worked alongside members of the community and other Habitat volunteers to build homes. Each day, the ladies of the village held a coffee ceremony to celebrate with the volunteers and Betsy became hooked on their coffee. Although Ethiopian coffee is very strong, it was the best she's ever had. She brought back as much as she could carry.

Photos from Betsy's Global Village trip to Ethiopia
Betsy is now the Lending Operations Manager of Twin Cities Habitat's Lending subsidiary, TCHFH Lending, Inc. She oversees the lending department, supports her team members to help them better serve their clients, trains team members and works cross-departmentally to strategize about program delivery. Although she doesn't work directly with clients as much anymore, she still loves that part of her job. Working directly with homebuyers and seeing the positive impact a home can bring to homeowners brings her much joy.
We asked Robyn Bipes-Timm, President of TCHFH Lending, Inc. and VP of Loan Fund & Mortgage Lending for Twin Cities Habitat if she could describe Betsy. "Betsy does a wonderful job managing the day-to-day operations of our nonprofit mortgage company. She cares deeply about helping Habitat households cross the 'finish line' to successfully closing on their home with us, and cares equally that after the loan closing we support each homebuyer who has a mortgage with to help them successfully stay in their homes. It's this balance of Habitat mission and her experience with lending industry best practices that makes her such a trusted team member at Habitat."
Betsy is looking forward to growing the lending department and supporting homebuyers and homeowners in the community. Thank you, Betsy, for your hard work and supporting families in the Twin Cities. You're proof that putting your skills and talents into a job can also provide great impact AND be fulfilling at the same time.