Meeting in a church basement in 1985, a humble collection of men and women, driven by their faith and concerned about poverty housing, created Twin Cities Habitat for Humanity.
They established a mission statement, a common set of values, and a board of directors. The following year, a mother of two bought the first Twin Cities Habitat home rehabbed by volunteers in South Minneapolis. She paid off her mortgage long ago and is now selling the home back to Twin Cities Habitat so another family can have the same opportunity.
Three decades have passed. The mission is the same, some values have been added, the board is much bigger—and so is Twin Cities Habitat. More than 8,000 families have been served and more than 17,000 people volunteer annually. Most of them work on construction sites and help build or repair homes. However, several dozen of those volunteers also come to meetings where they chart the organization's strategic direction and ensure sustainable progress is made towards that original mission.
In February, Barry Mason was elected to be the new Board Chair at Twin Cities Habitat. Barry works at IBM as the Managing Director and Senior State Executive for Minnesota. He's volunteered with Habitat for Humanity all around the world building homes and communities.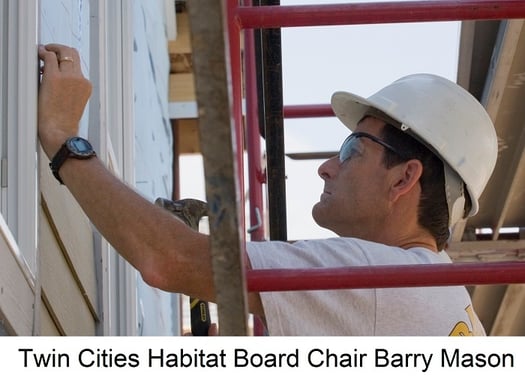 Barry highlights three things that work well for Twin Cities Habitat's Board of Directors. Each is worth considering for other nonprofits looking to build effective boards.
1. Complementary structures between board and staff
Build your board to meet your organization's needs—from a personnel and a structural perspective. Do it right and you will have the right expertise and the right way to tap into it. Start by assessing what you do as an organization and find people who are experts in that field or related fields.
At Twin Cities Habitat that means recruiting a lot of board members who know real estate, banking and lending, and volunteer recruitment. This elevates the conversation around your organization's core competencies and helps keep you tuned into the environmental landscape you're working in.
As your organization's work expands, make sure the expertise of your board expands as well. For example, Twin Cities Habitat has received tremendous value out of board members with retail experience as the earned revenue from ReStores has become a larger part of our business model.
You certainly want a board filled with high-achieving, passionate, driven people. The challenge is people like that are busy. It's easy to burn out a board member with tasks they don't want, or need, to be doing. Twin Cities Habitat's President and CEO Susan Haigh has served in many leadership roles and board positions during her 40-year career of community service. She advises her leadership team at Twin Cities Habitat to be judicious with assigning tasks and responsibilities to board members. But Sue is also quick to connect staff members with specific board members who may have a background related to an important decision required for a major project. Board members who are asked for their opinion in an area where they have expertise feel that their time and talent are being used wisely.
When the board-staff relationship is clearly defined by a nonprofit's leadership team then the committees of the board can become much more effective in their work. At Twin Cities Habitat, staff members serve alongside board members on each committee. Those employees act as liaisons and gatekeepers. They can dispense the board's strategic vision out to staff and return finished deliverables to committee meetings. It's through the committees that the real work of a good board is accomplished. Which leads to Barry's second takeaway on what makes a nonprofit board effective.
2. Diverse thinking and open communications (especially in committees)
When building your board, you want to start with people who have an expertise in the areas where you'll be working. But don't stop there. There is great value in an open dialogue that includes people with different life experiences and perspectives. The work may be more challenging, but you will almost always get better results.
Nonprofits are filled with people who passionately believe in a mission. It's easy to develop the "curse of knowledge" and begin believing that everyone outside of your organization is just as into discussing the minutia of your cause as you are. As a nonprofit you can dream of a day when everyone in the world will come around to seeing things your way, gather in a circle and sing kumbaya. But it's not going to happen.
Getting outsiders' perspectives is critical to broadening your base of support. You need to hear from people who only have a casual interest in your cause in order to understand how you move someone from uninformed—to educated—to taking action. Board members with different backgrounds can help you do this. They can be that reality check for the outside world.
However, getting the right people in place on a committee is only half of a solution. A well-run committee must engage all its members. Build activities into committee meetings that gather input from everyone. It's best to do this through a mix of open brainstorming exercises and more private activities based on written input or one-on-one communication—because not everyone is comfortable sharing their ideas publically all the time.
To broaden your nonprofit's success, your board must bring diverse thinking and experiences to the table. You don't want an echo chamber where new ideas aren't allowed to be voiced.
Here are ten more ways diversity improves the work of a board.
Barry's final thought on building a good board gets right at why most nonprofits are created in the first place—passion.
3. Get people with real passion for the work to serve on your board
A corporation is required by law to have a board of directors, which carries out a fiduciary responsibility and safeguards the interests of shareholders. A nonprofit's board (also a legal requirement) has just as large a responsibility to push mission progress forward.
At Twin Cities Habitat, the mission is written in big lettering on the first wall you see when you walk in the door.
To eliminate poverty housing from the Twin Cities and make decent, affordable shelter for all people a matter of conscience.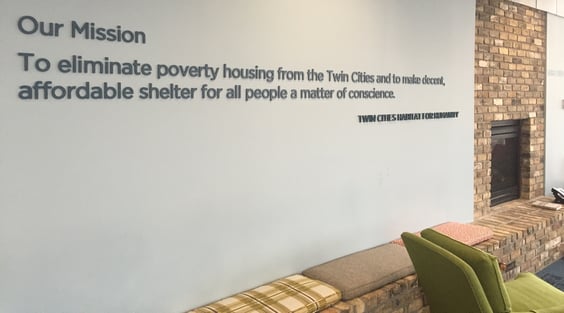 It's meant to inspire and remind us every day what our top priority is.
If you start with people who aren't fully committed to your mission, you're setting yourself up for trouble. Barry says that "a real belief in the cause and difference the organization makes energizes people's willingness to commit time and treasures."
You need board members willing to ask the question: How is this benefitting our mission? People won't ask that challenging question unless they value the mission above the position they have.
Identifying and recruiting strong board members should be built into the work plans of your executive team and your current board of directors. Commit time to it and develop a process for vetting candidates and cultivating relationships. The return is well worth the time. Board members at Twin Cities Habitat volunteer together on a construction site each summer.
A good way to start a conversation with someone about serving on your board is by asking them this: What is it about our mission that appeals to you? Their answer may not be your answer—and that's probably a good thing. As long as the mission touches their heart and their core set of beliefs they've got the potential to serve admirably.