Guest blog by Michelle Gierke,
Women Build Steering Committee Co-Chair
The New Year means it is time for the Women Build Steering Committee (WBSC) to get back to work after a brief holiday hiatus and start planning the 2020 Women Build season! The WBSC is comprised of ten volunteer committee members and three Habitat staff members. The WBSC meets monthly to recruit volunteers, women build regulars, and team leaders for build dates. As a committee we seek to raise awareness of the Women Build program and need for affordable housing in the Twin Cities. Meet our members!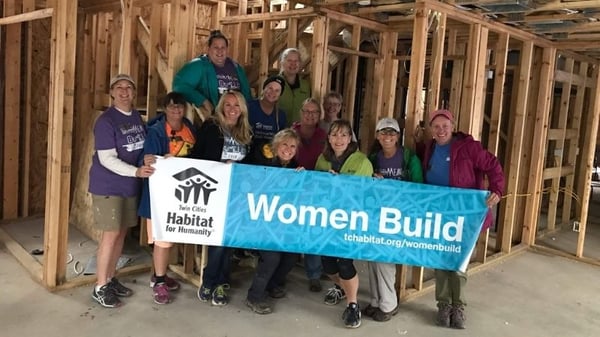 Stephanie Becker
A single mother of three boys, I felt the direct effects of limited affordable housing options in the Twin Cities market when faced with a housing crisis in December 2014. Luckily, I had a mutual fund savings account which ultimately allowed me to alleviate the crisis and my boys and I were able to stay in our home. It came with humble recognition from me, recognizing there are many not as fortunate as I, to have this type of financial backup when faced with a similar unanticipated crisis. Motivated to contribute towards making a difference, I joined Twin Cities Habitat for Humanity as a volunteer this past summer, which led to my engagement with the Women Build Steering Committee. I had the honor of participating in a build day this past August and the team of women volunteers and I ended our volunteer shift lifting multiple trusses up on the roof in preparation for the next day's build. I was excited and it was an awesome experience. I learned a ton, worked hard and my leg and shoulder muscles received an intense workout. It was an empowering experience. I bring with me 16+ years of nonprofit experience, including my recent years working in event planning and project coordination. My career start was in the field of advertising. I look forward to accomplishing many things with this group by coming together and working as one. The greatest gift is having stability through home ownership.
Lori Dewey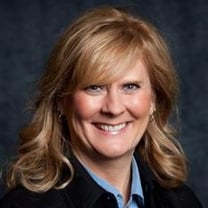 I have been very fortunate to be part of the Habitat Women Build Program since 2010. I started as a volunteer for Habitat building homes and soon became a Team Leader and member of the Women Build Steering Committee. Being part of the Women Build program has allowed me to work with so many great women leaders across the Twin Cities and provided me with an incredible opportunity to help families reach the dream of homeownership. One of my favorite aspects of Women Build is seeing the group of women at the end of a build day walk away with new friendships, newfound confidence and a true sense of pride for making a difference in the lives of others.
CJ Fitzsimmons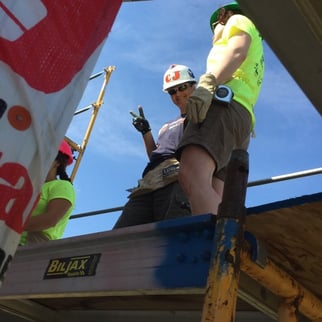 After retiring from an adventurous Air Force career, I wanted to continue being involved in giving back and serving a greater purpose. I found Women Build to be an inspiring fit and swung my first hammer in 2011. I soon discovered "it was my jam" and became a Women Build Regular and the joined the Women Build Steering Committee in early 2012. I'm blessed to work alongside others who share their time and skills creating a hopeful future for deserving homeowners and benefiting the community as a whole. I love the camaraderie on site and revel in encouraging and teaching women to try something they may not otherwise have the opportunity to do. The self-assuring grins and fist bumps after completing their task is what it's all about. It is truly an honor to be a part of making a brighter future for local families!

Michelle Gierke
My first experience with Habitat for Humanity was during college on a volunteer trip. A group of us spent our Spring Break in Phoenix, Arizona building a house. Despite quickly learning the nickname "Chalk Line" on site, I loved the camaraderie, the new skills I learned and giving the gift of homeownership, one chalk line at a time. When I learned about the Twin Cities Habitat for Humanity Women Build program, I started volunteering and connecting other volunteers with the Women Build program. A couple of years ago, I joined the Women Build Steering Committee as a co-chair. One of my favorite memories working on the Women Build Steering Committee was meeting a homeowner on the date we started working on his home. His comment to our group was that he was excited to bring his daughters to the construction site because his daughters had never seen women work in construction and the homeowner thanked us for being role models for his daughters. I am so blessed to meet individuals such as this homeowner and work with such an incredible committee of women and Habitat staff dedicated to increasing homeownership in the Twin Cities.
Sarah Harris

I was introduced to our Women Build program a few years ago when I was an AmeriCorps VISTA serving in a youth engagement role at Twin Cities Habitat for Humanity. One day a group of young women AmeriCorps and staff from the office got together for our own Women Build day. I loved learning from fellow women, and seeing us all build confidence throughout the day. The feeling of what we accomplished at the end of the day was empowering, and left me eager to do more with Women Build, so I joined the Women Build Steering Committee. I love volunteering with Women Build, because it's not only giving me new skills, but I know we are providing safe and stable housing for future generations.
Linda King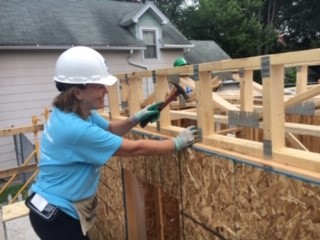 I work part-time as a Realtor and my three kids are out of the house, so I was looking for a new volunteer opportunity. I wanted it to be "home" related, and when I started looking, Women Build popped up. I thought that this sounded interesting and fun! My kids all own their home, and I wanted to be able to help them with any home improvement project. I liked that it was only women on the job site, and we use the tools ourselves! I started on the kick-off day for Women Build and when we raised the walls (and they stayed up), I knew this was going to be a good fit for me. After two summers of working every Monday, I agreed to be on the steering committee to help get the word out for Women Build.
Amanda Rosemark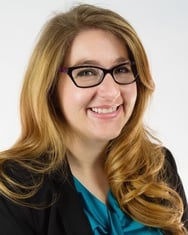 Over the last twenty years I have been involved with Habitat for Humanity in a variety of ways and I am continually inspired by the stories, excited by the mission, and always finding ways to make a lasting impact. I am excited to be starting my fourth year with Twin Cities Habitat's Women Build Program. Empowering women while advancing the work of Habitat for Humanity is a special experience; I'm motivated by the passionate people I meet and the empowerment women get from their work with us.
Katie Merten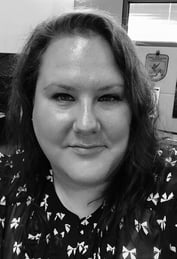 My first experience with Habitat was in college, but it was not a very active group back then. My next experience with Habitat was when I was living in Minot, ND and I came across a newspaper article about the city's Habitat chapter, and that they were looking for volunteers and board members. I contacted Habitat and started volunteering, and eventually became a member of the board, where I served for 4 years. When I relocated to Minneapolis, I wanted to stay involved with Habitat and was pointed towards the Women Build Steering Committee. As an almost licensed architect, I'm no stranger to construction sites, or being the only woman on site, in the office, or in meetings. I love that this group gives women the opportunity to become familiar with aspects of construction they're not normally exposed to, while benefiting the community.
We are extremely grateful for our Women Build Steering Committee and their passion for affordable housing. Thank you!
If you have interest in being on the Women Build Steering Committee, please reach out to Shelby.Schmidt@tchabitat.org