By Michelle Gierke
Guest Blogger and Women Build Steering Committee Co-Chair
The New Year means it is time for the Women Build Steering Committee (WBSC) to get back to work after a brief holiday hiatus and start planning the 2017 Women Build season! The WBSC is comprised of about a dozen volunteer committee members and one Habitat staff member and, among its responsibilities, the WBSC recruits volunteers, Crew Leaders and Team Leaders for build dates, raises awareness of the Women Build program and even manages to squeeze in some time to celebrate the year's successes in between. Here's an introduction to the WBSC committee members: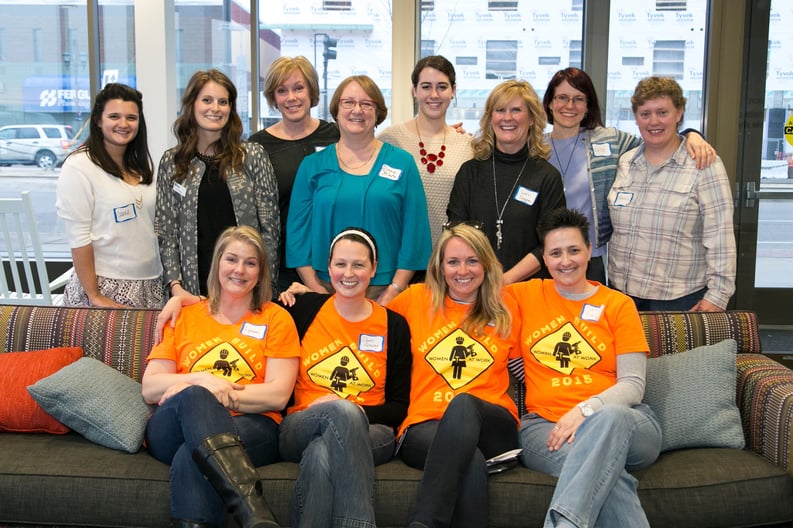 Stephanie Becker
A single mother of three boys, I felt the direct effects of limited affordable housing options in the Twin Cities market when faced with a housing crisis in December of 2014. Luckily, I had a mutual fund savings account which ultimately allowed me to alleviate the crisis and my boys and I were able to stay in our home. It came with humble recognition from me, recognizing there are many not as fortunate as I, to have this type of financial backup when faced with a similar unanticipated crisis. Motivated to contribute towards making a difference, I joined Twin Cities Habitat for Humanity as a volunteer this past summer, which led to my engagement with the Women Build Steering Committee. I had the honor of participating in a build day this past August and the team of women volunteers and I ended our volunteer shift lifting multiple trusses up on the roof in preparation for the next day's build. I was excited and it was an awesome experience. I learned a ton, worked hard and my leg and shoulder muscles received an intense workout. It was an empowering experience. I bring with me 16+ years of nonprofit experience, including my recent years working in event planning and project coordination. My career start was in the field of advertising. I look forward to the many things to be accomplished in coming together and working as one; the greatest of these the gift being stability through home ownership.
Diane Blake
My husband and I first became donors to Habitat for Humanity International through the example and work done by Jimmy and Roselyn Carter. We were especially drawn to the idea that potential homeowners help build their homes and learn home ownership skills. As the Twin Cities chapter of Habitat for Humanity grew, we were invited to take on a more active volunteer role with Twin Cities Habitat for Humanity. That's when I joined the Women Build Steering Committee. It is fun to see women taking on new roles and doing new things. The best part about volunteering is the people you meet along the way, including homeowners, volunteers and Habitat staff. They are all dedicated to the mission of Habitat to help people achieve home ownership. It opens up living in the Twin Cities in a whole new way.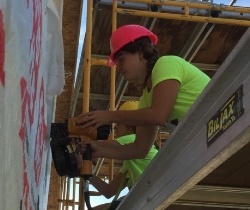 Allie Kelzenberg
I originally starting building with Habitat in spring 2011 when I went on a mission trip to Mississippi to rebuild homes post-Katrina. I did occasional builds while pursuing a degree in Social Work at St. Cloud State, and then wanted to get more involved and joined the Women Build Steering Committee in early 2016. My favorite memory was putting in snap wood flooring at a Women Build home in St. Paul last December. It is empowering and exciting to take the lead on a project that looks great when finished and will last for a long time!
Lori Dewey
I have participated in the Habitat Women Build Program since 2010. I started as a volunteer building homes alongside other women across the Twin Cities, then became a Team Leader to help coordinate and lead teams and then joined the Women Build Steering Committee as a co-chair. I am involved in the Women Build program because it not only provides an incredible opportunity for families to have an affordable housing option, but it empowers women to stretch themselves and accomplish things they never knew they could do. One of my favorite aspects of Women Build is seeing a group of women on a build day start out the day with hesitation or concerns about their abilities but walking away at the of the day with confidence and a true sense of pride.
Brenda Foster
I have enjoyed giving my time and energy to the Women Build program for the past five years and look forward to giving more. Growing up, my family had to deal with many financial strains after my father died. With 6 of 8 children at home, my mother worked hard to provide what we needed, but we lost the one stability that we all knew which was the stability of having a home and feeling safe in it. We moved around a lot from one rental to another, until we landed in a home of our own. The joy and security of having your own home is something every child should be able to feel and it's the one thing in life that I knew that I wanted to help provide to families. I know how much it meant to me! Now married with two boys of my own, we as a family have worked over the years to give back to our community and others. Habitat for Humanity has been a great road for me to be able to do just that!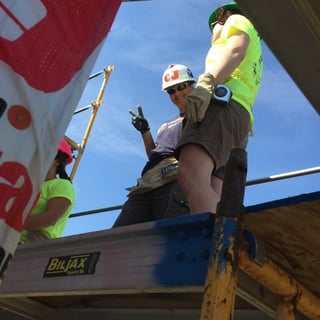 CJ Fitzsimmons
I had my first Women Build volunteer day in 2011, became a Crew Leader that same year, and then joined the Women Build Steering Committee in early 2012. I try hard to ensure we have Crew Leaders most days of the builds. After retiring from an adventurous Air Force career, I wanted to continue to give back and be a part of something greater than myself and Women Build was the perfect fit! I feel blessed to have the ability to share my time and skills to build and serve the homeowners and community as a whole. I love the camaraderie on site and getting to teach and encourage the volunteers to try something they may not otherwise have the opportunity to do. When they've done it and they get that huge grin of "hey, I did that", that's what it's all about. Knowing I'm contributing to a family wanting to have a better quality of life is all the motivation I need to keep going out to the site each time. Seeing the giant smiles on their faces, especially the kids, during a home dedication just reinforces my desire to keep volunteering. It is truly an honor to be a part of making a brighter future for those deserving families!
Michelle Gierke
My first experience with Habitat for Humanity was a college volunteer trip. A group of us spent our Spring Break in Phoenix, Arizona building a house. Despite quickly learning the nickname "Chalk Line" on site, I loved the camaraderie, the new skills I learned and giving the gift of homeownership, one chalk line at a time. When I learned about the Twin Cities Habitat to Humanity Women Build program, I started volunteering and connecting other volunteers with the Women Build program. A couple of years ago, I joined the Women Build Steering Committee as a co-chair. One of my favorite memories working on the Women Build Steering Committee was meeting a homeowner on the date we started working on his home. His comment to our group was that he was excited to bring his daughters to the construction site because his daughters had never seen women work in construction and the homeowner thanked us for being role models for his daughters. I am so blessed to meet individuals such as this homeowner and work with such an incredible committee of women and Habitat staff dedicated to increasing homeownership in the Twin Cities.
Lisa Belvito
I worked on my first Women Build house in 2006. I found every woman on the site warm, welcoming, and willing to teach me anything I wanted to learn. I'm a member of the Women Build Steering Committee and a WB Crew Leader. Through Women Build, I am able to help other women have a stable, affordable home of their own, and empower all women who want to grow, learn, and give back to the community.
Amanda Meemken
During high school summer break I spent a day working on a Habitat home; I was inspired by the stories, excited by the mission, and knew it was an organization where I could make a lasting impact. I have been involved with Habitat for Humanity ever since. In college, I was Vice President of our Campus Chapter and led two Habitat mission trips. While living in Rochester (MN), I was on the leadership team for their first Women Build, led the effort to open the Rochester ReStore, and served as the Board of Directors' Vice President. I'm continually inspired by the passionate people I meet via Habitat and enjoy finding new ways to contribute to this amazing organization.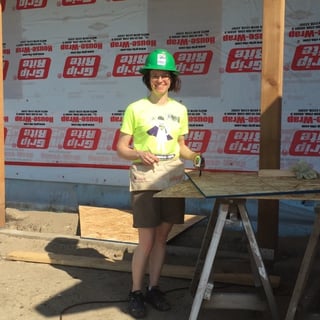 Kate Houst
I am an IT manager at the Valspar Corporation where I have worked for the past 8 years. I started as a front-end web developer and in January of 2016 became manager of my team. I have volunteered with Twin Cities Habitat for Humanity for many years and, when I started working at Valspar, I immediately became a regular volunteer every year for the Valspar sponsored events -- either Build Days or A Brush with Kindness Days. I have also been designing the local Women Build t-shirts for the past five years. In 2016, I took my involvement one step further and joined the Women Build Steering Committee. I enjoy volunteering with Habitat for Humanity because it allows me, in a tangible way, to help to improve the lives of families in need.
Dawn Puroway
I've been involved with Habitat for Humanity in various ways for seventeen years, since I was a freshman in college. I have worked on houses, interviewed potential homeowners, volunteered at a ReStore, and served on the Women Build Steering Committee. I happened to sign up to work on a Women Build house in Minneapolis ten years ago and I was hooked on Women Build. I felt empowered and wanted to share that with others. Each year, I organize a Team Leader day with my family and friends to work on a Women Build house. I love to see women coming together to make positive changes in our communities.