We continue to process the pain and hope of our nation's uprising for racial justice amid a global health crisis. You can see our recent statements on the uprising here, our COVID-19 web page here, and our Race & Housing resource center here. Expanding homeownership is a key component of racial equity and health, so our mission has never been more important—and we'll continue to share the stories of Habitat's work.
Guest Blog by Amanda Rosemark
Women Build Steering Committee Member
While we all stay in our homes during these unique times, it's a good reminder that decent housing is not the reality for many. Our build days have been on hold for the last three months, but the housing need hasn't slowed down. Women Build needs your help funding our 2020 home!
The great news is that you don't need to leave your house to ask for support from family and friends, and we're here to help you make that ask more fun! Here are a variety of ways you can share your passion for Habitat for Humanity and support the Women Build program.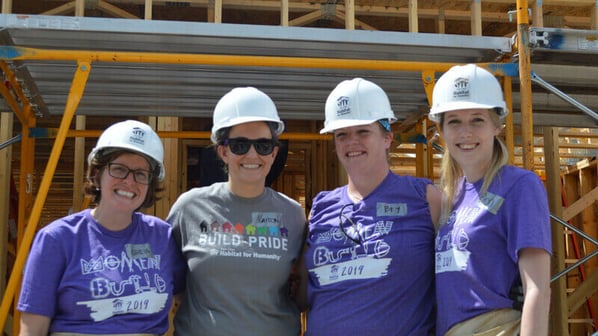 Become a Women Build fundraiser! Create your fundraising page where you can encourage your family and friends to support Women Build. Make the page your own and let your imagination run wild.
Host a virtual wine night with your family and friends! Take the opportunity to share your experience with Women Build and why you care about affordable housing. This is a great and fun way to get others involved.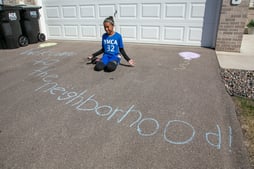 Create a display sharing your love for Habitat and asking neighbors to support your fundraising efforts. You can use chalk on your driveway or sidewalks, put up stakes to posts signs, or place flyers on light posts. This is your time to get creative! Send a note to neighbors, friends and family with these fun ideas and link to your fundraising page.
Consider sharing facts about Habitat and the housing need, why the issue matters to you, or pictures of you on-site. Get the kids involved and have them create welcome home cards! If you're having a birthday during quarantine, consider celebrating by encouraging your friends to donate to Women Build.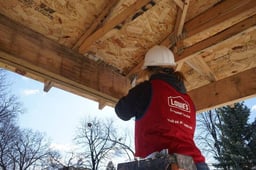 Posting on social media can be a great way to reach a wide audience. Spice up your post with these ideas:
Share your quarantine home projects and talk about the importance of quality housing.
Share memories from your last Women Build workday. What did you do? What skill did you learn? Why was it a special experience for you?
Make it a challenge. What will you do if you raise $100, $500, $2000? Will you run a mile for every $50? Will you let your kids throw pies in your face if you get to $1000?
There are so many ways to support Twin Cities Habitat right now before we can come together on a build site. Thank you for your continued support of the Women Build program and don't forget to share your fundraising ideas on our Facebook Group!