Meet Scott Nelsen. A man of many talents, a world traveler, and a long time Twin Cities Habitat for Humanity volunteer.
Construction, repairing, landscaping, and mechanical engineering are only a few talents that Scott has shared with Twin Cities Habitat and other non-profit organizations. Scott began volunteering with Twin Cities Habitat back in the 90's through his church and through his work at Xcel Energy. Twice a year, Scott would join his Xcel co-workers on a Habitat site. Eventually those volunteer days turned into a life time of Habitat engagement.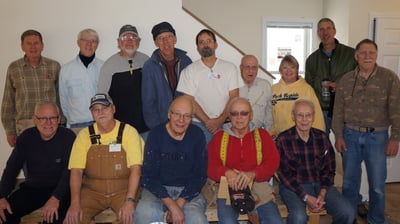 Scott is currently a member of one of 19 regular crews called the St. Paul Regulars. Scott joined the group back in 2002 where they would frequently gather to work on a Habitat home. Since Scott's retirement in January of 2011, he works with the group weekly: "My favorite part of being on a regular crew is chatting, talking about their families, hearing about their travels, and just getting to know them."
Scott is no stranger when it comes to travel. He has taken part in 24 international mission trips, 9 of them have been Habitat Global Village trips, and 2 have been to Mississippi for Hurricane Katrina recovery work. Travels also include: Guatemala with Engineers without Borders, Kenya with American Foundation with Children with AIDS, school construction in Mexico with All hands of Hearts volunteers for the Mexico Earthquake Recovery program, hurricane recovery in the Florida Keys, and 8 trips to Guatemala and Honduras where Scott assessed and implemented various water system projects.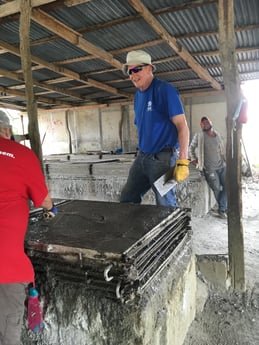 From his travels, Scott has experienced so many wonderful memories with volunteers and homeowners. One memory that sticks out to Scott is meeting a homeowner on his 2004 Habitat International trip to Guatemala. The homeowner of the Habitat site was a mom of two young children and worked late nights as a waitress. But, no matter how tired, she showed up to work on her house every day with the volunteers, "they (the homeowners) take a lot of pride in their house," said Scott.
Another wonderful memory for Scott happened when his crew was working on a house in the Twin Cities that was over 100 years old. It was a cold Minnesota day, below zero, and their dust masks kept freezing as they demolished walls. Inside the foundation, they found many old newspapers used for insulation and even found a hidden stairwell behind a wall. One of the regular crew members, a World War II veteran, pulled out one of the newspapers and sat by the propane tank that was heating the living room. One of those old newspapers he was reading had an article about World War II, a war in which he served. That moment brought back a flood of memories for the man and Scott will never forget that very surreal moment.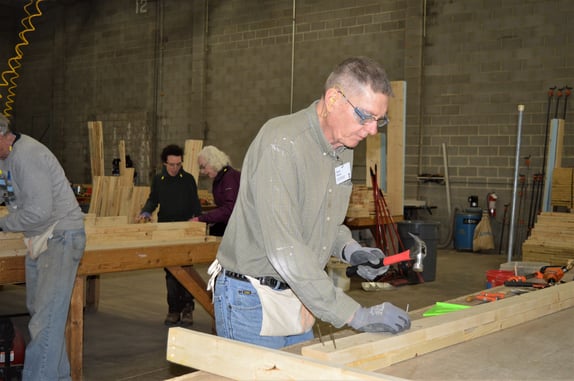 For Scott, volunteering is in his blood and those heart warming stories are just the cherry on top, "it gives you balance in your life," Scott says. As the interview wrapped, Scott shared his upcoming tasks. Landscaping his house, repairing his church, and repairing a lawn mower shed. He is a very busy man with a very big heart. Thank you Scott Nelsen!