On Thursday, July 19, Twin Cities Habitat celebrated two Habitat Homeowners in a house filled with family, friends, and Habitat supporters.
"Habitat is all about meeting neighbors and building communities," said Karin O'Connor, member of the dedications committee. That is truly what makes home dedications special, when neighbors and members of the community show up and welcome the families to the neighborhood.
The two families closed on homes that are just a block apart. Site Supervisor David Michaelson was happy that the sites were so close. "Many days we would parade between the two houses working on different projects. Special thanks to everyone who made both houses possible, it means so much to meet the families."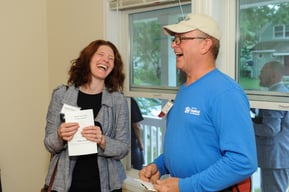 Homeowner Khadija was thrilled that she had a space for her large family of ten. "Thank you for our home—we have a community now!"
Roda, the homeowner of the hosting Habitat house, was thankful that her family of ten have peace of mind in a new space they can call their own. "Thank you very much Habitat, we are blessed to have this house."
One of the celebrated homes had volunteers from Bank of America spend a week working hard on the hosting site. Bank of America employee Nate Trobiani was happy to be part of this wonderful celebration. "I absolutely love being part of the home building process and experiencing the Habitat community. It is so great to meet the family who is going to live in a house that I worked on."
The fantastic evening ended with cake and delicious food provided by the families. We wish them the absolute best in their new homes.