Last year Legacy Restoration completed their second Roof Deployment Project for a deserving veteran, Steven Ripp. Steven is a Navy veteran (1971-1977) who has lived in Minneapolis since 1984 and had a roof in rough shape. That's when Twin Cities Habitat's A Brush with Kindness program and Legacy Restorations stepped in to help.
"Helping others build and sustain their legacy both as a business practice and through charitable work, has been a centerpiece of Legacy Restoration from day one," said Brookley Wofford Topel, Director of Marketing & Public Relations for Legacy Restoration. "Having a safe and sound place to call home goes much deeper than providing shelter – the notion of home breathes hope and stability. Restoring U.S. Navy Veteran Steven's beloved home in 2018 served as a reminder of what home truly means and that as a united community, we have the power to do so much."
Materials and labor for Steven's new roof were donated by Legacy Restorations through a partnership between Owen's Corning's Roof Deployment Program and Twin Cities Habitat's A Brush with Kindness home repair program. A Brush with Kindness Project Manager Cindy Lehner-Smith said, "Legacy's supervisor Jeremy Niemi did a fantastic job for this homeowner and went above and beyond with additional repairs."
Twin Cities Habitat not only provides affordable homeownership opportunities, but focuses on the belief that every family should have the opportunity to affordably maintain and preserve their home.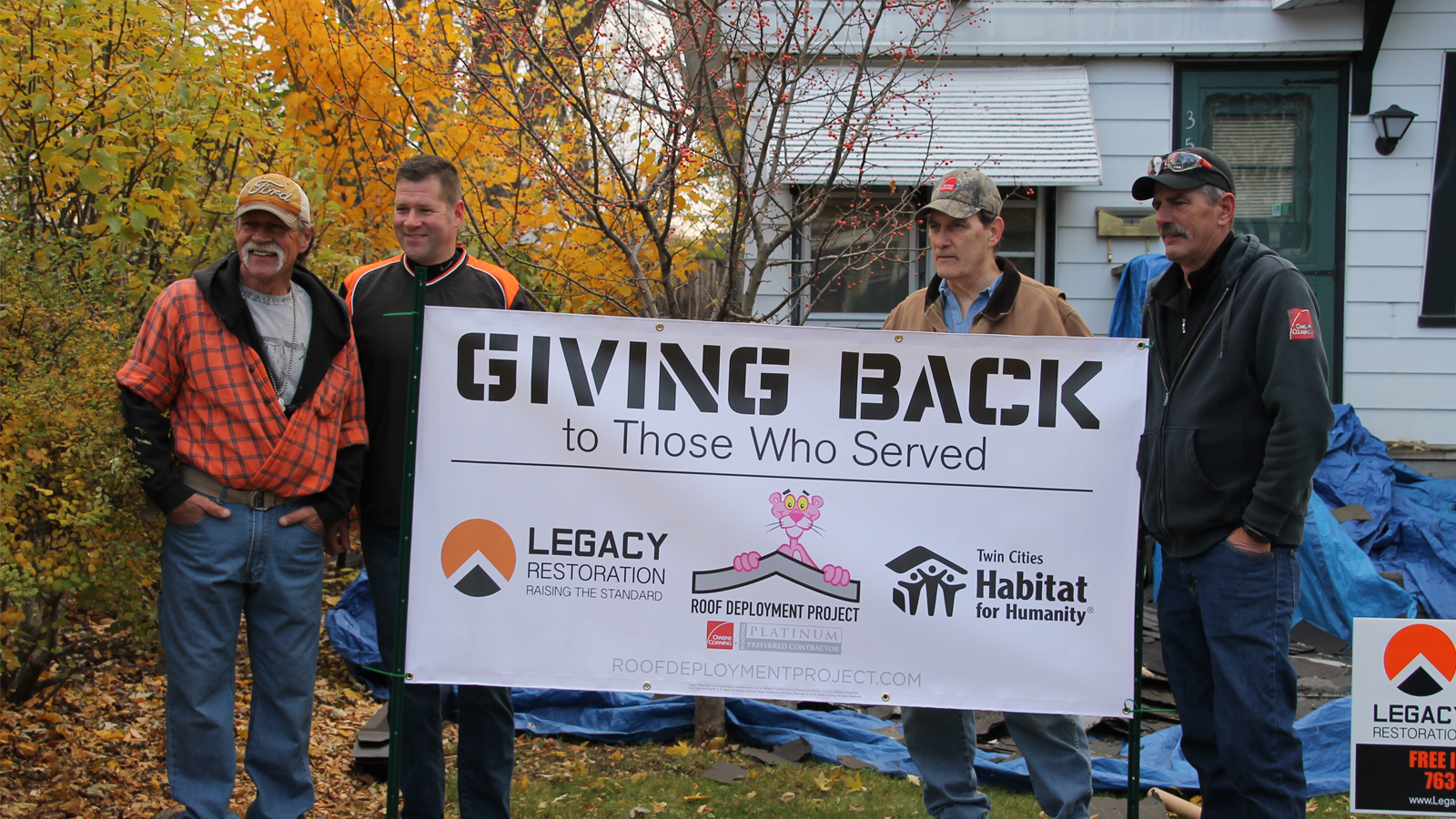 Steven pictured on the far left
Home repair projects through Twin Cities Habitat for Humanity's, A Brush with Kindness program, includes exterior painting, repairs on roofing, siding, flooring, doors, windows as well as safety and accessibility modifications. Homeowners who fall below 80% of the average income for a Twin Cities family can apply online for the program from early summer through early fall.
"We're honored to have the opportunity to show gratitude through roof installs for the Veterans who served our country and the families who support them," said Scott Mullins, owner of Legacy Restoration. "Seeing the joy in Steven eyes and having the opportunity to share this experience with him during the project build was something I will not soon forget. We look forward to completing at least one of these projects per year in each market we serve."
Get involved with Twin Cities Habitat and help others preserve their home!