Laurie Hundley has lived in her East Phalen home for almost 30 years. Until recently, Laurie was accustomed to living on her own and was a self-described "crazy cat lady" who sometimes took in and fed the stray cats in her neighborhood. However, when Laurie's sister passed away from pancreatic cancer in June 2018, Laurie became the primary caregiver of Elijah, her three-year-old nephew.
Shortly after Elijah moved in with her, Laurie began to feel overwhelmed by the condition of her house as she tried to create a safe environment for a toddler. The paint on the exterior walls of her house was peeling off and the yard would need some work done before Elijah could play outside.
Without the time or resources needed to fix these minor problems, Laurie felt anxious about the state of her home. Then one day, she came across a social media post about Twin Cities Habitat for Humanity's A Brush with Kindness home repair program and decided to apply.
After applying and finding out she was accepted to receive help from A Brush with Kindness, Laurie felt a sense of hope and was extremely grateful. It was the first good thing to happen in a while.
Soon, the A Brush with Kindness team was ready to begin minor repairs on Laurie's home. They worked to fix the window trim, built a back porch from the kitchen door, and replaced one of the steps of the house. They even filled a hole in the yard that used to be a pool.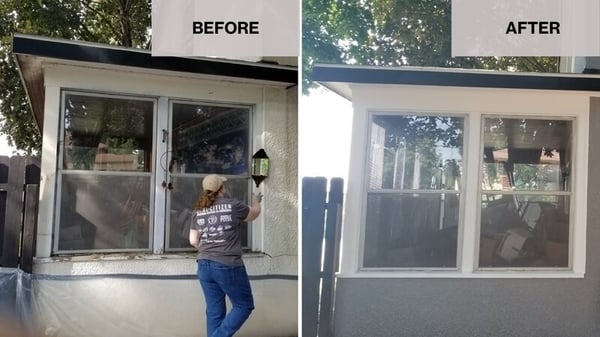 Laurie was amazed by the work completed by the volunteers and AmeriCorps at her house. She loved coming home and seeing the changes that were made every day. Elijah loved getting to choose the new paint color for the exterior of the house and even got to paint a few swatches!
In the end, Laurie was very pleased with the work done on her house and she enjoyed working with the A Brush with Kindness team. The work completed motivated her to make more improvements to her home in the future and made her feel supported by the community.
"I received so many compliments about the house. So much so that some neighbors even asked if I was moving. Of course, I said no… As you know, things have been a little rough for me at times and this 'A Brush with Kindness' truly gives me hope".