Getting pre-approved for a home mortgage might be the most important thing you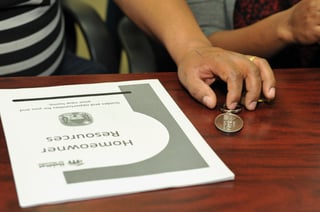 can do when looking for a new home. Pre-approval tells you how much you can afford to buy and tells the seller you can be trusted to pay for a house.
This is especially important when competing with other buyers for the same house. If you have a pre-approval from a mortgage lender, a seller will be much more likely to sell to you.
Get A Pre-Approval in Three Easy Steps
Words like pre-approval, mortgage, and pre-qualification can make buying a home sound more complicated than it really is. But once you know how to get a pre-approval, home buying is a simple process to understand. All you need to do is follow these three steps.
1. Find a Mortgage Lender
The first step is to find a mortgage lender. A mortgage lender is a person who will help you get a mortgage. This is money the bank lends you to help pay for your home.
You can find mortgage lenders through banks, mortgage businesses, credit unions, or even online.
It's a good idea to go to different mortgage lenders to see who can offer you the best terms. To learn which mortgage lender will cost the least, look at the annual percentage rate (APR) for each mortgage you are offered. You may also want to check a lender's rating on the Better Business Bureau website before making a decision.
2. Gather Documents
Your mortgage lender will ask you to provide several documents for the pre-approval process.
These documents have information that's used to check your credit score. This tells a mortgage lender whether you can be trusted to make payments on your loan.
Here's a basic list of what your mortgage lender will ask you to bring:
Mortgage lenders will want to know your income. So, bring pay stubs, tax returns, W-2 forms, and any other proof of income you earn.
If you have borrowed money that has not been paid back yet, you will need to bring a list of your debts. This often includes car loans, student loans, and credit card statements.
You'll also need to bring proof of your "liquid" assets. Liquid means those things that can easily be converted to cash, such as your checking and savings accounts, retirement accounts, or other investments.
You will need to provide personal information. So, bring your ID and be prepared to tell them your social security number.
3. Get the Pre-Approval Letter
Once your mortgage lender has the documents they need, they can give you pre-approval.
Once you're pre-approved, your mortgage lender will tell you what you can afford to buy. This is the highest amount of money you are allowed to borrow for your home. It is important to keep in mind that just because a bank says that you can afford a certain amount doesn't mean you have to borrow that much. You may be more comfortable with a smaller payment, so then you should look for homes that are less expensive than what you were pre-approved for.
You will also receive a pre-approval letter that will tell sellers you have been pre-approved.
How is Pre-Approval Different from Pre-Qualification?
Getting pre-approval is a better option than getting pre-qualified. Pre-qualification is estimating how much money you might be allowed to borrow, while pre-approval tells you exactly how much your mortgage would be if you borrowed that amount.
Take the stress out of buying a new home by getting pre-approved, so you know exactly what you can afford. Getting pre-approved is easy to do. Many mortgage lenders even let you get pre-approved online. In just a few minutes, you can be on your way to owning your home.