It was over a year ago when I first wrote about Said and his family's strong work ethic and desire to become homeowners. In the blog, I shared how the family of eight was working hard to complete their training and sweat equity hours to be ready to move into their Habitat home in just a few short months. Almost immediately after publishing the post, I noticed this comment:

After doing some digging, I found out that Dahir was also a Twin Cities Habitat homeowner, and that Dahir and Said had been friends back in Somalia. My curiosity was piqued, and I just had to know the rest of their story, which goes something like this...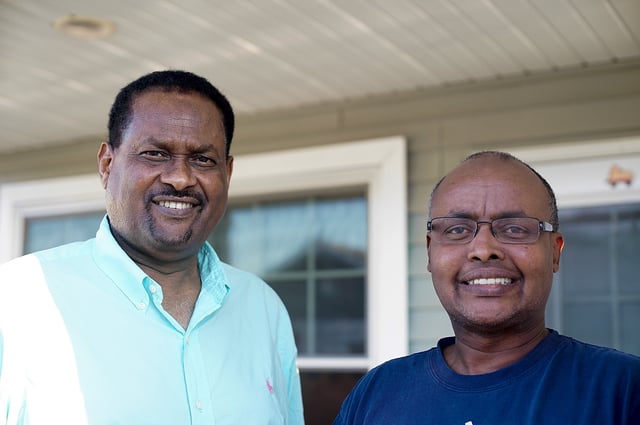 Dahir and Said first met at the College of Education in Mogadishu, Somalia. They were both studying to become teachers at vocational schools, and quickly became friends. Said recalls nights where the pair would eat beans and milk, a "delicacy" that Said's son Ahmed describes as the equivalent to ramen noodles for the average college student in the U.S.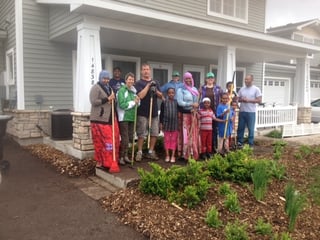 After graduation, Dahir and Said lost touch. Dahir began working for a time as a Wildlife Preservation Officer in Somalia, and moved to the U.S. in 1994 with his younger siblings and was sponsored by his mother. He lived in San Diego for eight months before deciding to settle in Minnesota with his wife and five children, ranging in age from two to sixteen. He originally learned about Habitat's homeownership program through an article in the Star Tribune, and began investigating the program. A short time later, they applied to become Habitat homeowners. The family now lives in Ramsey, Minnesota alongside a number of fellow Habitat partner families.
"For me, the support I got from Habitat was great," Dahir said. "From the beginning until the last minute – I even got help starting my lawn!"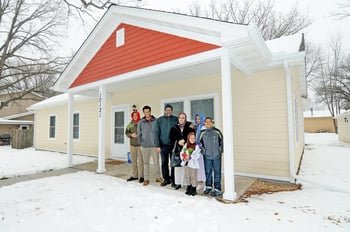 Said arrived in the U.S. several years after Dahir, in 2000, and immediately settled in Minneapolis. He and his wife also have five children, and lived in Eden Prairie before moving into their Habitat home in Coon Rapids. The family applied to the homeownership program after a conversation with a friend who had recently gone through the Habitat homeownership process. Said remembers learning a lot while completing his sweat equity hours on site, and is proud and grateful to Habitat for providing him with the means to help build his new home.
"Now, if there is a problem in my house, I can fix it," Said said.
Dahir and Said reconnected by "pure luck" one day at a local marketplace. After exchanging numbers, the two kept in touch, and soon realized that their families attended services at the same mosque every Friday.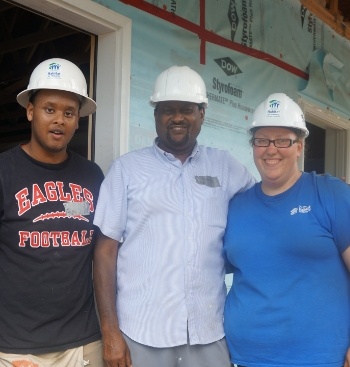 In my conversations with the pair, both Said and Dahir agreed that Habitat's homeownership program taught them invaluable skills in becoming the homeowners they are today. Each of the families expressed gratitude to the staff and volunteers that helped them on their journey to owning a home, and shared their happiness and joy at being able to raise their children in a home, instead of moving from place to place.
"My family and kids are very thankful to Habitat," Said said. "Now, they aren't missing friends and their neighborhood stays the same. Every time we moved, my kids, they missed their friends. Now, I am a homeowner. Before, I wasn't the owner."
Dahir's family shared the same sentiment about having the stability of owning their own home.
"Now, we don't move around," Dahir shared. "This will be the neighborhood where we will raise our kids... it feels like home now."
The families have settled into their respective neighborhoods in Anoka county, and have lived in their homes for just over one and two years now. "It's a blessing," Said said. They keep busy with home maintenance and projects (lawn mowing, landscaping and shoveling were completely new experiences!), and have schedules packed with kids' events and local community activities. Both families are enjoying their new homes immensely, and are grateful that the pair of old friends have been reunited once again.