Buying a home with Habitat is transformative for a family in many ways. But every homeowner's journey is unique. Some Habitat homeowners spend decades in their home, eventually passing it on to their children or grandchildren. Others choose to sell back their home after a while so they can move to a new city, find a bigger home for a growing family, or downsize as kids grow up and move out.
When a homeowner chooses to sell their home back to Habitat, we call it a "Next Generation Home." The home gets modern updates and is made affordable for the next generation of Habitat homebuyers. This is Hamida's story—and the story of a home that creates transformation for this generation and the next.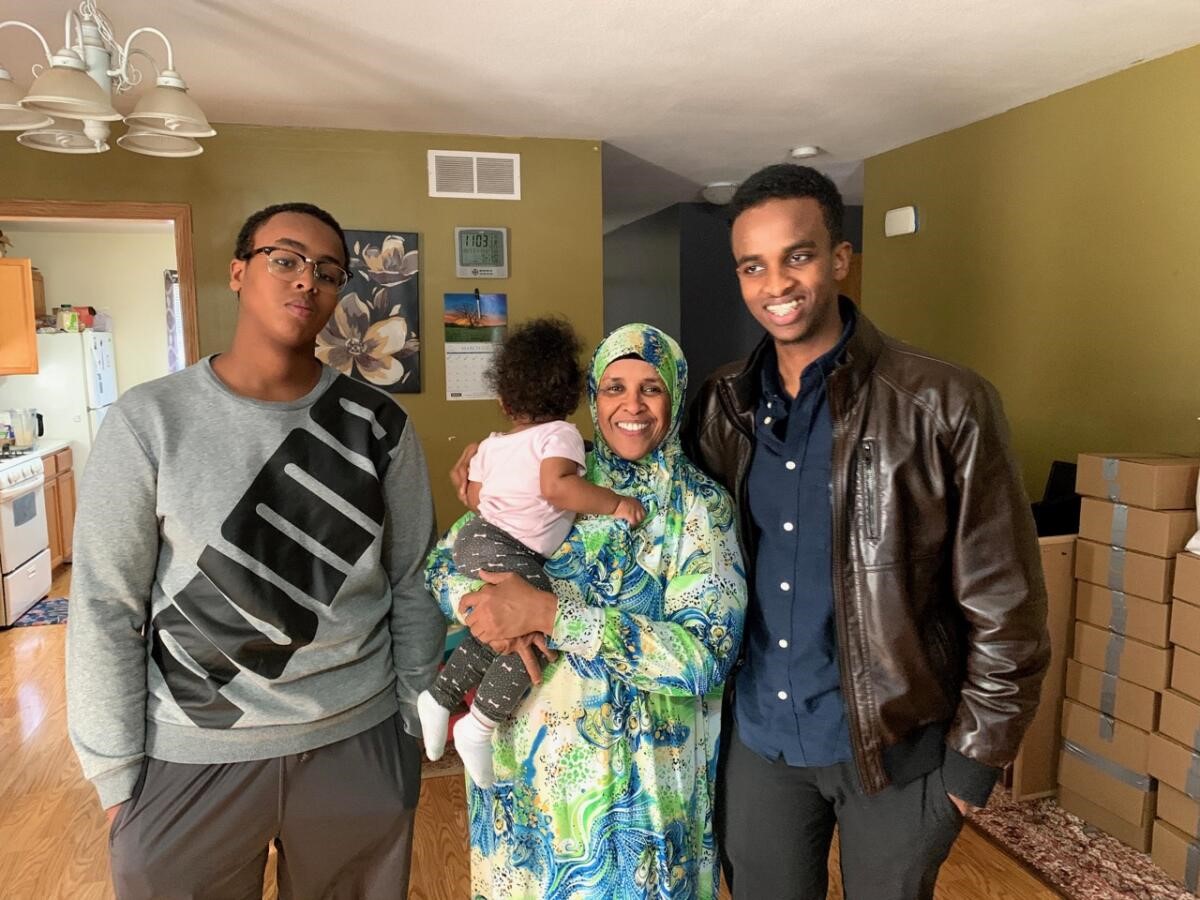 Hamida and her family in March 2020.
Hamida's 12 Years as a Habitat Homeowner
Before Hamida became a Habitat homeowner in 2009, she and her three children were living in a two-bedroom St. Paul apartment. "It was not easy," Hamida remembers. At the time she had two teenagers—a boy and a girl—and a four-year-old son. Her culture requires boys and girls to not share rooms by age 10, which was difficult in a two-bedroom apartment. And it was virtually impossible to find a bigger place to rent, even with her stable job at a local hospital.
"There was never enough space before Habitat," Hamida says. "My main reason for wanting a home was for my children. I wanted them to have a better living space and more room."
Hamida applied for the Twin Cities Habitat Homeownership Program and became a homeowner in 2009. Having a home of her own was simply amazing.
Hamida has so many cherished memories from her 12 years in the St. Paul home. She remembers her kids having way more hiding places for hide-and-seek games. She enjoyed learning how to fix little issues and improve her home, like adding central air conditioning a couple years into homeownership. Everyone enjoyed having more privacy. And the neighborhood was so special.
"The neighbors at that house were one-of-a-kind," Hamida says. "I'll remember them as long as I'm alive."
Over those 12 years, Hamida had another daughter, and her two oldest children graduated from college and moved out on their own. Her oldest daughter is now a teacher, and her oldest son works in computer coding. And the boy who was just four when she moved in is now in high school. Hamida continued working in healthcare.
Hamida Decides her Home is Ready for the Next Generation
When the pandemic hit, it really caused Hamida to pause and reflect on her life—an experience shared by many in 2020.
"I'm now in my mid-50s, and with this pandemic moment I kind of wanted to recalculate what is important in my life," Hamida says. "With COVID, you can see left and right that people are losing their jobs, losing their loved ones or themselves. Selling my home never came into my mind before, but the pandemic caused me to say, really, what is important now?"
Hamida loved her Habitat home and neighborhood, and the 12 years of raising her family there. But with her children growing and leaving home, she realized the house was more space than she needed. She liked the idea of the home going to a bigger family. Plus, if something happened to her during the pandemic, she didn't want her children to have the responsibility of the home.
After a lot of soul searching, Hamida decided to sell her home back to Twin Cities Habitat.
When a Habitat homeowner is ready to sell their home before their mortgage is paid off, Habitat retains the right to buy back the home at fair market value. It's a win-win: The homeowner has a willing buyer and receives a portion of the equity in the increased home value. And Habitat can update the home and make it affordable for the next generation of homebuyers.
"Selling back was a really smooth process and professionally perfect," Hamida says. "Anyone that I communicated with was very helpful, very kind, and it was an amazing experience on both sides."
When Hamida started the selling process, she thought she'd sell back her home in early November. But she realized she wasn't emotionally ready – there were so many memories and things to go through – and she also wanted to wait until her kids were on their winter school break. That was not a problem for the Habitat team, and Hamida was happy with the flexibility.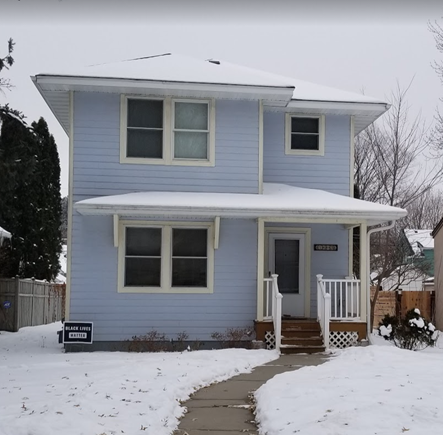 Hamida's home in January 2021. Soon, another local family will be ready to buy it with Habitat.
Best Wishes for the Next Family
Hamida said goodbye to her Habitat home in January 2021 and is happy with her new apartment. Next, the home will receive some updates to get ready for a new Habitat homeowner.
When asked what she would want to say to the next family moving in, Hamida responded:
"I want to tell them, first of all, congratulations that they have that house! They're very lucky. I hope they enjoy it. And they're very lucky to have that neighborhood—everyone down there is so amazing. Enjoy the neighborhood, enjoy going on walks around the lake, and take every possible opportunity you're given."
Overall, Hamida has nothing but good things to say about Habitat for Humanity. She learned a lot through her Habitat homeownership experience, and felt lifted and supported every step of the way.
Hamida and her family will always cherish the memories they made and opportunities they received with their Habitat home. And soon another local family will get to experience the transformational power of homeownership in that same home.