On Monday, April 5, Twin Cities Habitat celebrated the return of our regular crew volunteers! After a few months away due to COVID-19, everyone was thrilled to be back. Our staff missed our regular volunteers, who are essential to keeping our mission going! Among those volunteers was Marilyn Birk of the Northwest regular crew.
Marilyn moved back to the Twin Cities Metro after living in Southern Minnesota for 40 years. She grew up in a family that did a lot of DIY and repurposing projects, so when she retired she wanted to find new ways to get connected with her community. Her last career was in computer drafting for residential homes where she drew up blueprints and documents for housing permits. Volunteering for Habitat gave her the chance to learn more about the practical side of housing – she likes to keep moving and get her hands dirty, so it was a perfect fit. She's been loving every moment ever since.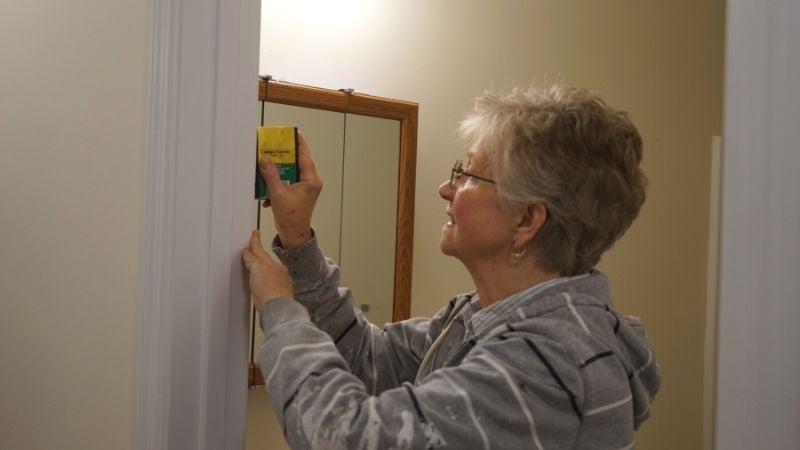 Marilyn painting a doorframe.
Her first home build was three years ago, and she vividly remembers working on nearly complete side-by-side homes and spending a lot of time painting – including the railing of the front porch. The next few days at that site included painting the basement floor and stairs.
One great part of being a regular volunteer at Twin Cities Habitat is connecting with other volunteers, and learning more about the mission. Every year Habitat regular volunteers gather for the Regular Crew Summit in the spring to hear updates, kickoff the new build season and celebrate the work they do with Habitat. During the 2019 Summit, Marilyn enjoyed listening to other volunteers share their stories. It was clear that volunteering and Habitat's work have made a positive impact on many.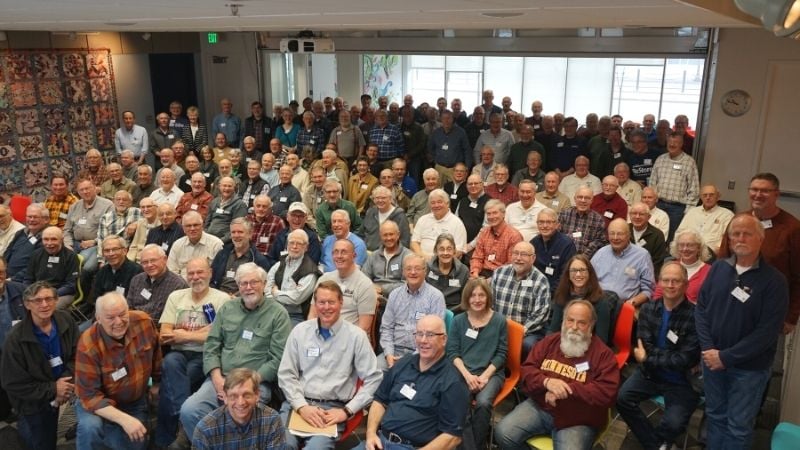 The 2019 Regular Crew Summit.
Marilyn loves that when she volunteers with the Northwest regulars, there are a variety of things for her to do. She learns from the other volunteers and has the opportunity to use new equipment that they may bring to site. One of her favorites is an oscillating multi-tool.
When she was still new, Marilyn was a little timid on site. The most senior member, Rudy, taught her how to cut and install window trim. Marilyn appreciates how much her team challenges her to learn new things.
The crew generally works two days a week, but due to COVID-19 precautions, they're only working one day a week per person.
"We've had 2 days of painting so far. From a physical point of view it's so good to do something productive, to actually move."
In the interim Marilyn is volunteering at a food shelf. The reduced schedule with Habitat allows her to fill in on Fridays at the food shelf, which is usually when they need more people.
The Northwest regular crew (photo taken before COVID-19).
Before joining Northwest regular crew, Marilyn was a little intimidated by the idea of making a commitment. She wasn't sure how to balance volunteering and her daily activities. She realized quickly that there is flexibility and enjoys spending time with a great group of volunteers willing to teach her and are patient with her learning curve. Volunteering with Habitat combines a lot of Marilyn's interests, and helps build relationships with new people in the community. Marilyn has even gotten help on home projects through the friendships she's built!
"I would encourage everybody to give it a try. Step out of your comfort zone if you have reservations. It will end up being a lot of fun."
If you want to volunteer, make sure to sign up for our Ready-to-Build list!