Guest Blog by Caitlin Magistad
Twin Cities Habitat for Humanity Staff
This past week, July 22 -29, Twin Cities Habitat for Humanity joined Habitat affiliates and other affordable housing supporters across the country in Our Homes, Our Voices, a national week of action calling on members of Congress to invest more federal resources in affordable housing. Throughout the week, there were almost 60 events planned in 27 different states, ranging from letter-writing and phone call campaigns to rallies and press conferences.
As part of Homes for All, a statewide coalition, Twin Cities Habitat hosted a community conversation and film screening of Sold Out, a local documentary about the lack of affordable housing in the Twin Cities. More than 40 community members attended the Twin Cities event, and took action to contact their members of Congress in support of affordable housing. Similar events were hosted by Homes for All members in Duluth and Moorhead, activating our statewide network of affordable housing advocates!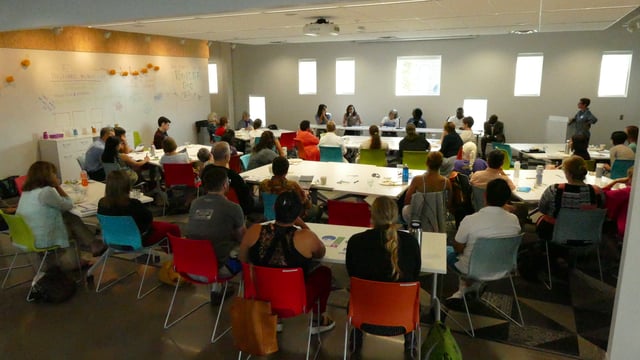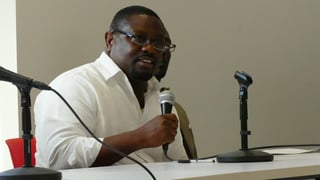 One of Twin Cities Habitat's financial coaches, Stephen Wreh-Wilson (pictured), participated in a discussion panel prior to the film screening, and shared the benefits of housing stability that our partner families experience when they move into their Habitat homes. Stephen also shared Ourthat many families come to Habitat after experiencing our challenging rental market:
A lot of families come to Habitat because they're experiencing what the Sold Out film shows: rapidly-increasing rents, changing lease terms, and how unpredictable life can be as a renter.The stability of affordable housing, whether rental or ownership, is life-changing for families. Kids do better in school, have a safe place to play, and families are healthier when they don't have to choose between paying the rent or other basic needs.
Where we live impacts everything, and we know it's time for more investments in our communities so families can thrive. Join us in raising our voices for affordable homes by contacting your members of Congress today!