Guest Post By Susan Buechler
Twin Cities Habitat Staff Member
Many hands make good work. That's always been our belief at Twin Cities Habitat for Humanity (TCHFH), whether it's guiding 750 volunteers a week as they raise walls on new homes or joining the Homes for All coalition -- 150+ local housing groups – to bring citizens' voices in support of affordable housing to the State Capitol. Habitat couldn't do the work we do without the backing of many local foundations, both large and small. It's a symbiotic relationship – our work helps foundations advance their missions.
Focus on the local community
Foundations partner with us to give low-income families affordable homeownership opportunities, but there are many aspects of this work that appeal to specific interests. The F. R. Bigelow Foundation, the Mardag Foundation, and the Saint Paul Foundation have partnered with us over the years to help East Metro families become successful, long-term homeowners, and to improve the quality of life through our Neighborhood Revitalization efforts. The Bigelow Foundation invested in TCHFH's Family Services Department, allowing us to completely revamp and implement a new homeowner training curriculum with expanded modules on financial fitness, education, and literacy, and all three foundations support our community engagement work in Frogtown.
Environmentally-conscious partnerships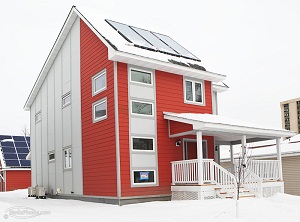 Two foundations concerned with environmental responsibility knew that we have long incorporated this value into our work. Carlson and the Carlson Family Foundation emphasized building green when it started partnering with Twin Cities Habitat, sponsoring three U.S. Green Building Council-certified homes in Minneapolis. The Opus Foundation helped us extend our green building practices by supporting the use of recycled finger-jointed studs in new home construction and offering expert advice on energy-efficient heating options for new homes.
Pushing for change
Twin Cities Habitat has several other programs that appeal to area foundations. We've helped foundations advance their mission to effect broad social change. For instance, the McKnight Foundation, The Saint Paul Foundation, and the Minneapolis Foundation all recognized that TCHFH is a catalyst for energizing citizens around housing issues. Knowing that we work with thousands of individual volunteers each year, these foundations helped us invest in a new Volunteer Management System to harness the potential of these concerned, active, and generous citizens. With these foundations' support, we've also developed and expanded a service learning program, Build. Think. Act. that gets volunteers to dig deeper into affordable housing issues. And they've been behind our persuasive Housing Heroes, citizens who take action to back affordable housing through our Advocacy program.
Unique Programs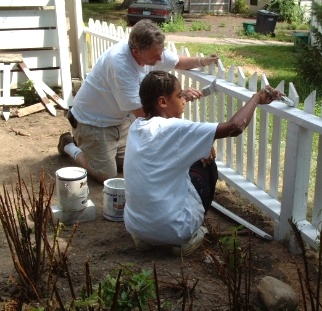 Don't think of women's empowerment when you think of Habitat for Humanity? Think again. The Hugh J. Andersen Foundation is a long-time supporter of our Women Build program, which builds skills and confidence among women volunteers and homebuyers. Each year, local women build at least one home from start to finish. It is a great learning experience for some who've never used power tool, a chance to exercise leadership for others, and a fabulous opportunity for women to build community. The Home Depot Foundation's mission is to support veterans: TCHFH's Veterans Initiative serves dozens of veterans each year in our Homeownership, A Brush with Kindness and Mortgage Foreclosure Prevention Programs, as well as engaging hundreds of veterans as volunteers on site. The U.S. Bank Foundation wants to make sure that older adults, people with disabilities, and single mothers can remain living safely in their homes, so it has been funding Twin Cities Habitat's A Brush with Kindness home repair program for many years. And the Marbrook Foundation is concerned with helping immigrants: dozens of immigrant families gain stable homeownership each year through Twin Cities Habitat.
Program-related investments are gaining attention from more and more foundations these days. Using this instrument, foundations can provide initial capital investment to help new initiatives get off the ground. The Otto Bremer Foundation joined forces with us to help us launch a new Habitat mortgage offering – which will give more Twin Cities kids safe, stable homes.
Why do foundations trust Twin Cities Habitat to advance their mission?
As an established, 30-year old nonprofit, Twin Cities Habitat can be counted on to deliver results. TCHFH regularly meets its goal to build and sell affordable homes to 45-50 families a year. TCHFH's pre- and post-purchase homeownership training sets families up for success: Our foreclosure rate on over 1,050 home mortgages is less than 1%. As for our operations, our administrative costs are low and we consistently meet the standards set by the Charities Review Council.
TCHFH's leadership is highly experienced, visionary and effective. President and CEO Susan Haigh is the former Chair of the Metropolitan Council, has served on the Minnesota Housing Partnership Board as well as the Habitat for Humanity U.S. Board. In the past five years Ms. Haigh oversaw a successful $36 M World of Hope campaign to increase home production and a simultaneous capital campaign to build a new headquarters to accommodate present and future growth. Our Board of Directors includes key figures at many of the areas' major corporations as well as citizen volunteers.
With years of service, TCHFH's staff members have built strong working relationships with city officials, other housing organizations, and neighborhood groups. Together we identify areas of need and arrive at the best solutions.
At Twin Cities Habitat, we are all about building communities – something that resonates with the foundations that support our mission. When we incorporate strong foundation partners, with a strong core of volunteers, we not only positively impact the lives of children and families in the Twin Cities, we improve the quality of life across all communities in the metro area. Many hands do make good work; add many strong partners, and that good work gets multiplied exponentially.