Kalia loves her job as a second-grade teacher at Hope Community Academy in St. Paul. And she deeply knows how important a stable home is for success in school, because she remembers life before and after her parents bought their Habitat home.
That home made a big difference for Kalia's family—just like you make a big difference in the lives of local families when you support Habitat.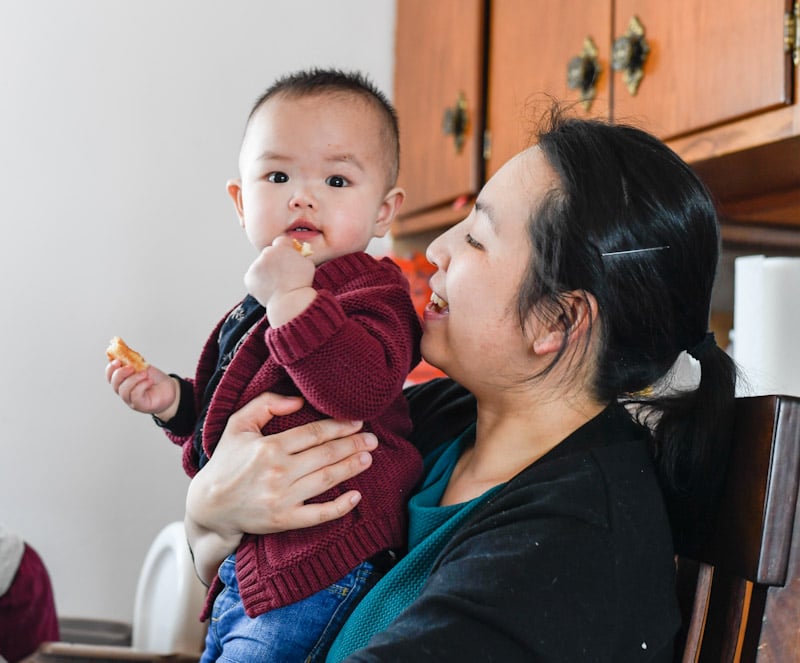 Kalia and her daughter.
Kalia's parents immigrated to the United States from a refugee camp in Thailand in the late 1980s. Kalia was born there, and all her younger brothers and sisters were born after they moved to the U.S. Her parents worked hard to provide for their growing family. They had to move apartments often for different reasons, like the landlord raising prices, or finding a cheaper place somewhere else, or needing more space, etc.
The frequent moving was stressful. On top of that, her parents had to work long, irregular hours, leaving less family time. Despite those challenges, Kalia's parents were adamant that the kids would all stay in the same school even when they moved. They would almost always have another sibling to ride the bus with.
Kalia was in fifth grade when her parents bought their Habitat home. Keeping that stability in school became easier when Kalia's family had stability at home. And, because their Habitat home was affordable, Kalia's parents didn't have to work as much and could spend more time with the family.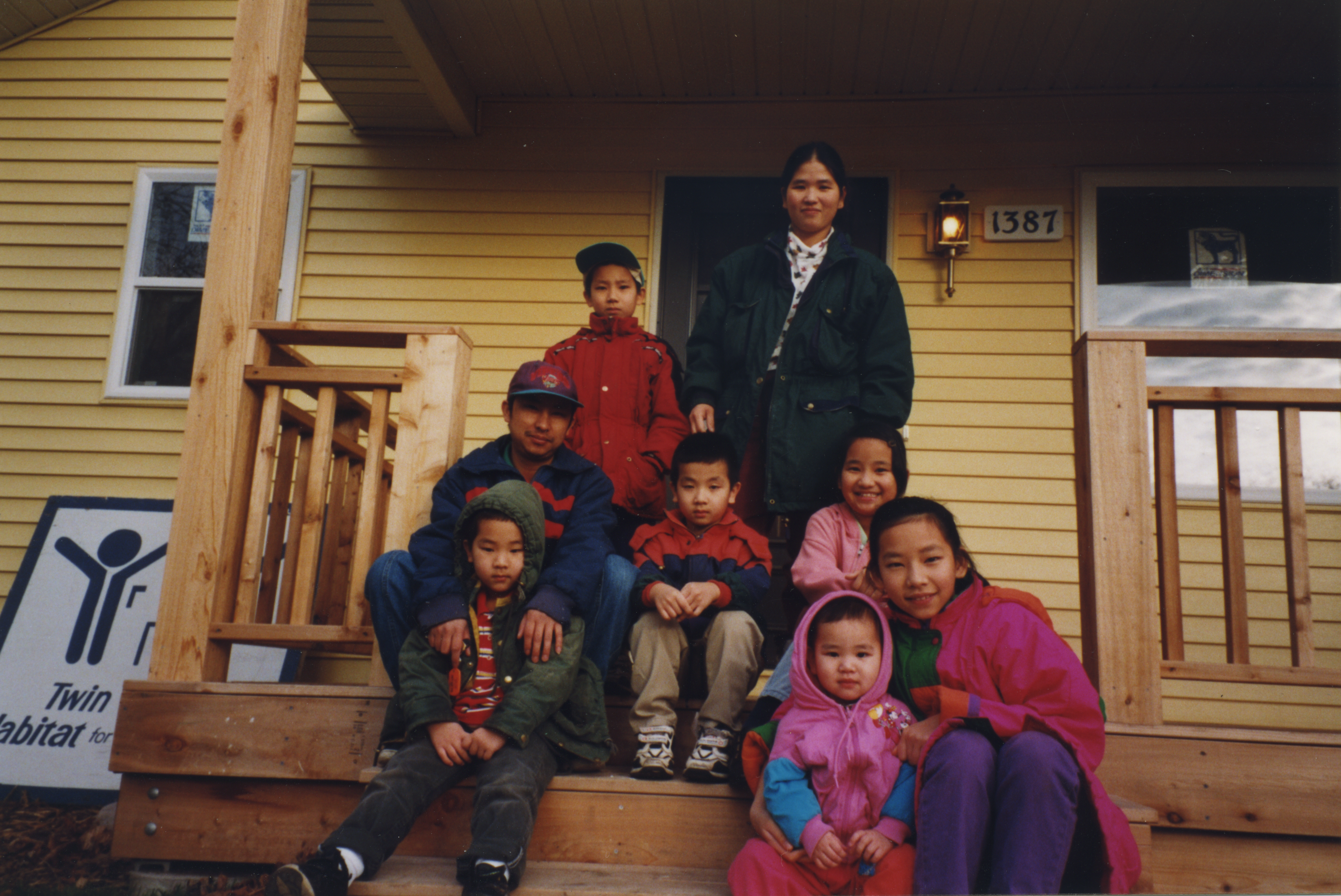 Kalia and her family in front of their Habitat home.
"It's nice to have that stability because home is a place where you are considered safe, where you can come home to everyday," Kalia remembers. "That's one of the reasons I was able to get through high school and go to college."
Kalia lived at her parents' home when she attended college, saving her money. And it was there that she discovered her interest in teaching.
"As a kid, I wasn't too sure if I wanted to be a teacher," she says. "As I grew older, I realized a lot of the volunteering I did was working for schools and with kids."
In high school, she volunteered to tutor other students after school, and she did similar work in college. She remembers working with an especially shy middle school girl. They would meet once a week to check in on assignments. Toward the end of the school year, that girl asked if Kalia would be her mentor again the next school year.
"That inspired me and showed that I could make a difference!" Kalia remembers. "I decided maybe I could become a teacher. I could help inspire and motivate students at a younger age. Students will always remember a teacher who cared for them."
Kalia became a teacher, and she most enjoys watching students grow. She has made it a mission to help students not be defined by the negative labels others put on them.
She remembers one boy who started the year convinced he was a bad student because he had been sent to the Principal's office a lot the year before. He didn't have a stable home, and Kalia knew that must be hard for him.
"I told him that I don't see you as a bad student," Kalia remembers. "The only time I'm going to send you to the Principal's office is when you're proud of something you've done."
It wasn't easy, but she would keep him in the classroom if he did something disruptive and together they'd figure out what to do. Eventually, one day he did a project that he said he was proud of.
"I asked if he wanted to show it to the Principal, and he did! He just needed someone who understands him and cares about him. He's in seventh grade now, and he still remembers me—he recently ran up and said hi when I saw him at a talent show."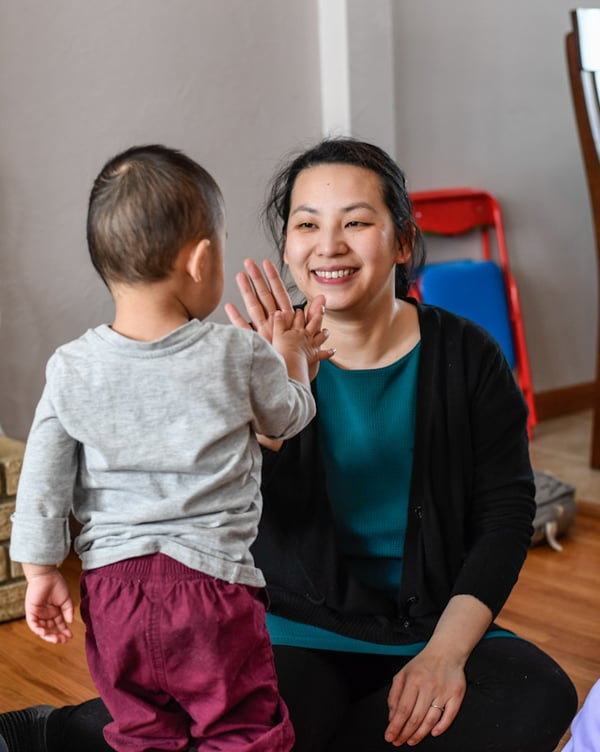 Kalia and her nephew.
Kalia sees a lot of kids with homes that aren't stable. It's hard when she sees a child have to come or go abruptly because their family has to move. She readily shares her own experiences of growing up in crowded apartments and moving a lot with her students. Sharing builds a sense of trust and belonging in her classroom, which helps students who frequently move feel more comfortable.
"I'm hoping that for one small moment in life, my student knows that someone did not give up on them," Kalia says. "They can reflect back on that when they're older and appreciate who they are. Moments like that can motivate people to change and become a better person."
Like Kalia, there are thousands of people around the Twin Cities who grew up in stable, affordable Habitat homes. Teachers. Healthcare workers. Housing advocates. When you support Habitat, you support strong families and thriving communities.