By Rebecca Lucero
Policy and Advocacy Manager, Twin Cities Habitat
A committee in the House of Representatives is currently making decisions around funding that directly impacts Habitat for Humanity. On the table is $5 million in cuts to the Challenge Fund. These funds are critical to the work that Habitat for Humanity does across the state. Please ask your legislator to prevent these cuts from occurring by quickly sending this email directly to them.
Habitat for Humanity and The Challenge Fund
For more than 30 years, Twin Cities Habitat has been a national leader in offering affordable mortgages and preparing families for success. Wilder Research and Habitat for Humanity Minnesota recently surveyed and studied hundreds of Habitat homeowners across the state. Their findings confirm what we already all know to be true: that Habitat homeownership, like other safe stable, housing, is linked to improvements in education, health, and quality of life.
With over 600,000 families paying more than they can afford towards housing across Minnesota, we are proud to share that we are expanding our Homeownership program so that more families can buy safe, stable, and affordable homes.
Our expanded Homeownership program will:
Offer loans that are affordable: families pay what they can afford, with fixed-rate mortgages.
Offer families buying homes more choices. For the first time ever, families will be able to buy a home on the open market – using Habitat as the bank. Or, families will be able to continue to buy homes built by Habitat.
Continue to prepare homebuyers to be successful in their future as homeowners, with Habitat providing over twenty hours of specific and direct training.
Our programs and services are made available to the community through strong local partnerships and by thoughtfully leveraging resources available to us. This includes funds from the Challenge Program. With this shift, we are more than doubling the number of families that will be able to buy homes from Habitat.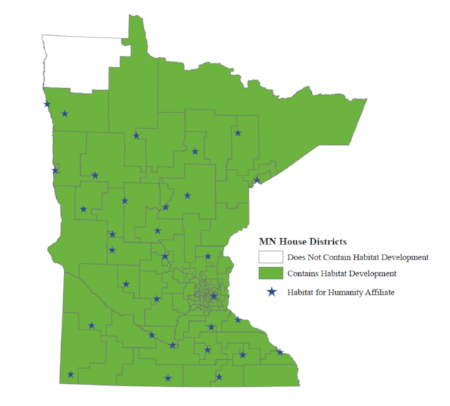 So, who are the families buying homes from Habitat?
Families across Minnesota buy homes from Habitat. In Willmar, Shakopee, St. Paul, Maple Grove, Duluth, St. Cloud, Fergus Falls, Moorhead, Detroit Lakes, and many more towns and cities across Minnesota….
It may be helpful to note that the typical Twin Cities Habitat homebuyer family earns around $38,000 per year. Homebuyers work, go to school, care for their children, and pay their mortgage.
Ya Landa, an administrative assistant for Scalan International, bought a home from Habitat in 2010. After moving in, her son's asthma cleared up because they were no longer living in a moldy apartment. Today, her oldest son, Taylor, is a student at the Carlson School of Management. Her younger son, Dale, is in the dance troupe at their church and starts college this fall.
Another family, Sarah and Mohammad, were raising three children in a studio apartment; five people, living in one big room. Mohammad, a former Marine, works at MetroState helping Veteran students succeed in school. He found out about Habitat's Homeownership Program, and the family submitted their application. They bought a home after many hours of working alongside volunteers to rehab a previously-foreclosed home. Since moving in, the kids have made lots of friends, hosted movie nights, and even started a neighborhood running club.
There are many families across the state who are ready to buy homes, but many of them don't have access to the traditional market. This is why we are proud to be one of the more than 150 organizations to partner with Homes for All – to work on the entire continuum of housing. Homes for All, along with Habitat for Humanity, knows that the Challenge Fund is essential to meet the needs of families across the state.
At Habitat, we know it will take all of us working together in partnership with faith communities, foundations, corporations, individuals, and government. We know we all have a role to play. Leveraging funds toward safe, stable, and affordable housing is a responsible use of state resources.
The Challenge Fund is the only way that Habitat for Humanity receives money through the budget process from the state government to support its work, and it is the primary vehicle for creating new affordable housing throughout Minnesota. Please ask your legislator to prevent the proposed cuts to this essential source of funding.