By Susan Buechler
Twin Cities Habitat Staff Member
When Ann Padilla-Parras was young, her family went through a rough patch. Her mother had left her abusive husband and then struggled to support the children on her own. They moved a lot, until her mother heard about Habitat. She worked hard to become eligible to buy a Habitat home, and then life got a lot better for Ann and her siblings. Today, Ann works with first-time juvenile offenders at the Denver District Attorney's office; she also sits on the board of the Denver Metro Habitat affiliate. Ann talks passionately about helping others secure affordable, stable homes, as her mother was able to do.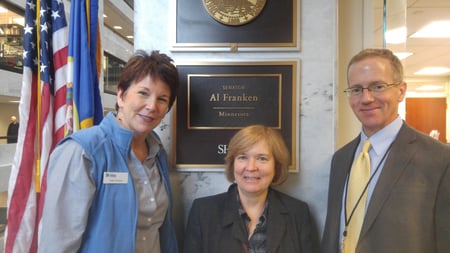 Ann's moving speech opened Habitat for Humanity's legislative conference held in Washington D.C. from Feb. 2-4. I was there with three of my Twin Cities Habitat colleagues: Cathy Lawrence, VP of Development and Community Engagement, Rebecca Lucero, Policy and Community Engagement Manager, and Terra Lumley, Senior Site Supervisor, as well as Kevin Worden, the Rochester affiliate's Executive Director. This annual event brings together hundreds of Habitat staffers from across the country to discuss current trends in housing support, learn from each other, and visit with Congress members.
Twin Cities Habitat Recognized for Second Year in a Row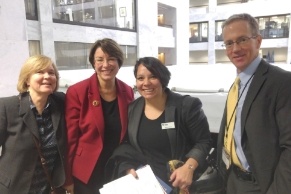 Just as Habitat reaches out to thousands of volunteers to help build homes, we also reach out to city, state, and federal officials to help address the need for housing. Habitat defines advocacy as changing policies and systems to eliminate barriers to adequate, affordable housing. Rebecca Lucero leads our advocacy efforts. Here in Minnesota, we're deeply involved with the Homes for All coalition, which unites dozens of organizations to advocate for the whole gamut of housing needs (from homelessness prevention to affordable rental to homeownership education programs).
Our efforts have been very successful – breaking records in the amount of state funds dedicated to housing needs -- and a model for other affiliates across the country. At last year's convention, Twin Cities Habitat was one of three winners of the Habitat Advocacy award. This year we were again recognized, receiving an Honorable Mention for a new city-level coalition, Make Homes Happen Minneapolis, that Rebecca and her team helped inaugurate.
Why Go to Washington?
The United States' housing sector is still coming back from the financial meltdown of 2008. If you've seen the movie The Big Short, you'll have a visceral understanding of how unscrupulous folks played fast and loose with home mortgages and set it all off.
Habitat's message to lawmakers in Washington was that the system is still broken. (Indeed, just yesterday The New York Times reported that low-income homebuyers, who can't get a traditional mortgage, are being tricked into buying substandard homes that they can't afford to repair; the companies that flip these homes can make a 400% profit.)
Speaking as one voice, our Habitat cadre asked Congress members to make housing finance reform a priority; improve access to credit; provide a federal guarantee for mortgage-backed securities; and provide targeted housing assistance to low-income households.
In addition, several federal programs address affordable housing and are critical to the U.S. Habitat network: The Self-Help Homeownership Opportunity Program, the HOME Fund, and the Corporation for National and Community Service (which supports AmeriCorps and Vista programs). We explained to our legislators how important this federal support is in helping us leverage other donations, and asked our legislators to increase or maintain funding levels for these programs in fiscal year 2017.
Home: A Nonpartisan Issue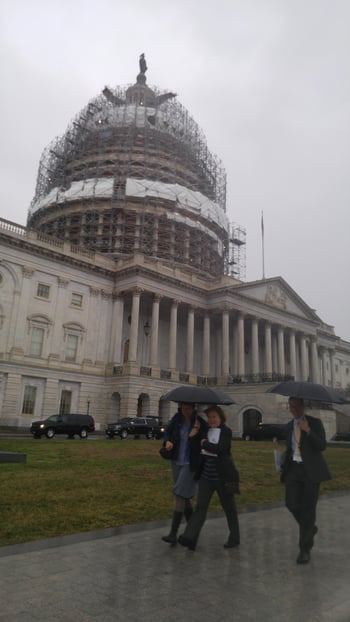 After a day of workshops on Tuesday, our Minnesota delegation brought Habitat's message to nine of our Congress people. We first visited with staff of Senators Klobuchar and Franken in their Senate office building, then rushed through pouring rain to the House office buildings where we stopped by the offices of seven Representatives: Keith Ellison, Tom Emmer, John Kline, Rick Nolan, Betty McCollum, Tim Walz, and Erik Paulsen. (I had no problem making my exercise goal of 10,000 steps that day.)
We had been warned that the staffers we'd talk to would be young, but not to worry – they were incredibly smart and the ones who did the research and advised the Congress people on the issues. (Sure, I thought to myself, I've seen The West Wing: those precocious staffers can trade witty barbs, sing Gilbert and Sullivan operettas in harmony and write legislation blindfolded and with both hands tied behind their backs!) And indeed, I was struck by the knowledge, interest, and helpfulness of every staffer we met.
Add Your Voice
I know many of us feel jaded about politics and politicians, especially with the presidential election season already off to a vituperative start. But my experience at Habitat on the Hill in Washington made me feel just the opposite. It was clear that the staffers and Representative Walz and Paulsen (who we met in person) were happy to see us and hear our concerns. And they were impressive: knowledgeable, concerned, earnest. They all thanked us for coming and for caring about housing issues.
In a few weeks, the MN Legislative session begins. Twin Cities Habitat invites you to our Habitat Off the Hill event on April 27, where you'll get to tell your state legislators why helping everyone in our community have access to affordable housing is important to you. It's a fun and inspiring evening, and believe you me, hearing from individual constituents makes a big impression on law makers. I'll be there – I hope you will, too!