There should be no doubt about it: Minnesotans are generous.
You gave big gifts to help more families afford a Habitat home. You shared with friends, bringing more people into the Habitat team. You unlocked more homes for families. Thank you!
Sue Haigh, Twin Cities Habitat President and CEO, has a word of thanks for you:
Now to the numbers
You joined many others to say "everyone deserves a decent, affordable place to live" for Give to the Max:
Your gifts, either through our site or giveMN, went over and above to unlock our entire matching gift of $90,000
You were one of over 600 donors to Twin Cities Habtitat
Overall, Give to the Max day was a huges success for Minnesota. Donors from 20+ countries and all fifty states contributed $20.6 million to thousands of nonprofits and schools across the state.

And the winners are...
This year, 13 people became Habitat Builders. They created fundraising pages and asked their friends and families to donate to Twin Cities Habitat. A big THANK YOU to everyone who raised funds for Twin Cities Habitat!
We threw in some healthy competition, too. The two Habitat Builders who had the most donors to their pages would win a $350 Apple gift card. Congratulations to these all-star fundraisers:
Becky Engen, who had 21 donors give to their page!
Bethany Nagan, who had 20 donors give to their page!
Also, everyone who fundraised won a Habitat tumbler. Congratulations!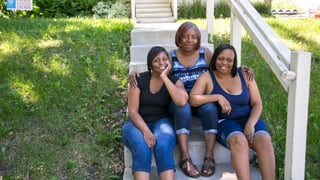 Home is many things to many people. Like a place to study. A place to gather with family for the holidays. A place to dream for the future.
You make all those things possible when you make homes affordable with Twin Cities Habitat. Thank you.