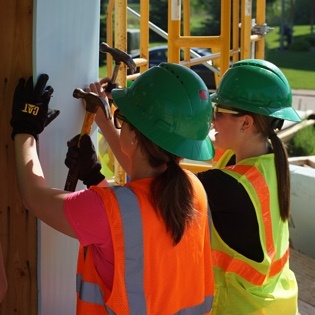 The only way Twin Cities Habitat for Humanity (TCHFH) can fulfill its mission of eliminating poverty housing in the metro area is by having the support of generous sponsors and committed volunteers like you. One of the most common ways we have of doing this is by having a company make a gift to TCHFH so their employees can spend a day, a week, or several weeks working to build a Habitat home or repairing a home with A Brush With Kindness. Pretty simple, right? Actually, there's more to the story.
Suggested gifts levels to sponsor a Habitat build is $1500 for a day and $8000 for a week. Those are generous gifts, but they are less than the daily cost of construction. Every day that we build, we spend on average $2000 for materials. TCHFH has to find additional funding above and beyond sponsorships to cover the difference. The question is, how?
One simple and efficient approach is asking volunteers to consider making a year around impact by joining the Carpenter's Club and making a monthly gift that covers the gap. Here are a few examples of the building costs your monthly gift might cover:
A gift of $5 per month can pay for all the drywall screws used in the home
A gift of $10 per month can pay for all the ceiling light fixtures in the home or all the nails used to build the home
A gift of $25 per month can pay for a bath tub and a kitchen sink
A gift of $50 per month can pay for all interior doors in a home
A gift of $125 per month can pay for all the laminate flooring in a home
TCHFH loves its volunteers and thanks everyone of them for their gift of time. If you're one of them, we'd like you to consider becoming a donor as well by joining the Carpenter's Club. Not only would you be helping fill the construction costs gap, you would be helping even more families to buy a home of their own.
For more information on joining the Carpenter's Club, visit tchabitat.org/donate/carpentersclub.