Guest blogger:
Laura Tanner, Major Gifts and Planned Giving Officer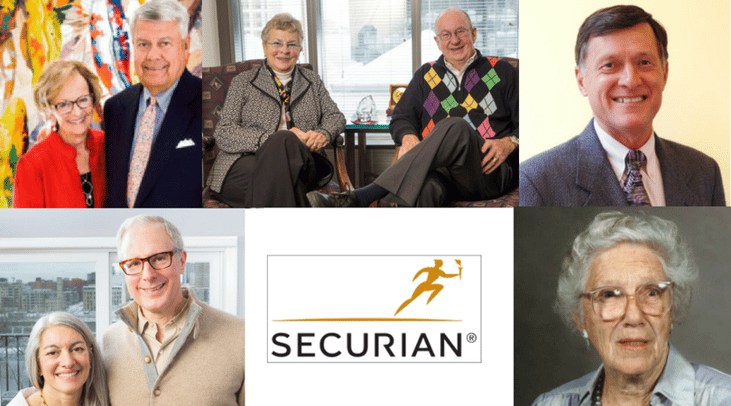 Celebrate
It's the time of year we often reflect on what we are thankful for and in the Twin Cities community there is gratitude to go around. Last Friday over 600 people gathered to celebrate the generous spirit that makes our community great at the National Philanthropy Day hosted by Minnesota's Association of Fundraising Professionals (AFP MN).
Twin Cities Habitat for Humanity was proud to be a Bronze Sponsor in honor of several Habitat friends: Jim and Carmen Campbell, Dick and Joyce McFarland, Bert and Suzie Colianni, Securian Foundation and the legacy of Katherine B. Andersen.
Community Leadership
Throughout the lunch, themes of generosity, community, and leadership emerged.
Dick McFarland recalled the leadership of Wheelock Whitney who first introduced him to the value of giving back. On the verge of a promotion Wheelock instructed Dick, "with the title comes responsibility…pick two nonprofits that you're going to be involved with." Since that time the McFarlands have lead with their actions, and they know that we build a better future by ensuring opportunities for all youth and adults in our community.
In turn, Jim and Carmen Campbell shared that their generosity was influenced by Dick and Joyce's example. After growing up in a small farming community, their giving has grown to help build houses, hospitals and churches, and the list goes on.
Bert and Suzie Colianni highlighted their style of 'friendraising' and how important it is to bring others along for causes that they are passionate about.
Lori Koutsky accepted an award on behalf of Securian Foundation, where giving back to the community is so integral to their work, they highlight company volunteer opportunities at new employee orientation.
To close out the afternoon, Sarah Andersen accepted an award in honor of her grandmother and the legacy Katherine B. Andersen left, not just as a leader at Andersen Corporation, but across the community, from founding organizations to hosting picnics for senior citizens at her home.
Throughout the lunch, honorees remarked on how many wonderful organizations were represented in room and all of the good work being done across the Twin Cities. These individuals and organizations are just a few of the Habitat supporters that we are thankful for.
Thank you to all Habitat homebuyer families, donors, sponsors and volunteers who inspire us with their commitment, passion and generosity to the shared belief that an affordable home is the foundation for great things.