Guest Blog by Grant Gray
Twin Cities Habitat Staff

On Wednesday, January 24th, the Saint Paul Area Chamber of Commerce Young Professionals (YPro) hosted the YPro Discovered Gala. It celebrated the best and brightest young professionals, as well as, organizations with a commitment to support them in the metro area.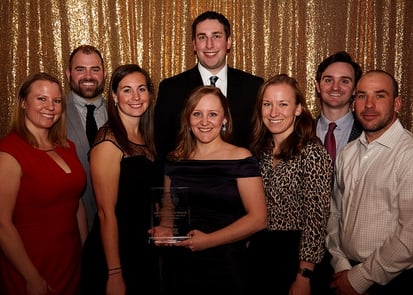 Twin Cities Habitat for Humanity, was honored to be named the 2018 YPro Advocate of the Year – Medium Organization winner. Our Habitat Young Professional Network (HYPN) Steering Committee and Twin Cities Habitat employees Riley Moynihan and Grant Gray accepted the award on behalf of Habitat. We were recognized alongside so many amazing organizations and young professionals, including fellow awardees Mahoney, Ulbrich, Christiansen & Russ P.A., Andersen Corporation, and Young Professional of the Year Miya Sharpe.
Together with Twin Cities Habitat's commitment to families, organizations and volunteers with whom we partner, Twin Cities Habitat has had a longstanding commitment to young professionals. We encourage young professionals and volunteers to try new things, start new programs, and identify opportunities for both organizational and personal growth. Having the HYPN Steering Committee accept this honor on Twin Cities Habitat's behalf, for their tremendous contributions, was fitting.
If you are looking to build your leadership experiences and get more involved with Twin Cities Habitat, we're currently accepting applications for the HYPN Steering Committee. The committee meets monthly and puts together programming, volunteer days, networking events, and fundraisers for the year. Contact Grant Gray at hypn@tchabitat.org for more information.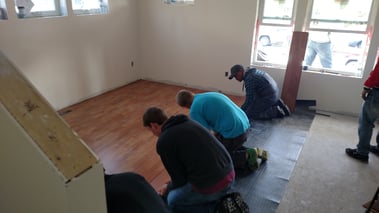 Speaking of programming, join us at one of our upcoming events! HYPN will be hosting a networking happy hour at LynLake Brewery on Wednesday, February 14 from 6 – 9 PM for all those in need of a Valentine's Day diversion. Additionally, we have a volunteer day scheduled on March 31 at our Twin Cities Habitat panel plant. More information about these opportunities visit our events page or HYPN's Facebook.