"17,000 volunteers gave 28,000 days in all programs at Twin Cities Habitat for Humanity from July 2013 – June 2014"
Sometimes, the numbers just speak for themselves. Here at Habitat, we're extremely lucky to have a dedicated community of volunteers that come out and support our work each and every day. From the individuals that come to build with us once each year, to the groups of volunteers that help on a regular basis, each and every person that donates their time and talents helps further our mission of eliminating poverty housing in the Twin Cities.
"I am constantly inspired by the dedication of Twin Cities Habitat volunteers week after week and year after year," said Anne Thul, Volunteer Programs Manager. "We would not be able to have the community impact we do without each and every volunteer who shows up."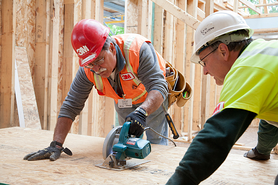 Although homebuilding accounts for a majority of the volunteers engaged with Habitat's work (nearly 74%), there are plenty of other ways in which individuals and groups help out at Habitat. Over the last year, roughly 19% of our volunteers have helped out with A Brush with Kindness home repairs, our Advocacy work, or assisted the staff at the Restore. The remaining 7% of our volunteers have engaged with Family Services, Youth Engagement, the Warehouse, the Office Team or joined one of Habitat's committees.
"Habitat really integrates volunteers into every aspect of our organization," Anne said. "We have a variety of opportunities for most people and are excited to get volunteers involved in new, creative, impactful, and fun ways."
Twin Cities Habitat typically sees a spike in volunteer inquiries during the summer months, and often experiences a "volunteer lull" from October – March. This creates a huge need for volunteers that can support our homebuilding, home repair, veterans, and mortgage programs and services year-round. (Yes, even during Minnesota winters.)
Where do our volunteers come from?
The cities with the most TCHFH volunteers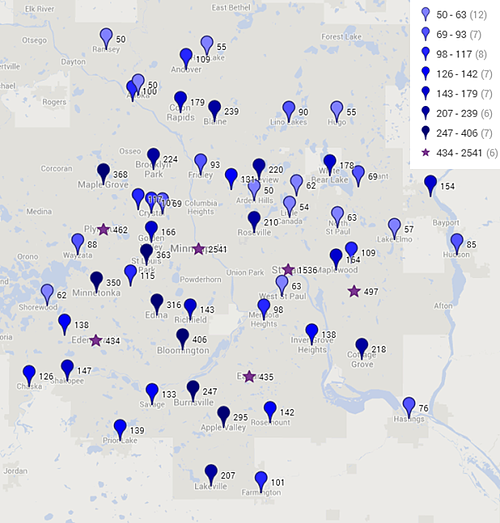 Not sure what volunteer position is right for you?
Our new volunteer scheduling tool gives you the opportunity to explore all of the available volunteer opportunities with Habitat in the Twin Cities. To learn about all the different ways you can help out at Habitat, read through our Opportunity Descriptions. Have questions or need more information? Connect with our Volunteer Coordinator via email or call 612-305-7114.