Guest Blog by Dave M.
Global Village trip participant
So here we are at the end of day five, and it's my responsibility to write the blog. Unfortunately, I have no idea where to start, as I have a million thoughts running through my head, but I'll give it a shot.This is the fourth Habitat trip that Jane and I have made down to Costa Rica, and for whatever reason, it seems to also be the most rewarding. Perhaps a big part of it is that we had our son Nathan, his soon to be wife Rachel, our other son, Josh, and his new wife, Stephanie, along with—but it's more than that too, and I'll try to do my best to put my finger on it.
I guess, in large part, it has to do with the Habitat staff, both the staff from Minneapolis, as well as the Costa Rican staff. I am continually amazed by the devotion these people have to the job and the families they serve. I had the privilege to sit in on a handful of conversations that they had, and it was always about how we can make it better, and learn from each other.
I could also go on about the physical work that we did, about how we started from a bare piece of land with the week one people, to us finishing week two with an outside structure basically complete, but again it's more than just building a house, it's building a home.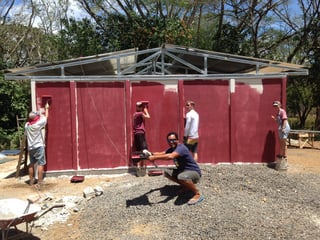 For whatever reason, this trip really felt like we were identifying with the family (Oliver, Andrea, their young son and a son-to-be) that was going to be living in the house we were building, and how appreciative of our work they were. We've all been in situations where everyone says what they are supposed to say in a situation like this (all the world's a stage, right?), but the many, many thanks we received from this family were so heartfelt that it was impossible to not be moved.
Beyond that, I also want to say something about the volunteers here this week. Some of them that are Costa Rica repeaters, we have gotten to know a little better, and those that we met for the first time, we have gotten to appreciate who they are. Personally, as I have gotten to know them better, I appreciate more and more who they are. For many of them, donating their time and talents to Habitat is just one of the charities that they support in one way or another, and the fact that they support multiple charities is just incredible to me.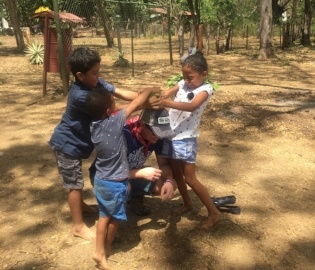 So after a week of work in Costa Rica, what's my takeaway? It's this: that there are many, many good people in this world, despite the deep divisions that all see back at home. When I come on a trip like this, it's easy to see that there is no "them", there is just "us". Whether we are of different religions, the color of our skin is different, we speak a different language, or anything else that artificially separates us, there is no greater privilege than to serve our fellow inhabitants of this beautiful planet with a group like this.
Pura vida.