Twin Cities Habitat is excited to announce a new partnership with Family Housing Fund to research and develop a new strategy to address our housing shortage: accessory dwelling units.
The Twin Cities is going to need a lot more housing to keep up with our growing population in the decades ahead. Regional planners predict we need to add more than 13,000 housing units every year between now and 2040 to meet the demand. We've been above that level of production in the past, but we fell well below during the housing crisis and production still has not recovered.

How can accessory dwelling units (ADUs) be part of solving this problem? If you're not familiar, an ADU is a small second housing unit on the same lot as an existing home. An ADU could be an apartment in the basement, above a garage, an add-on space attached to a home, or a separate small home in the yard. To fit the common zoning definition, all ADUs must have plumbing, electricity, and a separate entrance.
ADUs support stable homeownership by serving lifecycle housing needs. Over time, rental income provided by an ADU can help homeowners pay their mortgages or save. Homeowners often use their ADU to house a family member who needs care, or they may move into the ADU themselves to downsize.
The idea is hot on the West Coast – where housing costs have spiked even faster than they have in the Twin Cities. San Francisco has 1,000 ADUs in the pipeline, and Portland is building more than 600 a year. ADU construction there may soon overtake traditional home construction.
In Portland, there's an ADU on about 1.5% of single-family lots. If the Twin Cities could hit that rate it would mean 11,000 additional homes. And those homes could potentially meet some of the region's need for new housing for households who earn $40,000-50,000. Right now, we have a couple hundred ADUs across the seven-county metro area. But new policies around the region are making ADUs easier for homeowners to add to their property.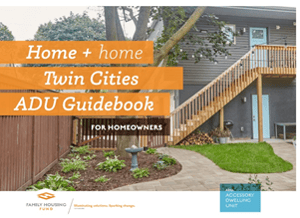 Family Housing Fund would like to see the region's ADU production grow. They published a step-by-step guide to ADUs for Twin Cities homeowners who are considering building one. The guide includes design ideas and information on permits, financing, and construction.
While ADUs can help homeowners save money in the long-term, the up-front costs and effort to build one can make it a challenging project to take on. This is why Twin Cities Habitat for Humanity has partnered with Family Housing Fund on a grant for the next year to do research, create ADU designs, and identify other possible financing models that would help increase the uptake of ADUs around the region. This work will all be done through the lens of our mission: How can ADUs improve expand quality housing options in the Twin Cities?
There is interest in living in smaller spaces out there – especially among millennials. The National Association of Home Builders surveyed the public in 2018: 28% of all people said they'd consider buying a home under 600 square feet, 25% said maybe they would. For millennials it was 38% yes and 25% maybe.
Housing seniors will be a major challenge for the Twin Cities in the decades ahead. Wilder Research studied this challenge and estimates less than 5% of our current housing stock is built to allow people with moderate mobility issues to safely navigate. Twin Cities Habitat launched an Age in Place program in 2018 that focuses on keeping vulnerable older homeowners in their homes longer through safety modifications and in-home health care provided through a partnership with Allina Health. Now, we're building on that work by exploring ADUs that can provide flexible options for aging in place – whether that means the owner downsizes into the ADU or a care provider or family member lives there.
Twin Cities Habitat's experience serving seniors over the past twenty years (much of it through a home repair program called A Brush with Kindness) has taught us the importance of creating spaces that meet the specific needs of older homeowners. As we develop new ADU plans, we will be sure to design for mobility and safety, keeping universal design in mind.
What else should we consider? Part of our research into ADUs is gauging interest among our community members. Would you consider living in an ADU? With the right resources, would you consider building an ADU? Post a comment and let us know.