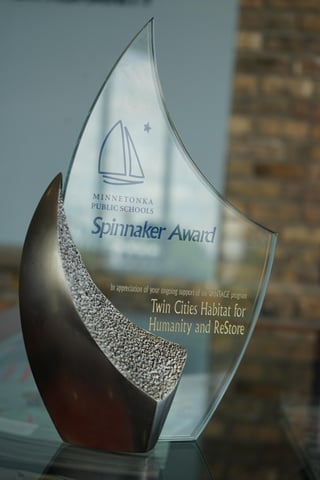 Twin Cities Habitat for Humanity was presented with the Spinnaker Award on May 11 by Minnetonka Public Schools. The award is given annually to "Individuals or groups who exemplify volunteerism, community and serving the greater good. Like the spinnaker on a sailboat, the groups or individuals recognized with this award are out in front, full-sail, leading us toward the fulfillment of our dreams." We were nominated for the award by Minnetonka High School's VANTAGE program for being one of their best project sponsors.
The VANTAGE program allows high school students the opportunity to partner with local businesses on a semester-long project that brings value to the organization while giving students real-world experience in the marketplace. The partnership between Twin Cities Habitat and the VANTAGE program goes back to 2013. During that time, VANTAGE students have helped with projects like researching fun ways for youth to get involved with Twin Cities Habitat, acquiring more donations for ReStores, and marketing aimed at recruiting veterans to our programs.
Pete O'Keefe, ReStore Operations Senior Manager, accepted the award. The most recent VANTAGE project involved researching ways to get youth and college students interested in volunteering at ReStore. This was the fourth VANTAGE project with ReStore, and we look forward to more projects in the future.
"The ReStore Team always seems to have a business challenge worthy of handing off to the VANTAGE team," said Pete O'Keefe, ReStore Operations Senior Manager. "The high school students have come through several years in a row with great research and insights that help our social enterprise problem-solve and grow."
We're grateful to be recognized with the Spinnaker Award for this partnership, and we're excited for the creative new projects the VANTAGE students will bring to Twin Cities Habitat as we continue working together!