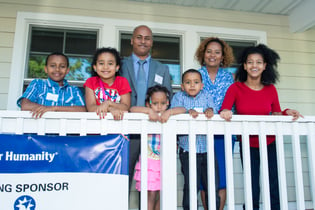 Yemane, a new Habitat homeowner, stood proudly in his new home and spoke about owning a home in America.
"As a family, we trust in God. We trust that He has a plan for our lives. We thank you, Twin Cities Habitat. Your actualization of God's work made our dream a reality."
Last week, Twin Cities Habitat celebrated two families buying their first homes. Yemane and his family came to the U.S. from Ethiopia through the Diversity Visa Program in 2012. "It was our hope and dream to come to America, a nation of opportunity, so winning a Diversity Visa lottery was a great chance and glorious success in our life." Their four children made friends at school and quickly became fluent in English.
Ayida and Dawit are also originally from Ethiopia, but now proudly speak about their American citizenship. They began their family in the U.S. and feel very settled in the community.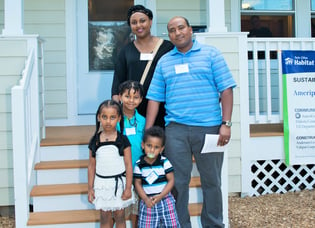 The family's motivation for partnering with Habitat was the need for space. "It has been tough living in an apartment. Our children are young and can be noisy when they play." The noise levels caused complaints from neighbors in their building. In their new home, Ayida and Dawit's children will have lots of space to grow and a great yard to play in.
Both families spoke about the importance of their faith early in the homeownership process. Ayida, who studied theology previously, hopes to finish her degree after the move. She wrote to the volunteers that worked on her home: "But my God shall supply all you need according to his riches" (Phil. 4:29).
Yemane and Bizunesh said their faith has guided their family: "We were born and raised in a Christian family, and today we enjoy more than anything else serving God and his people. We like to visit people who are in any kind of difficulty. It is our greatest happiness when we help people to reduce their burden."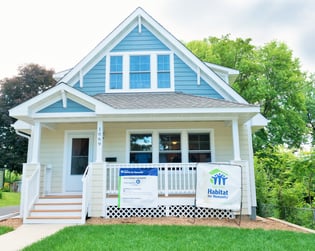 Yvette Mullen, Board Member for Twin Cities Habitat, beamed as she welcomed Yemane and Bizunesh to the community. "This is my neighborhood! It feels so special that you are joining it."
"I am so happy to have your families here," Sue Haigh, Twin Cities Habitat CEO & President, shared. "I was on the Global Village trip in Ethiopia earlier this year. A group of volunteers and staff traveled there to build with Habitat for Humanity Ethiopia. There were so many kind people there that were very patient with me when I didn't understand them. I love that you all have brought those wonderful roots to this community."
Sue continued, "I look around the room here and I see many of the people that put their hands on your homes and on your hearts. When a community comes together like this, to provide the best, stable, healthy future we can for our children; that is the very best of America."
Read reflections from the Ethiopia Global Village trip.
See more photos from the dedication here.