Our virtual Hard Hat & Black Tie Gala is around the corner. We can't wait to celebrate with you on this Saturday, May 2. But don't wait until then—the auction is open now for bidding!
How does auction bidding work?
Great question! The auction is now open, so you can start bidding right away. Head to our website, click on the link to register for the event, create a log in, then start bidding by clicking on one of our category icons! Bid high and bid proudly as you are already a winner for joining us at the virtual Hard Hat Gala.
A couple of things to note when you bid:
You will need to enter your credit card info before you bid but will NOT be charged until you check out.
You will receive a text message and email when you are outbid on an item so you can bid again.
Click the Gift Box icon to make a donation, in addition to bidding generously.
The auction will end at 9:30 p.m central time on Saturday, May 2. Don't forget to check out after the auction closes and you've completed your donation.
You will receive a receipt for both your auction item purchase and generous donation.
Your credit card will be charged on Monday, May 4.
Going Once, Going Twice, SOLD!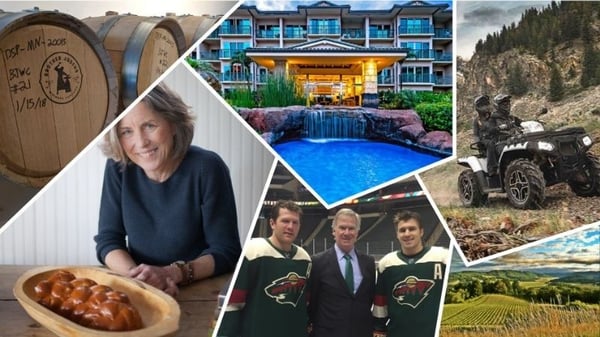 We are extremely excited to share our incredible auction with you! Preview a few of our awesome "not-so-live" auction items. You'll see a Polaris ATV, a whiskey tasting and private comedy set with Minnesota Viking Matt Birk, an unbeatable vacation to Hawaii, and more!
Here's a sneak peek:
Live Auction Item: Wine in Willamette and Perusing Portland
Looking for a long weekend getaway in Oregon where you can sip wine in the Willamette Valley and then take in the energy of urban Portland? Bask in the gorgeous landscape, vibrant culinary scene, and athletic community that the Pacific Northwest is known for. Habitat Board Emeritus Norm Baer and his Kathy will host you and a guest for two days in their guest suite in Dundee, Oregon. Included in your stay is a home cooked meal one night and a day of winery tours hosted by Norm. In addition to Norm's tour, you have two tastings at Francis Ford Coppola's Vineyard Domain de Broglie and an exclusive private tour at Knudsen Vineyards.
Then start your city living with a two-night stay in Portland for the ultimate culinary and athletic experience. Dine at G-Love, Portland's best new restaurant, and take a tour of the Nike Campus. After your Nike tour, you'll have the option to enjoy lunch at one of Nike's five campus restaurants or enjoy cocktails at the rooftop bar. This package also includes a selection of other fun Portland activities: a tour and gift card to the world-renowned Powell's Bookstore, access to an event with the Oregon Brewery Running Series, and a class at Barre 3. And we didn't forget about getting you there —100,000 US Bank FlexPoints are included. The date to be mutually determined by donors and winner. Expires December 31, 2021.
Signature Silent Item: Private Party at a Brewery!
Dual Citizen is a community-focused brewhouse born from a few simple beliefs: an understanding that substance beats trends, a recognition that community roots run the deepest, and the understanding that what unites us is far greater than what divides us. You and your friends can unite at Dual Citizen with this private brewery party for up to 25 people — beer included! Party must be held on a mutually-agreed upon Monday. Expires May 2, 2021.
Silent Auction Item: SKOL Pride!
Calling all Vikings fans! Show your pride and make this beautiful handcrafted, wooden American Flag with the Vikings logo yours. SKOL!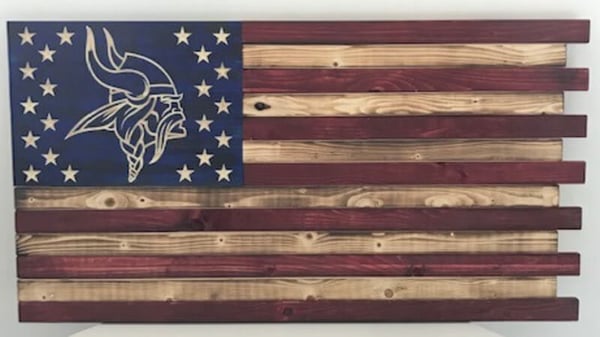 It's Time to Party!
We can't wait for you to join us as we share inspiring stories about the importance of home. Now more than ever it is time to come together (virtually) and multiply Habitat homeownership opportunities in the Twin Cities. Let's Hammer it Home!
Special thanks to our sponsors!