Some people think Habitat for Humanity is about helping people less fortunate than you. It's really about looking past finances, seeing the humanity we all share, and then building a community with the assets we each have. Hank Pohl exemplifies this.
Back in 2010, Hank asked Twin Cities Habitat for help repairing his roof. Hank is retired, lives on his social security, and has a bad back injury. He labors to breath and moves slowly with the help of a walker. But he's got a big heart and a magnetic personality.
Hank told Twin Cities Habitat's repair program, A Brush with Kindness, if they could get him the roofing materials, he had plenty of friends and family who could do the work. Everything arrived on a Thursday and that weekend 17 people showed up to tear off Hank's old roof and put the new one on. He paid them with a pizza lunch and plenty of good karma.
A few weeks later, a Twin Cities Habitat employee came by to inspect the roof. Hank had a surprise for him. He showed him into the cozy woodworking shop Hank had transformed his back bedroom into.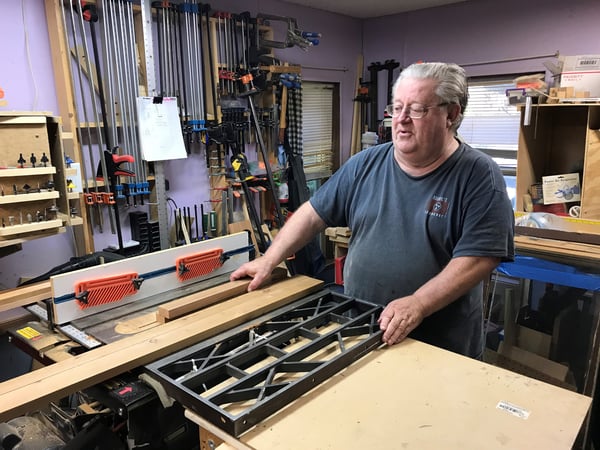 "I asked if they'd like me to help build things for other people," says Hank. "I can only work for about 30 minutes at a time, but if I do that two or three times throughout the day I get things done…The only limit on what I can build is my imagination."
A couple weeks later he got a call that A Brush with Kindness was working on a home with a unique, old molding style. Long oak boards were dropped off at Hank's home and he set to work. The project site supervisor called and said the molding matched perfectly, and they'd miss-measured and needed an additional six feet.
Hank has been hooked ever since. "Working in the shop is like therapy more than anything," he says.
He's a humble man but enjoys the idea that he's helping others have greater self-esteem about their homes through his work. "I'm poor as far as money goes, but I feel rich when it comes to family and friends."
One of Hank's many friends, Robert, stops by to visit. Robert is walking with a cane he made in Hank's shop. Hank has earned the nicknames "Sawdust" and "Mr. Fix-it" in his neighborhood. He turned Robert, and others in his community, onto woodworking.
Hank learned the skills from his father, whose tools he inherited. He loves to pass the knowledge on to anyone who is interested. One year, two young women who were AmeriCorps Members serving with Twin Cities Habitat came to Hank's home and built bookshelves for their boyfriends as Christmas gifts. Hank built a new skateboard for a child after his got run over by a car.
He offers his labor free to friends and family who are in need of new furniture—they just have to supply the materials. He's built bedroom sets for his kids, many bookshelves, and laptop tables.
He says his pieces are three times heavier because they're built to last. He refuses to work with wood that's come from the rainforest and "none of that cheap crap MDF (medium-density fiberboard)."
Each Hank Pohl original is imprinted with a penny that acts as a timestamp for when the project was completed. He's done 30 benches for loved ones, just like the one sitting in front of his own home.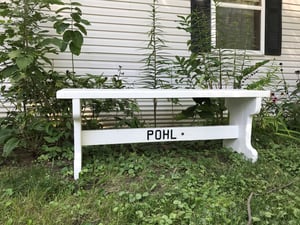 Hank may work at a slower pace, but his commitment runs deep. He's built more than 180 windows and completed countless other projects like cabinets, vanities, and trim for A Brush with Kindness clients. We estimate he saves the program roughly $20,000 a year through his generosity.
The only time he ever had to rush a job was for a window going into a home in St. Paul. It was one that President Jimmy Carter was going to be working on during the Carter Work Project in 2010.
Hank visited the site, saw that his window fit perfectly, and got to watch President Carter work. "You could tell he really knew what he was doing, and he worked his butt off." The same words perfectly describe Hank.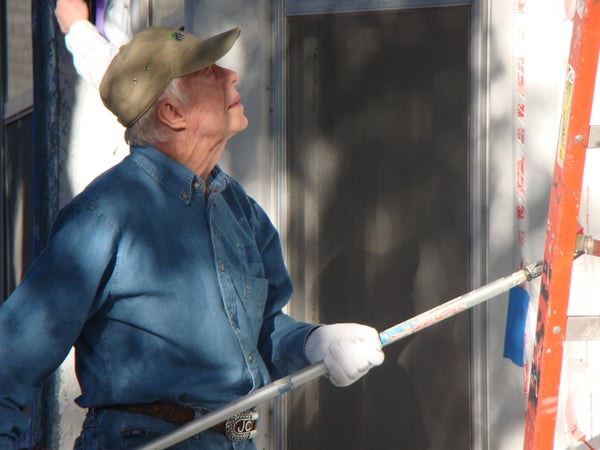 He loves the small community he lives in. However, Hank's goodwill touches so many people beyond those few streets. That's what Habitat for Humanity is really all about. "My only regret is that I didn't get involved earlier."