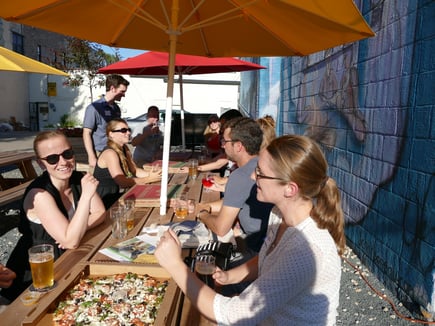 Twin Cities Habitat for Humanity Young Professionals Network (HYPN) welcomed several new faces at our quarterly Happy Hour series. More than a dozen young professionals attended the networking event at Fair State Brewing in Minneapolis to learn more about volunteer opportunities with Twin Cities Habitat for Humanity (TCHFH).

Guests were also treated to a fun game of TCHFH trivia through Kahoot, an online competitive trivia game that allows users to interact via their cellphones. The top winners took home trendy Habitat for Humanity gear. One lucky winner received tickets to the next HYPN event.

With nearly 500 young professionals involved with HYPN last year, Riley Moniyhan, staff liaison of HYPN aspires to engage even more young professionals, ages 20 to 40 years old, through networking opportunities like the HYPN Happy Hours.

When reflecting on HYPN, Riley says the name itself is what makes this program unique. "Demographically speaking, HYPN is a very unique group; they are a collaborative group of young professionals stemming from different backgrounds," Riley says.

Riley adds, "What's really cool is that we are not only developing future leaders for Habitat for Humanity but we also are allowing people the room and ability to grow and be leaders in their own areas."

Established in 2009, the HYPN committee meets monthly to plan year-round community service and networking events aimed at increasing safe, stable and affordable homeownership in the Twin Cities area. Most recently, HYPN volunteered at the new Twin Cities Habitat for Humanity (TCHFH) ReStore in Minneapolis. Volunteers helped build shelving in preparation for the store's grand opening this fall.

Other volunteer opportunities include working with TCHFH's A Brush with Kindness program to complete minor home repair projects and participating in build days. Volunteers typically donate a full Saturday for these causes.

HYPN specializes in utilizing committee member's skills creatively. In fact, Riley says it was a committee member who birthed the idea for Raise a Glass for Tomorrow, an event that has now grown into a well-attended annual fundraising and networking event

Interested in becoming a part of HYPN? Simply click on the image link below to join our email list and stay abreast of Habitat for Humanity volunteer opportunities and upcoming events.

We also invite you to join us at our next HYPN event, Raise a Glass for Tomorrow, scheduled for Saturday, October 22, 2016. Tickets go on sale in early September.