We continue to process the pain and hope of our nation's uprising for racial justice amid a global health crisis. You can see our recent statements on the uprising here, our COVID-19 web page here, and our Race & Housing resource center here. Expanding homeownership is a key component of racial equity and health, so our mission has never been more important—and we'll continue to share the stories of Habitat's work.
---
Elections are an important way for individuals and communities to make their voices heard. That's why Twin Cities Habitat is excited to engage our advocacy supporters in the 2020 Elections. As a 501(c)(3) nonprofit, our election engagement will be strictly non-partisan.
Urgent Update: Change to Ballot Deadline!!
Your ballot must be received by Election Day or else it will be set aside. That was the ruling from a Federal Court on Thursday, October 29. What does this news mean for you? First, use this ballot tracker to determine whether your vote has been counted. Then, based on the status of your ballot, select the voting option below that works best for you.
If your ballot has already been received, then no worries! You are in the clear.

If you have mailed in your absentee ballot and it has not yet been counted, you should vote Early in Person or on Election Day. See below.

If you still have your absentee ballot, do not mail it. Instead, you can return your ballot in person, vote Early in Person, or vote on Election Day. See below.

If you haven't voted yet, you can vote Early in Person or on Election Day.
Option 1: Return your absentee ballot in person. If you have your absentee ballot, you can complete it and return it in person before 3:00 p.m. on November 3 to the elections office that sent it to you.
Option 2: Vote Early in Person. Visit your local county or city elections office to vote early in person through November 2. Note that your vote will not be counted twice. If you mailed your absentee ballot and it hasn't been counted, elections officials will give you a new ballot to complete. The one you mailed in will be invalidated upon receipt.
Option 3: Vote on Election Day. Polls are open on Tuesday, November 3, from 7:00 a.m. to 8:00 p.m. Find your poll location here. Remember to wear a mask and keep six feet between you and other voters. You can also bring your own black pen, if you want!
---
You probably already know that 2020 is an election year. But what does that mean, exactly? There's the high-profile presidential election, and many congressional seats are up for election as well. But there are also critical state and local elections taking place this summer and fall. Read on to learn more about who will be on your ballot and how to vote during a pandemic. Then, stay tuned for more blogs in this series where you will learn how to get housing on the ballot!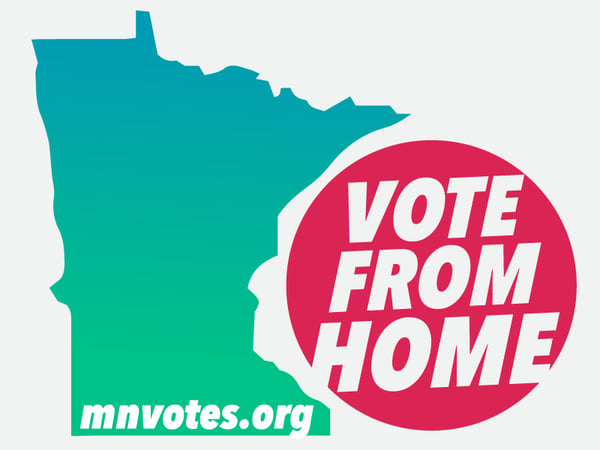 The Basics
There are two upcoming elections in Minnesota, so let's get them on your calendars! The primary will take place on August 11, and the general will take place on November 3.
In the general election, all United States voters will have these races on their ballot:
U.S. President
U.S. Senator
U.S. Representative
State Senator
State Representative
Judicial Seats
Depending on where you live, you may have certain local elections on your ballot as well. These could include:
County Officials
City Officers
School Board Members
Township Officers
Also depending on where you live, you might vote on what is called a ballot referendum. This is a question or issue posed to voters that they will decide directly by either voting "yes" or "no" for the issue.
(Information from the MN Secretary of State website, here.)
A couple things to note:
While every state has two U.S. Senators, only one Senator seat will be on the ballot this year. Minnesota is currently represented by Senator Amy Klobuchar and Senator Tina Smith. In 2020, only Senator Smith's seat will be on the ballot.


You can vote only for candidates seeking to represent the district you live in. For example, I live in Minneapolis, so I may vote only for candidates running to represent Congressional District 5, State Senate District 60, and State House District 60B, respectively.
During the primary election on August 11, voters chose which candidates would appear on the general election ballot. In the primary, you could vote for candidates of one political party only. In the general election, you can vote for candidates from any political party.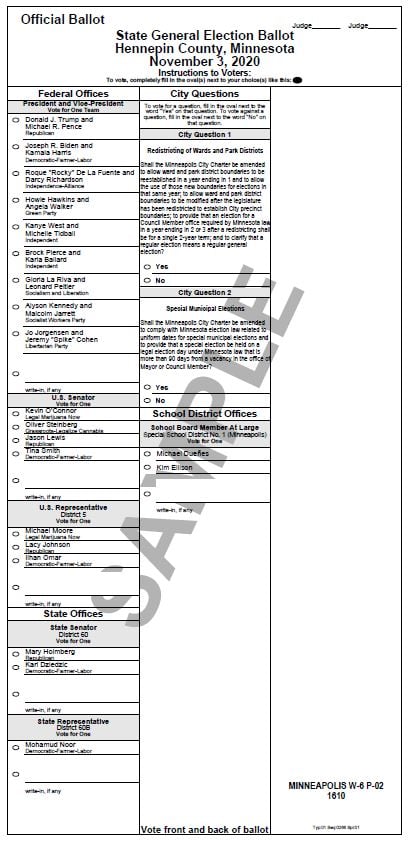 This is what my general ballot looks like for State House District 60B, where I live. Yours will look different based on your district. You can preview your ballot here.
In the general election on November 3, you can vote for candidates from multiple parties.
This helpful link will show you exactly who and what will be on your ballot in the upcoming elections. Use it to look up your ballot ahead of time! It's important to research each of the candidates and decide in advance whom you wish to elect.
Voting During A Pandemic: How to Vote Safely
If you're wondering how the COVID-19 pandemic will affect elections, you're not alone. In recent months, states like Wisconsin and Georgia have struggled to make voting accessible during this unusual time. Luckily, in Minnesota, there are plenty of easy and safe ways to vote. Here are our recommendations.
1. Vote Absentee: Your Safest Option
You do not need to go to the polls to vote. Thankfully, Minnesota allows any eligible voter to request an absentee ballot. You can request an absentee ballot online in about five minutes, and your local elections office will mail it to you in about a week-and-a-half. Once you receive your absentee ballot, you should fill it out and return it as soon as you can. If you want to return your ballot by mail, you can use the prepaid envelope that was enclosed with your ballot. In order to be counted, your ballot must be received by Election Day (November 3). You can also return your absentee ballot in person at your local city or county elections office.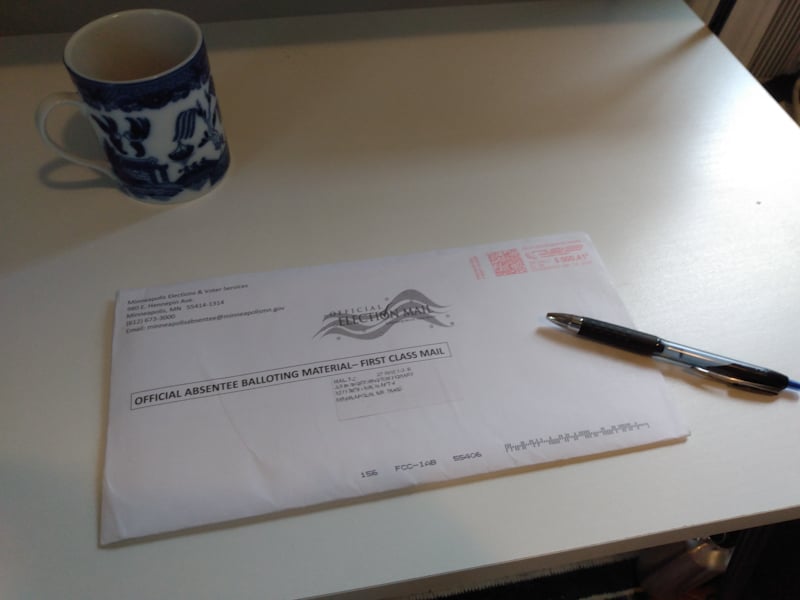 This is what my primary ballot looked like when it arrived in the mail back in July.
2. Vote Early In Person
Starting 46 days before the election, you can fill out an absentee ballot in person at your county election office. Some cities and towns offer additional locations for early in-person voting. You can check with your city clerk's office to find out more. This is another safe option for voting, since crowds at early voting locations will be smaller than on election day.
3. Vote on Election Day
If you're not able to vote absentee or early in-person, head to the polls on election day! The Secretary of State is working to ensure that polling places take all necessary precautions to keep voters safe and healthy (read more here). To lower risk, wear a clean mask, carry hand sanitizer, and wash your hands once you leave the voting location.
The fewer people show up to the polls on election day, the lower the risk of COVID-19 transmission. At Twin Cities Habitat, we know we all have a role to play in keeping our communities safe—and in deciding who represents us. Please vote absentee or early in person, if you can. But most importantly, please vote! If you have any questions, let the Advocacy Team know. We'd love to hear from you.
Stay tuned for more blogs in our Elections Guide series, where you'll learn how to elevate housing as an election issue and more!