Twin Cities Habitat for Humanity is thrilled to announce that we have hit a huge milestone! At the end of August, we had a closing for the 1,500th Habitat home and handed the keys to yet another local family who reached their goal of homeownership in the Twin Cities.
This incredible milestone wouldn't be possible without the incredible, passionate, hardworking Habitat community. Donors who give to make sure homes are affordable. Volunteers who come together raise walls alongside local families. Staff who support the mission. And at the center of it all, families who make their dreams of homeownership come true by partnering with Habitat. Thank you!
How did we get here?

Before we reached 1,500 homes, we started with one in 1986. Lily became the first Habitat Homeowner in the Twin Cities, and since then thousands have created or preserved home with Habitat through Homeownership, A Brush with Kindness home repair program, Age Well at HomeTM, and Mortgage Foreclosure Prevention.
Affordable housing is crucial at any time of any year, but because of the pandemic, housing is more important now than ever. Our staff at Twin Cities Habitat is working to make sure that no Habitat homeowner loses their home due to COVID-19. With our At Home Fund, we aim to do two important things in response to COVID-19: protect homeowners, and multiply habitat homeownership opportunities. Two very mighty and extremely important goals.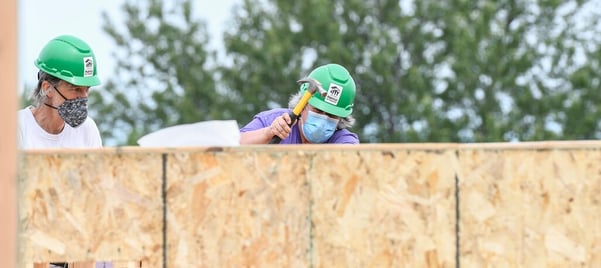 Volunteers working to keep our summer builds going
Reaching the 1,500 homes milestone in August is a reminder that the need for affordable homeownership is very present, and the families putting in the time to get there is even more inspiring. It's also a reminder of the powerful difference we can make in our communities when we come together. We thank all those who chose to partner with Habitat through our programs, stewardship, and volunteerism.
Meet the 1,500th family!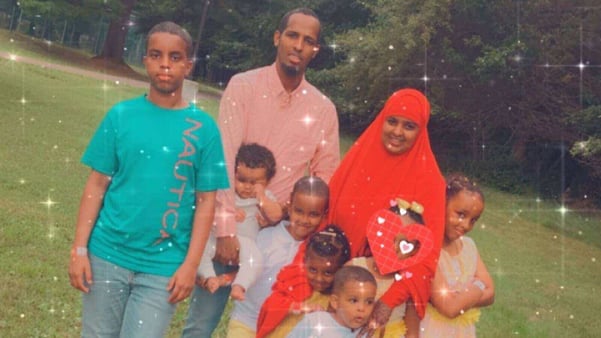 At the end of August, Mohamed and his wife Safia closed on their home with their six children: Abdinur (13), Deeqa (9), Abdihafid (5), Sabiriin (4), Abdimalik (2), and Safa (>1). Mohamed and Safia grew up in Somalia, eventually making their way to Minnesota more than 13 years ago.
"It''s a very busy home," Mohamed laughed. "I have family in Minnesota and we get help from other families a lot."
Not only has it been a busy household, but it's been a busy summer for the family as well. They had a lot to celebrate with the arrival of their youngest daughter Safa, their 14th anniversary as a couple, and closing on their new Habitat home!
Mohamed applied to Habitat in July of 2019, but his dream of homeownership started long before that.
"I was a truck driver and at that time, in 2016, I was trying to find a house, so I kept calling different companies." Mohamed never received the help he needed or the answers to his questions on how to achieve homeownership. "I would check online every single day 'how to get a home'."
It wasn't until a family member shared information with Mohamed about Twin Cities Habitat and the requirements of the program that made him feel like he found the right option.
"We've been renting, leasing, and currently we're living in a three-bedroom. Paying rent is hard. Your mind tells you it's your own place, but it's not. It's so different." Home for Mohamed and Safia will mean no more rent-to-rent stress and finally having a place to call their own.
With an average of 4-5 people a household, Twin Cities Habitat estimates that more than 6,000 people have lived in a Twin Cities Habitat home, including thousands of children. Mohamed's children are just a few of the thousands that will experience more space, especially for the 2020 school year.
"They are so excited to move!" says Mohamed. With their family studying at home, Safia is excited to have the extra room for her kids to study and room for her to relax.
"Having a basement with bigger space to do homework and living is great. Or making your own break room in the basement, I'll need it," she laughed.
Whether you're the 1st family in a Habitat home, 300th, or 1,500th, it's an amazing feeling knowing you have a safe space for your loved ones to gather and grow. Take it from Mohamed: "It'll totally change your life. Getting our dream home, living as we want and feeling comfortable. It's not your space when you rent. You live as you want in your own home."