Twin Cities Habitat for Humanity supporters advocate for affordable homeownership across all levels of government. In our local communities, we share our priorities with officials while cities pass their budgets. We regularly meet with city council members and county commissioners to discuss the unique housing challenges and opportunities in their districts. And we do similar advocacy at the state level, only at a different scale, as we present funding and policy priorities to the legislature that reflect the housing needs of Minnesotans across the state.
Another important layer of partnership comes from the federal government. Each time we complete a Habitat project, we piece together a complex puzzle of different sources of support. Habitat homeownership would not be possible without private contributions from individual volunteers, donors, congregations, foundations, and corporations. Investment from the public sector is also vital to Habitat's success, and federal funding is often the first source of financial assistance for a Habitat project.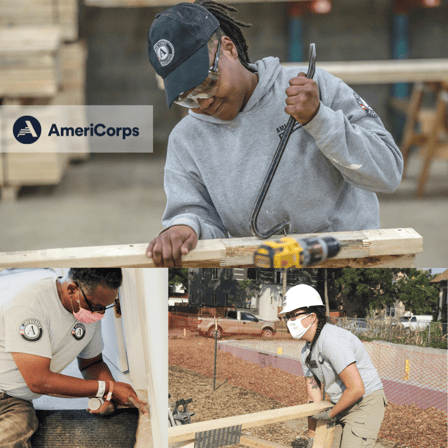 AmeriCorps members play a big part in the mission of Twin Cities Habitat for Humanity, so continued federal funding for this and other programs is critical.
Federal resources from the HOME Investment Partnerships Program (HOME), Community Development Block Grant (CDBG), and AmeriCorps are integral to our mission:
HOME and CDBG funds are used by local communities to partner with Habitat on developing quality homes, and they help close the affordability gap between what Minnesota families can afford for homeownership (with wages that haven't grown much) and skyrocketing home construction costs.


AmeriCorps funds enable Habitat to engage thousands of volunteers each year to build, rehabilitate, and make repairs to homes. AmeriCorps members serve in leadership roles on build sites or in the Habitat office assisting homebuyer families, volunteers, and staff.
And new legislation like the American Rescue Plan Act (ARPA) offers even more opportunity for Habitat to turn federal dollars into affordable homes here in the Twin Cities.
Currently, Congress is still working to fund a budget for fiscal year 2022, and they are expected to finalize a bill any day. Habitat's federal legislative priorities are in a strong position going into final negotiations, receiving either level or increased funding in both the House and Senate appropriations bills. While we also advocated for affordable homeownership in the Build Back Better Act, the future of housing policies being included in that package is unclear. We'll continue to push for our policy priorities in the next proposal.
While elected officials can seem distant in Washington D.C., we make sure that those leaders hear from us, too! In February, Habitat advocates from across the country virtually attended Habitat on the Hill, a federal advocacy conference building up to a full day spent connecting with U.S. Representatives and Senators. Our group of Habitat affiliates from across Minnesota met with the offices of all our federal lawmakers, including both Minnesota Senators and all eight of our members of Congress. We shared our efforts in their districts and the ways they can help us create, preserve, and promote affordable homeownership.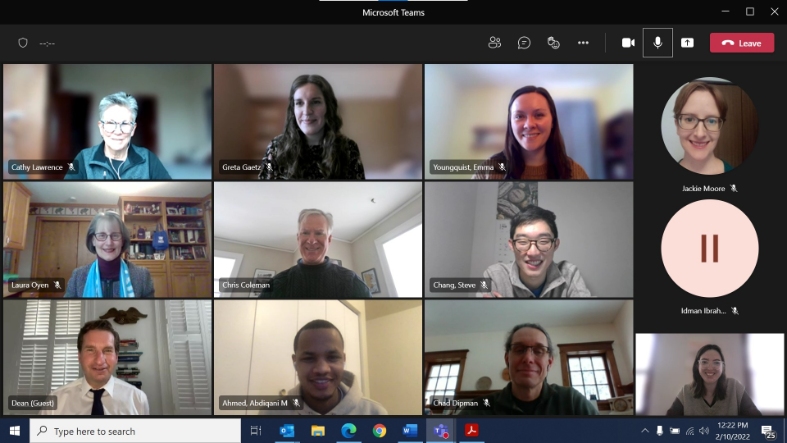 Housing advocates from Minnesota met with MN Representative Dean Phillips during Habitat on the Hill in February.
A virtual format expanded the advocates who were able to join us, including new advocates like Advocacy Intern Idman Ibrahim, who is working with Twin Cities Habitat through the Capitol Pathways program. Idman shared, "It was an honor to see the work behind the path to end housing discrimination. It was fascinating watching how individuals were advocating for under-represented groups in our society to have stable homes."
Policy & Advocacy Coordinator Emily Kirkevold added, "I am proud to have been part of the work done at Habitat on the Hill to uplift affordable homeownership in legislative meetings. The response this year was especially great, and I am so thankful for the passion and expertise that was shared."
---
Your next opportunity to take action for affordable housing is to join us for Virtual Hill Day on Friday, April 29. Learn more and sign up now!