Through all our advocacy work, Habitat strives to emphasize the importance of affordable homeownership to leaders in local, state, and federal government. Investment in homeownership is the key to building wealth and opportunity for households across generations. It is more important than ever for Minnesota to close the racial homeownership gap and ensure equitable access to the benefits of homeownership so that every family has a safe, stable place to call home.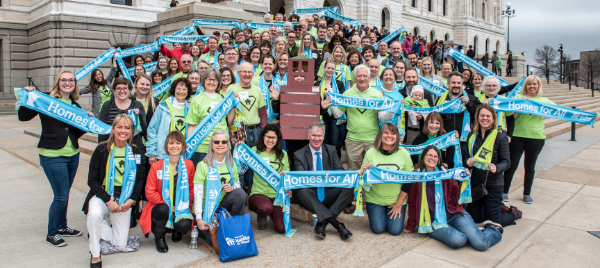 Habitat supporters gather at the state Capitol to advocate for the affordable housing agenda in 2019. Read on for ways you can raise your voice for affordable homeownership this year.
A Big, Bold Agenda
When the state legislature kicks off its annual session on January 31, Minnesota has a historic opportunity to produce new homes, preserve the homes that families live in, and prepare families for successful homeownership. There is an abundance of resources available to the state through a variety of sources, including $1.25 billion in federal funding from the American Rescue Plan and a projected state surplus of $7.7 billion. It is also the second year of the state budget cycle, when lawmakers can pass supplemental budget changes and they traditionally focus on infrastructure projects paid for by bonding.
Habitat has joined with housing champions from across the state to elevate bold solutions this year and ask for housing funding that truly meets Minnesota's housing needs. An investment of $2 billion in 2022 will create and preserve homes and provide access and opportunity to housing for thousands of families across the state. We are also members of the Homeownership Minnesota coalition and support their legislative agenda, advocating for the preparation of homeowners and the production and preservation of affordable ownership housing.
For the third year, Twin Cities Habitat is partnering with the Minnesota Homeownership Center to uplift priorities that focus on equitable access to affordable homeownership for communities of color.
More Down Payment Assistance
Alongside the Minnesota Realtors, we are advocating to establish a down payment assistance (DPA) fund for first-generation homebuyers. With leadership and input from the Homeownership Opportunity Alliance, the ask provides down payment for individuals who do not have access to generational wealth and couldn't achieve homeownership without the assistance. An investment of $170 million will support assistance for a minimum of 5,000 first-generation homebuyers over three years.
This statewide approach to DPA is:
Targeted to first-generation buyers, whose parents do not or did not own a home
Adequate to meet the need – providing 10% of the purchase price of a home, up to $30,000
Easily accessible to consumers through community-based lenders, including tribal entities and our state's existing network of Community Development Financial Institutions (CDFIs)
Preparing People for Success in Homeownership
Our second priority is to continue advocating for investment in the Homeownership Education, Counseling, and Training (HECAT) Program. HECAT did not receive a budget increase last year, and we hope to continue conversations with our state legislators to expand capacity for this work. Our ask is to raise HECAT to $3 million over two years, to support much-needed financial coaching, pre-purchase counseling, and homebuyer education, particularly for households of color. Additionally, HECAT provides foreclosure prevention assistance, impacting homeowners statewide.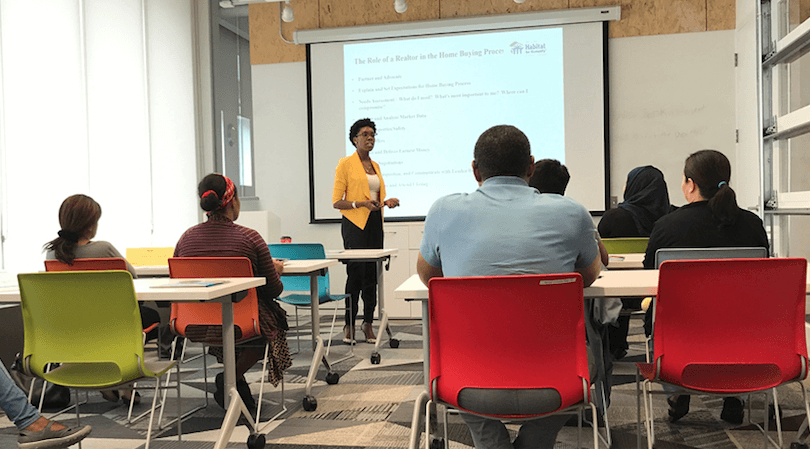 Families who partner with Twin Cities Habitat are well prepared to be homeowners with financial coaching and homeownership classes. (Photo taken before COVID-19.)
We are so excited to speak to these priorities this session and educate our state leaders on strategic solutions to remove discriminatory barriers to homeownership and narrow the racial homeownership gap. We would not be successful in this work without the voices of our Habitat Housing Heroes advocating with us. Sign up for action alerts and save the date for our third annual Virtual Hill Day – coming up on Friday, April 29!
---
Sign up for Action Alerts, and Habitat's Advocacy team will send simple actions you can take to make a big difference.