It is everyone's favorite time of year, the start of new local budgets! This past December both Minneapolis and St. Paul adopted their 2022 City Budgets. Read on to understand what local budgets mean for affordable housing efforts.
Cities are important partners of Twin Cities Habitat for Humanity in our work to produce affordable housing. That's why we are excited that Minneapolis and St. Paul both have an overall increase in funding for programs that produce and maintain long-term affordability through homeownership. With both cities still recovering from the pandemic, local policymakers have a strong focus on economic recovery and social relief programs that their citizens rely on.
New this year, Minneapolis and St. Paul both are using funding from Phase 1 of the American Rescue Plan. Overall, we're excited to see the Twin Cities prioritizing those most affected by the pandemic—and that includes more resources for housing. Now let's zoom in on each city's budget.
The 2022 Minneapolis Budget
Mayor Jacob Frey proposed his 2022 Minneapolis city budget in August. His proposal included an overall increase in funding towards affordable housing programs. However, housing funding still hasn't reached the level set before the pandemic, and the city is still recovering. After almost two years of hiring freezes and minimal staff capacity, many city departments are struggling, including the Department of Community Planning & Economic Development which oversees the City's housing programs. In response, Mayor Frey has proposed allocations for increased staff across the various city departments who have worked hard to keep up with demand throughout the pandemic. With the effects of the pandemic still impacting homeownership, the Mayor has increased funding in programs that support homeownership development.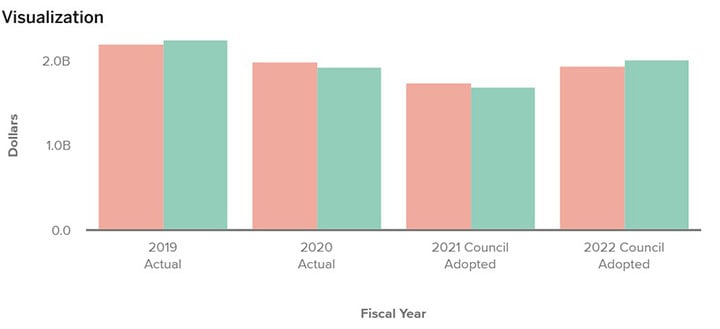 This bar graph shows the 2022 budget for the Minneapolis Department of Community Planning & Economic Development (green is revenue, red is expenses). Twin Cities Habitat relies on the department's Minneapolis Homes program.
During this process, Twin Cities Habitat is excited to see the City of Minneapolis commit direct funding towards the Harrison Townhome project that we're developing in partnership with the City of Lakes Community Land Trust. The city's commitment of $500,000 in American Rescue Plan spending to the project will help create long-term affordability and build greater accessibility to households below 60% of the Area Median Income (AMI). This is a great first step in developing a project that will serve many more families in the years to come.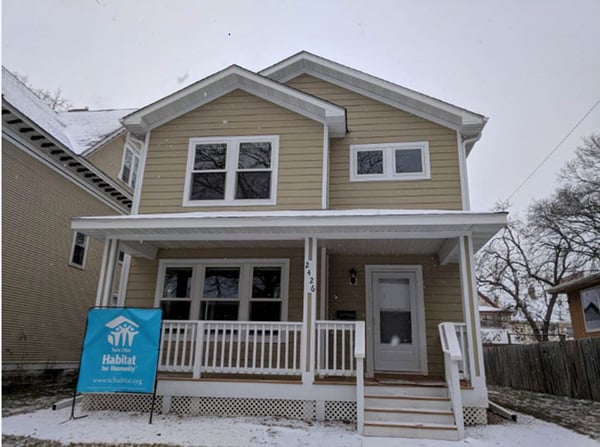 Above is a photo of a Habitat home in South Minneapolis that was finished this past year. The home was funded in part by Minneapolis Homes funding, a vital source of funding for Twin Cities Habitat's work in Minneapolis.
At the end of the budgeting process, the Minneapolis City Council did not bring forward any changes to Mayor Frey's proposed budget that would impact the programs Twin Cities Habitat relies on. The overall increase in funding and the continuation in Minneapolis Homes funding will provide much-needed stability to Habitat and other housing organizations. We will encourage Minneapolis to continue its commitment to affordable housing through Phase 2 of the American Rescue Plan spending, which will become available shortly.
The 2022 St. Paul Budget
Looking towards the Capital of Minnesota, the Mayor of St. Paul, Melvin Carter, proposed his budget in August 2021. As another city recovering from the effects of COVID-19, you can see a prioritization of stability and recovery in the proposed budget. It includes an increase in funding towards staffing after the 2021 budget adopted a hiring freeze that has left many city departments understaffed. This includes the Housing Redevelopment Authority which was at risk of losing federal funding due to the lack of staff capacity. This led to the City Council amending the budget to shift money to the Housing Redevelopment Authority.
Overall, many programs Twin Cities Habitat relies on saw an increase in funding as well as a projected commitment towards multi-year funding. The St. Paul Affordable Housing Trust Fund saw a $2 million investment that will support several important housing programs. This includes Inspiring Communities, which is a fund that works to support potential developers and homebuyers to create affordable homeownership opportunities on city-owned vacant land. Additionally, the City of St. Paul, in partnership with Ramsey County, has committed to investing $74.5 million in American Rescue Plan spending towards affordable housing.
We are excited to see these big investments in vital housing programs. And we look forward to seeing further development in programs that help families experience the transformational power of homeownership.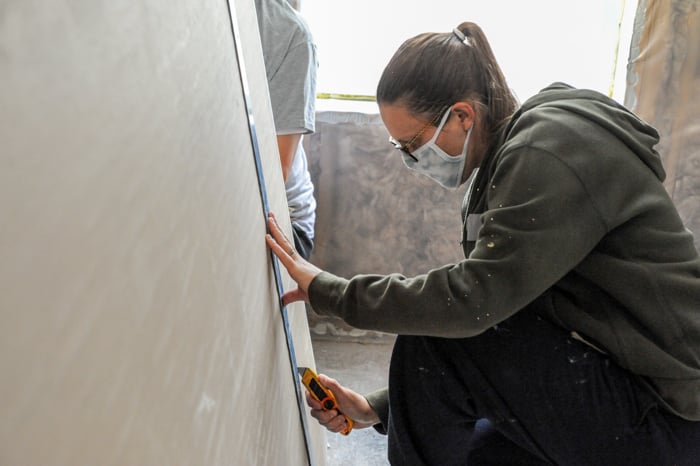 A volunteer works on installing drywall in a home on Maryland Ave in St. Paul. This home was funded in part through the St. Paul Affordable Housing Trust Fund, an important resource for Twin Cities Habitat.
Looking ahead, we're excited to continue our partnership with the cities of St. Paul and Minneapolis to advance affordable homeownership opportunities. The investments we're seeing in 2022 are an important step to make sure all our neighbors have a safe, stable place to call home. With your help, we will continue to advocate for a strategic and thoughtful approach to creating more affordable homeownership.
Sign up for Advocacy Action Alerts to lend your voice for investment in affordable homeownership at the local, state, and federal levels!