Last week, eight state legislators from both parties gathered in Chaska for Twin Cities Habitat for Humanity's third Red Blue Build. The elected officials spent the day volunteering to build affordable homes and learning about the importance of public investments in affordable homeownership.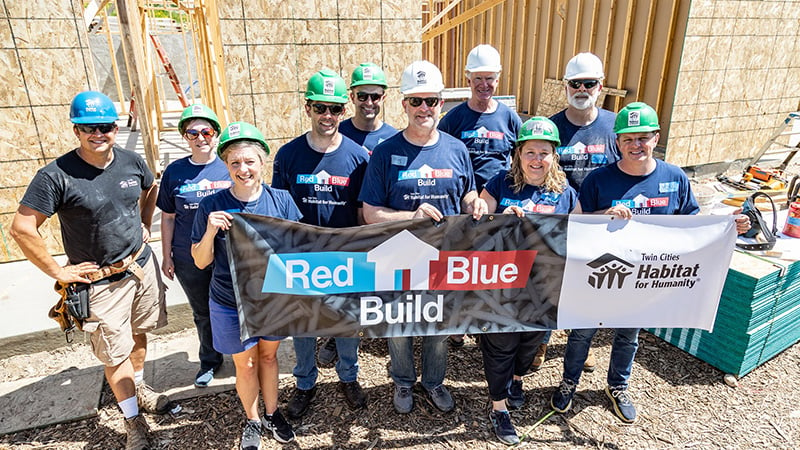 The legislators worked on multiple homes in Chaska, as part of a development of four twin homes (a total of eight homes). The homes are being developed in partnership with Shepherd of the Hill Presbyterian Church in Chaska and Carver County Community Development Agency (CDA).
Some volunteers worked on the interior final touches of two homes—painting, cleaning, and organizing—before new Habitat homeowners move into them this month. Others worked outside to begin framing the new twin home next door.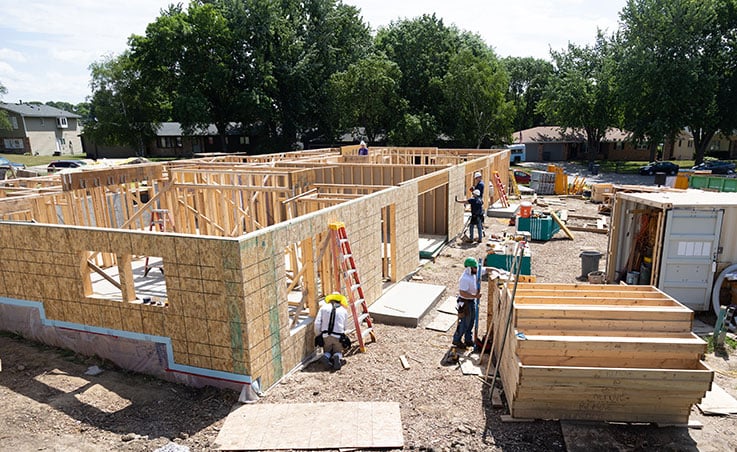 Browse all photos from Red Blue Build 2022.
It all comes back to homeownership
Red Blue Build is all about bringing together state lawmakers to grow support for affordable homeownership. At Twin Cities Habitat, we see every day how a safe, stable home is the foundation for everything. Health outcomes, education, racial equity, economic opportunities, wealth building, quality of life—it all comes back to homeownership.
"Expanding access to affordable homeownership is critically important to every community across our state," said Rep. Michael Howard, co-chair for the build. "Red Blue Build is a great opportunity to learn about Habitat's work, hear the impact for Habitat's clients, and connect with my colleagues across the aisle for a beautiful day of building together."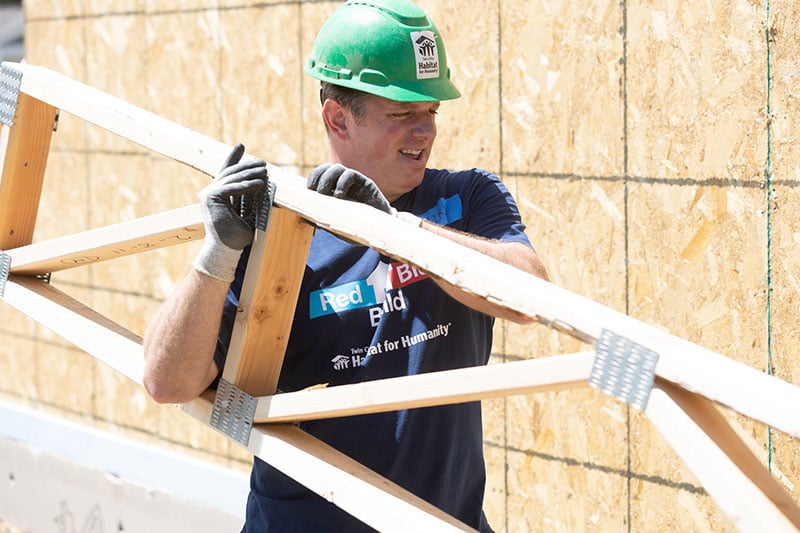 Representative Michael Howard
But our state is facing skyrocketing home prices and a severe shortage of affordable housing options for first-time homebuyers. It's more difficult than ever for low- and moderate-income households to buy a home. On top of the tight housing market, Minnesota has one of the worst racial disparities in homeownership anywhere in the nation.
Twin Cities Habitat for Humanity is pushing to grow the state's investment in affordable housing—and particularly homeownership—to better face these growing challenges.
"It doesn't matter if you're talking to a CEO or a housing activist, everyone says the housing crisis is the top issue we need to address in the state of Minnesota," shared Chris Coleman, President & CEO of Twin Cities Habitat for Humanity, during his lunchtime remarks.
"Yet, we only designate about 1% of our state budget to housing," said Coleman. "We must step up our investments to address the housing crisis and our persistent racial disparities."
Greta Gaetz, Policy & Advocacy Senior Manager, spoke to lawmakers about Habitat's legislative priorities that would expand state investments in homeownership. Each year, Habitat's advocacy elevates three critical components of our work: producing more affordable homeownership opportunities, preserving homes through repairs and foreclosure prevention services, and preparing homebuyers to become successful homeowners. State legislators have a crucial role to play in supporting these priorities.
'A dream come true'
A highlight of the day was hearing from Jamilo, who bought a neighboring Habitat home in August 2021. Jamilo, her husband, and their five children were the first family to move into the new development, which will soon be home to eight families.
"Finally, when I got the key, it was like a dream come true," Jamilo recalled, full of gratitude for the opportunity to own a home.
The sounds of saws and hammers on the new homes are like music to her ears. She knows it means more families will soon experience that same joy and relief.
Almost every day, Jamilo stops by to say hi to all the volunteers and Skip, the Habitat Site Supervisor who worked on her house.
"Thank you to Skip and the volunteers that I see every morning," Jamilo says. "Even if it's winter, summer, it doesn't matter what the weather is. They are here to prepare a home for a family like mine. And I'm really thankful."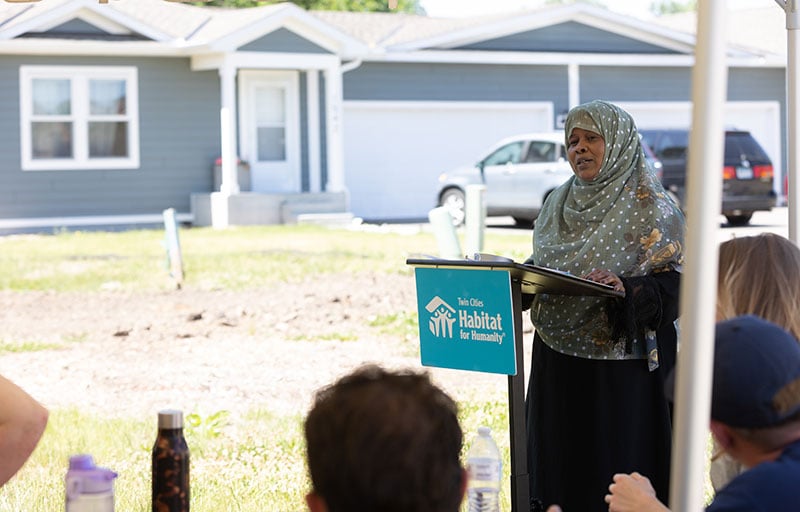 Jamilo speaking to the volunteers during lunch, with her home in the background
Hammering out differences
At the end of the build day, legislators expressed excitement for the chance to connect with their colleagues outside the Capitol. In a deeply divided world, we can all agree on the importance of safe, stable, affordable homes for families and communities.
"I love Habitat for Humanity and its mission of creating more affordable homeownership," said Rep. Kristin Robbins. "I'm grateful for the chance to serve the community and build relationships with my colleagues, and I look forward to rallying more folks to attend Red Blue Build in the future!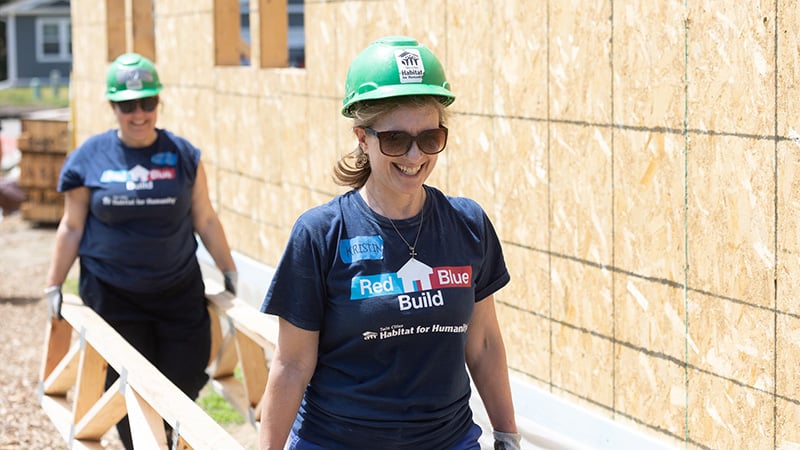 Representative Emma Greenman and Representative Kristin Robbins
Thank you to all the state legislators who participated in this year's Red Blue Build:
Tony Albright, 55B (R)
Kristin Bahner, 34B (DFL)
Andrew Carlson, 50B (DFL)
Julia Coleman, 47 (R)
Emma Greenman, 63B (DFL)
Michael Howard, 50A (DFL, Assistant Majority Leader)
Jim Nash, 47A (R, Assistant Minority Leader)
Kristin Robbins, 34A (R)
Your ongoing advocacy helps Habitat continue to produce and preserve more affordable homeownership opportunities throughout the Twin Cities and prepare more families to become successful homeowners. Sign up for Action Alerts to help us make a big difference for families in our community.