On August 3, eight state legislators from across the Twin Cities gathered to volunteer with Habitat for the second annual Red Blue Build.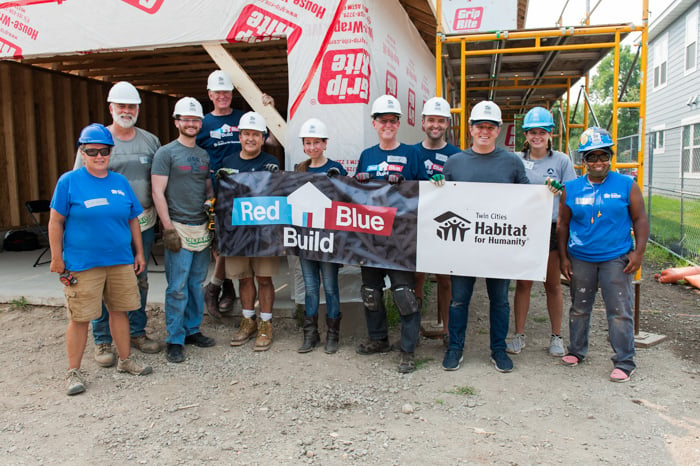 State legislators on site with Twin Cities Habitat staff for Red Blue Build.
The aim of the Red Blue Build is to bring together state lawmakers from both sides of the aisle to work alongside each other toward a shared goal – addressing the mounting affordable housing crisis through building a home. With this spirit of collaboration and teamwork in mind, the legislators spent the day volunteering at our Willow Reserve development in the North End neighborhood of St. Paul. The primary task of the day was wall raising, allowing the group to truly see the tangible impacts of their work.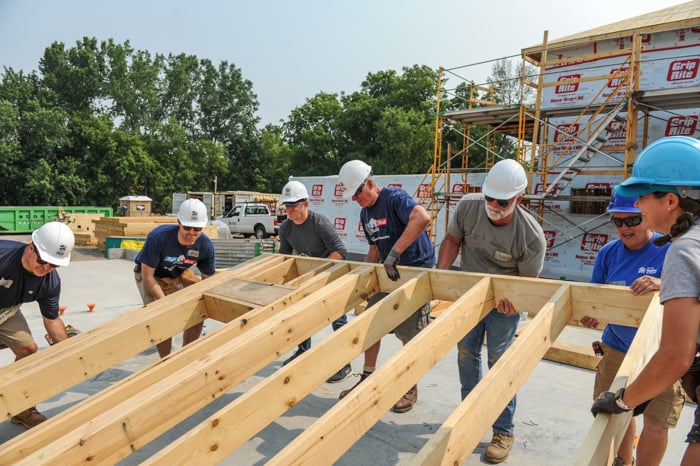 From left to right: Rep. Koznick, Twin Cities Habitat Leadership Council member Jake Loesch, Rep. Howard, President & CEO Chris Coleman, Rep. Albright, Senior Site Supervisor Rhonda Thorson, AmeriCorps member Julie Panek.
Over lunch, the elected officials heard from Twin Cities Habitat President & CEO Chris Coleman, who spoke to the importance of affordable homeownership in improving quality of life and building generational wealth. Chris emphasized that advancing racial equity in homeownership is essential, reminding the legislators that we need to be as intentional in solving our disparities as we were in creating them through past racist policies.
Legislators also heard from Habitat homeowner LeAndra Estis. LeAndra shared her story of the amazing impacts that owning her home has had on her life and the lives of her two daughters. She spoke to the pride she feels in having a place to call her own and the comfort she takes in living in a neighborhood that feels safe. LeAndra explained that, as a homeowner, she has a strong interest in giving back to her community and speaking up for the changes she wants to see. She spoke to the improvements she has seen in her daughters' education and how the stability of homeownership has had a ripple effect on her entire family.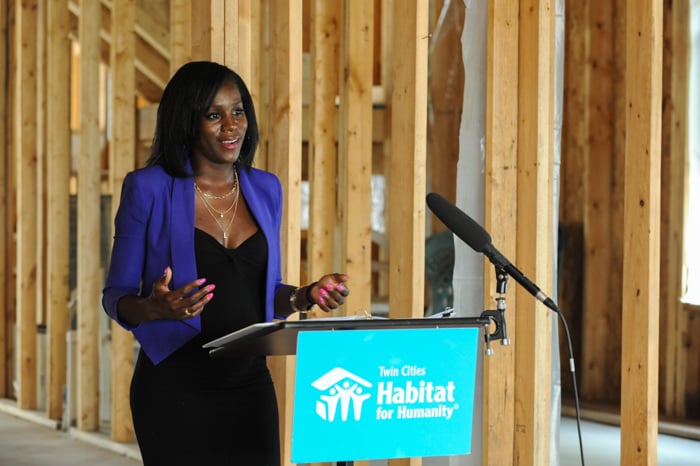 Twin Cities Habitat homeowner LeAndra Estis speaks to the legislators.
To close out the program, Policy & Advocacy Senior Manager Greta Gaetz highlighted the importance of public partnerships in achieving Habitat's mission. By bringing a bipartisan group of people together, we can focus on our common goal to create, preserve, and promote affordable homeownership and advance racial equity in housing. Greta shared the wins for affordable homeownership that we achieved at the state legislature last year as well as opportunities to continue working on solutions.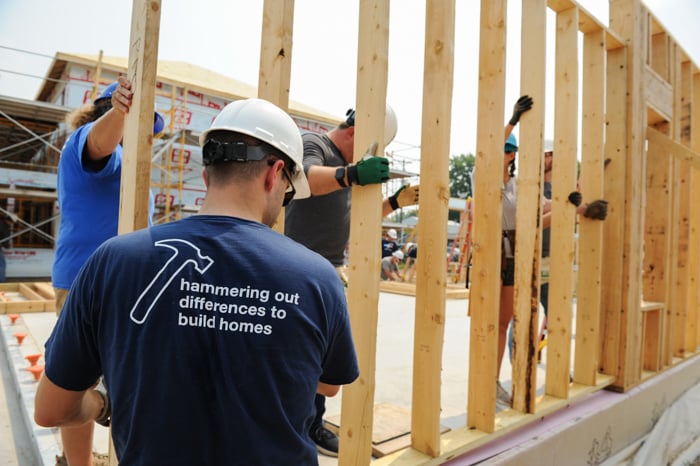 Working together to get a wall in place.
After a successful day of partnering across the aisle, Rep. Tony Albright, 55B (R), shared:
"Homeownership improves lives and helps create safe, stable and thriving communities. Twin Cities Habitat for Humanity is leading the way to address Minnesota's affordable housing crisis, and I'm grateful to have been able to spend the day with my Democratic and Republican colleagues helping bring another affordable home one step closer to completion for a deserving family."
Rep. Mike Howard, 50A (DFL), added:
"We need more affordable housing solutions and investment in communities across our state. Spending a day on-site, hearing directly from Habitat homeowners, and helping build a house with a bipartisan group of legislators was a meaningful experience - I'm thankful to all of my colleagues that joined us for the Red Blue Build and look forward to doing it again!"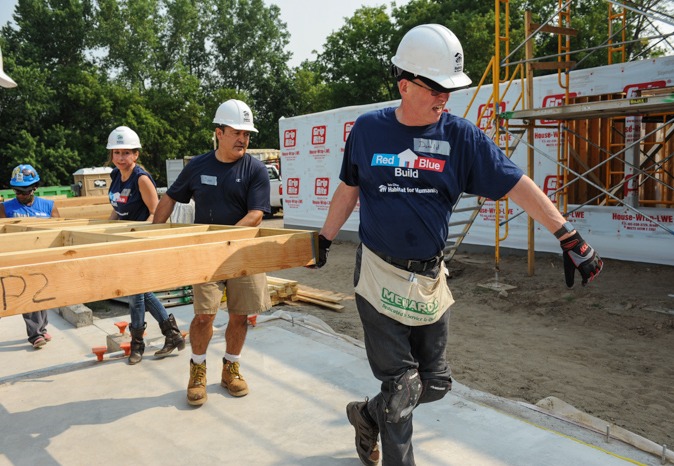 From left to right: Site Supervisor Porcha Shadd, Rep. Berg, Rep. Koznick, Rep. Raleigh.
Thank you to all the state legislators who participated in this year's Red Blue Build: Rep. Tony Albright, 55B (R), Rep. Kristin Bahner, 34B (DFL), Rep. Kaela Berg, 56B (DFL), Rep. Mike Howard, 50A (DFL), Rep. Jon Koznick, 58A (R), Rep. Donald Raleigh, 38A (R), Rep. Peggy Scott, 35B (R), and Rep. Nolan West, 37B (R).
Your ongoing advocacy helps Habitat continue to produce and preserve more affordable homeownership opportunities throughout the Twin Cities and prepare more families to become successful homeowners. Sign up for action alerts to help us make a big difference for families in our community.