Guest Blog written by Rep. Michael Howard, 50A (DFL),
Rep. Kristin Robbins, 34A (R),
and Greta Gaetz, Local/Regional Policy & Advocacy Coordinator.
On June 21, 12 state representatives and senators from across the region gathered together to volunteer with Twin Cities Habitat for the first annual Red Blue Build.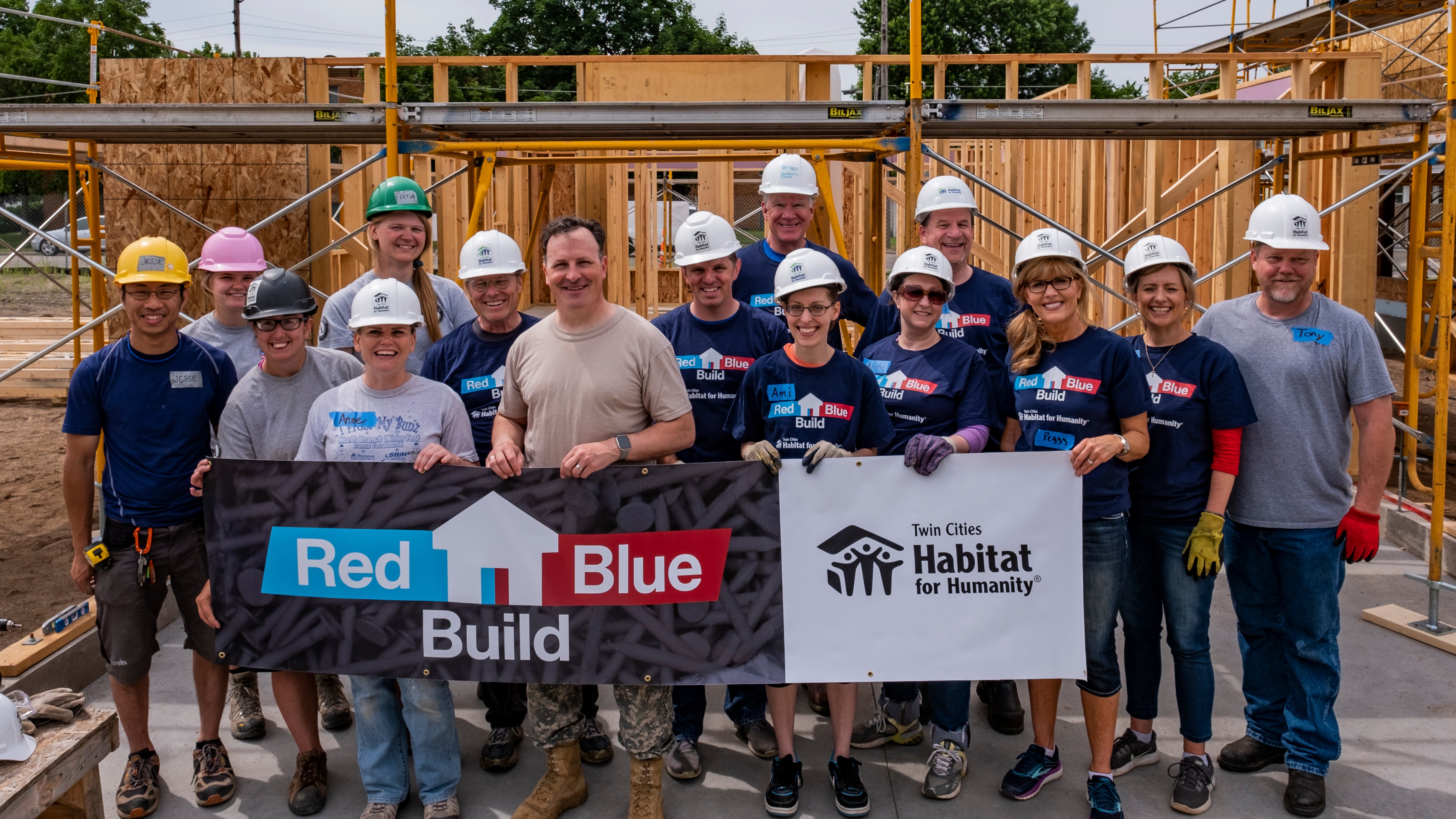 State Legislators with Twin Cities Habitat staff
In the spirit of bipartisan collaboration and teamwork, legislators spent the day on site at our 11-home development near Willow Reserve in the North End neighborhood of St. Paul. After learning about Habitat's programs and services from site supervisor Jesse Dinh, the elected officials went to work hauling lumber and constructing scaffolding to support the three bedroom home.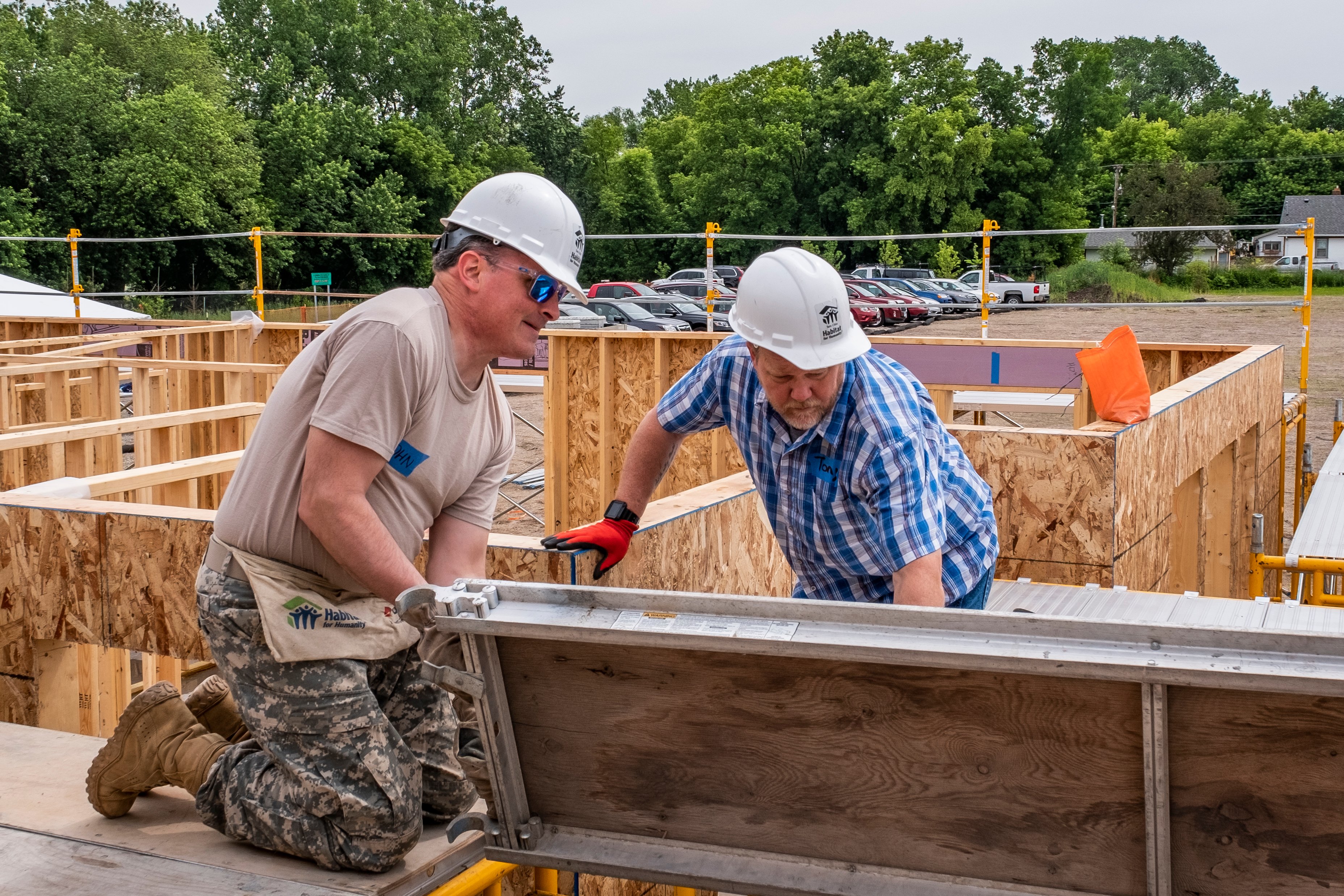 Representative John Lesch, 66B (DFL) and Representative Tony Jurgens, 54B (R)
Over lunch, Twin Cities Habitat President & CEO Chris Coleman shared Habitat's strong history of partnering across the aisle to address the need for affordable homeownership opportunities in our community. We hope to advance this work even further by joining Habitat organizations across the country to launch the Cost of Home, a five year campaign aimed at improving home affordability through coordinated state and local advocacy.
Legislators also heard from longtime Habitat Homeowner Buffy Moore. Buffy described feeling nostalgic and emotional being on a Habitat site for the first time since helping to build her own home in 2003. Since moving in, Buffy's family has experienced stability and success, and one of her sons is training to enter the construction trades in the hope of paying it forward. She explained the value of having a forever home that her children and grandchildren can always rely on to come back to. Buffy's story vividly reminded us how Habitat works to end the affordable housing crisis and how the positive impacts of homeownership ripple into every area of a family's life.
"Habitat for Humanity is leading in the life-changing work that makes the dream of homeownership possible for Minnesota families," said Rep. Michael Howard. "I thoroughly enjoyed the opportunity to join my colleagues on both sides of the aisle to help build a home and a better future for a Minnesota family. Ensuring that Minnesotans have a safe, affordable place to call their home should never be a partisan issue."
Rep. Kristin Robbins added, "It was a rewarding day working with my colleagues and helping serve a family who will now have stability and the opportunity to build wealth through homeownership. I can't wait until next year!"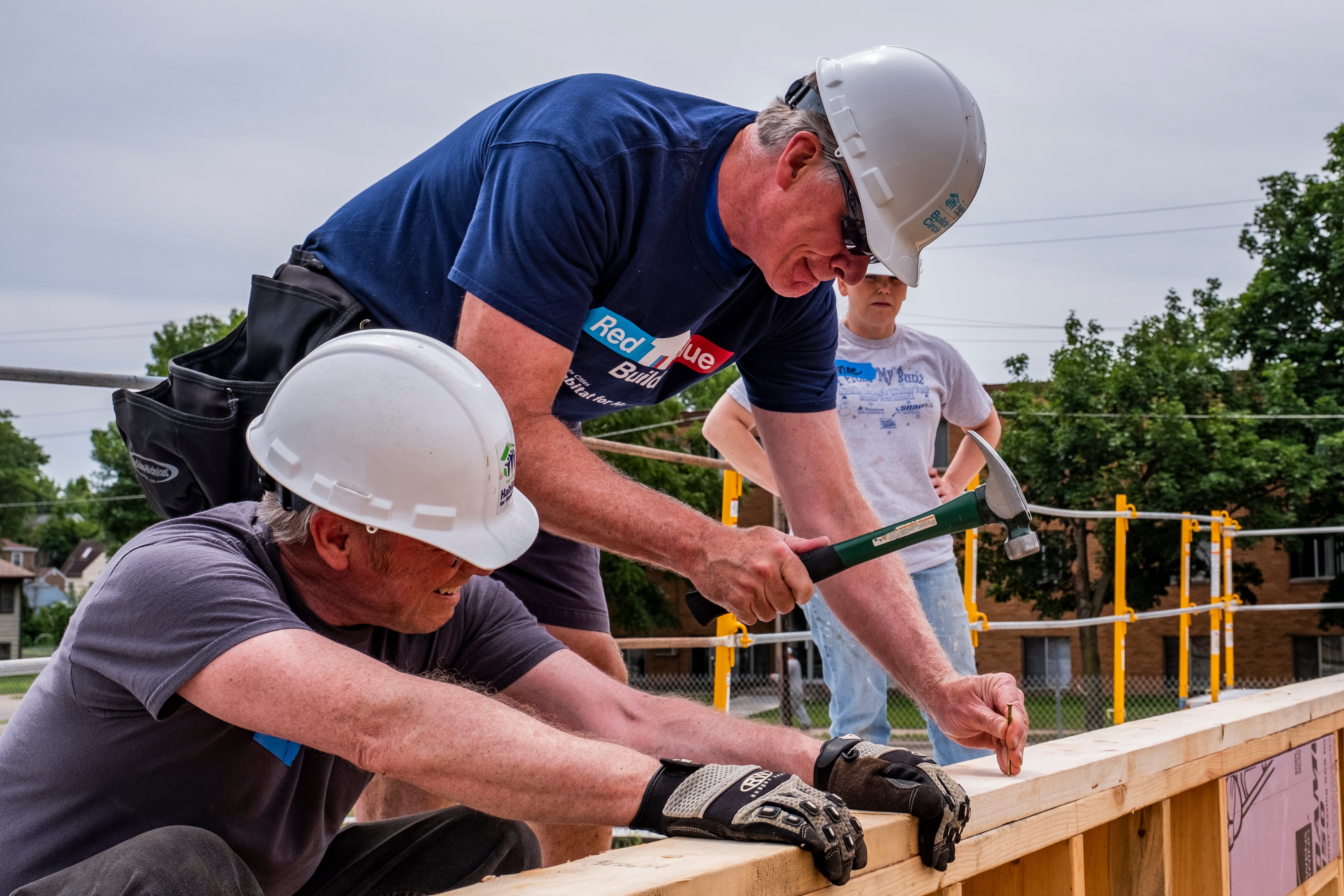 Representative Raymond Dehn, 59B (DFL), Chris Coleman, and Representative Anne Neu 32B (R)
Thank you to all of the state legislators who participated in this year's Red Blue Build, including: Rep. Kristin Bahner, 34B (DFL), Rep. Greg Boe, 47B (R), Rep. Raymond Dehn, 59B (DFL), Sen. Kari Dziedzic, 60 (DFL), Rep. Michael Howard, 50A (DFL), Rep. Tony Jurgens, 54B (R), Rep. John Lesch, 66B (DFL), Rep. Rena Moran, 65A (DFL), Rep. Anne Neu, 32B (R), Rep. Kristin Robbins, 34A (R), Rep. Peggy Scott, 35B (R), and Rep. Ami Wazlawik, 38B (DFL).
Your ongoing service and support helps Habitat bring affordable homeownership opportunities to the Twin Cities region. By working in partnership, we can ensure that more families achieve the foundational success of homeownership across generations.