On Thursday, June 15th, Habitat's Young Professional Network hosted their 5th annual Habitat for Humanity fundraiser, Raise A Glass For Tomorrow.
Approximately 80 supporters gathered at Habitat's office to mingle with other Twin Cities young professionals and enjoy samples from nine local breweries and eateries. The event included games, prizes, and a program on the importance of Habitat's Young Professionals Network (HYPN).
HYPN was established in 2009 to give individuals in their 20's to early 40's the opportunity to support Habitat through volunteerism and deeper engagement. This fantastic group organizes builds, happy hours, and more to provide exceptional networking outlets for future leaders.
Raise A Glass For Tomorrow was a hit with our fantastic tasting sponsors: 56 Brewing, 12 Cider House, Fair State Cooperative, Lake Monster Brewing, Lift Bridge Brewing, Lion Heart Cider, Rita's Italian Ice, Silhouette Bakery & Bistro, and Tin Whiskers Brewing. A big thank you the delicious food truck, Sals Place On The Road, for supporting our mission and leaving guests fuller than they arrived!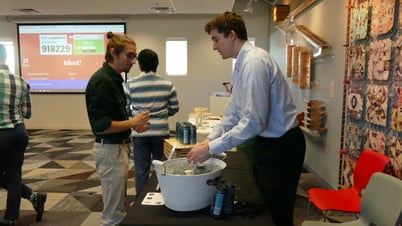 If you are looking for a great way to get involved, whether building homes or organizing events, the Habitat's Young Professional Network would be happy to have you. The HYPN group volunteers at a Habitat build once or twice a month. Please check out HYPN's upcoming builds and events page to get involved. Stay updated with all that HYPN offers by liking our Facebook Page and joining our bi-monthly enewsletter.
Thank you to all who participated in Raise A Glass for Tomorrow and supporting our mission of safe and affordable housing for our Twin Cities community.