By Bethany Clarke
Habitat for Humanity AmeriCorps Member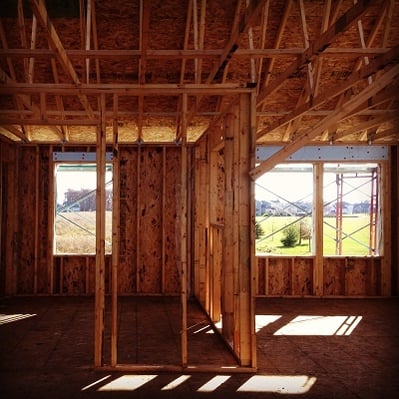 Hammers pounding nails. Upon contact, the mini metal daggers rip through the tender wood studs of the roof trusses to hold the plywood in place on top of them. Each 4x8 foot plywood sheet is laid flush with the one beside it. There must be fifty or so up here right now waiting to be nailed in place by the volunteer crew. By the end of the day, we'll have a roof.
Today's volunteers are from Wells Fargo, the sponsor for this 1,700 square foot rambler in North Minneapolis. Although perhaps I wish I made a banker's salary, I am not one. I'm an AmeriCorps member serving with Habitat for Humanity. I am one month into my term and I've helped build a house that I'm pretty proud of.
A typical day in my life involves driving to site in my truck along the Mississippi River. North doesn't look like a bad neighborhood, although for some it has that reputation due to historically high crime rates and low-income and minority residents. In addition to high poverty rates, a tornado came through the area a few years ago which damaged many houses, spurring foreclosures, and housing abandonment. The lot we're building our new house on was purchased from the city of Minneapolis. The family buying the home comes out to volunteer on site with us. They're a Hmong family of five and they're so excited to see the progress being made on their new home.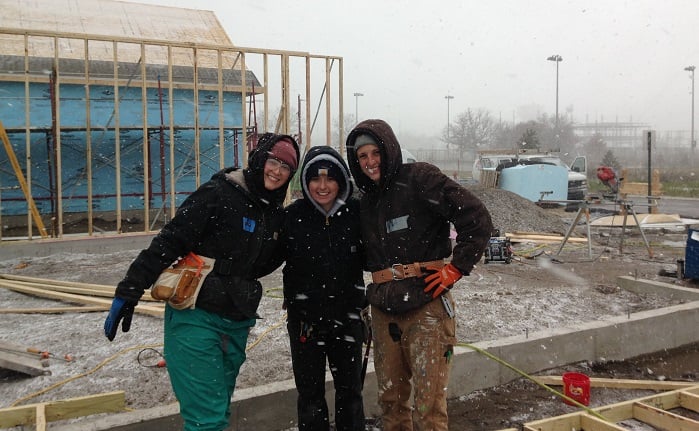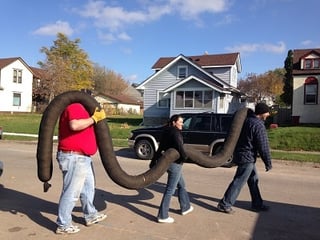 Habitat is an amazing nonprofit organization, because it effectively addresses a legitimate, and even extreme, need for decent and affordable housing in the U.S. and the world. Currently more than 60,000 Minneapolis residents are cost-burdened by their housing.
Even two months prior to the current moment, I never would have told you I'd be in Minneapolis doing construction work forty hours a week as a volunteer. When I first picked up a hammer, I tapped at nails and hit my thumb a bunch of times. When I finally gave one a good hit on the nail head, I jumped because the noise was so loud.
With that, I encourage you to think of what ways you can support stable housing in the Lakes Region and beyond. Anyone can do it! You're guaranteed to gain new skills, conquer fears, and come home with a few bent nails in your pocket as souvenirs.