Here at Habitat, our primary mission is to create and preserve affordable homeownership in the Twin Cities. Our passionate staff and volunteers continue to work day in and day out, in the hopes of helping just one more family. And we always wish we could do more.
Each person who connects with and supports Habitat's mission has a different motivation. For some, it may be giving back to the community. For others, it may be their drive to make a difference in the lives of local families. Whatever the motivation, it is always incredibly moving to hear about the impact of Habitat's work in the words of the families that are served by our programs and services.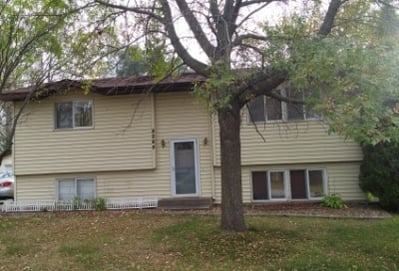 A few weeks ago, we received a letter from Sophie, a single mother living in Cottage Grove with her three children. Her family had recently received help from the A Brush with Kindness home repair program in making critical repairs to the roof of their home. We asked for Sophie's permission to share her letter, to which she responded, "Of course! Anything for Habitat!" Here is her story, in her own words:
I came to the U.S. in 1993 as a refugee, due to the civil war in Congo that had been going on for more than twenty years. My ex-husband and I came to the U.S. hoping for a better life and to start a family of our own. We have three kids, two girls and one boy. We managed to buy a house in 2006 to give our kids a comfortable place to grow. Three years ago, we got a divorce. I was in school, taking generals for the nursing program, and I managed to continue to pay for the mortgage and to go to school. On the other hand, my house needed a lot of repairs and I could not afford to fix them, since I wasn't working as much due to my school workload. My co-worker and I were talking about how life can be so difficult sometimes, and I explained my situation to her. She suggested that I called 211 to see if I could qualify for any programs. I called and was transferred to "A Brush with Kindness". I left a message for Kelly and she called me back the next day. She asked me some questions about my life and how many kids I had and my income. She told me that she would send me the applications. Three days after that phone call, I received the application and I started the process. Mike came and looked at my house and said that I might be able to qualify. There was mold all over the house due to damaged shingles. It was making the kids and I sick. If it was not for "A Brush with Kindness", I would have lost my house because of not being able to pay for the shingles. They are doing an amazing job. To me, it's God that sent them to me. My children and I are so grateful for the help that we got from "A Brush with Kindness."
If you want to support Habitat's mission and help more families like Sophie's, please consider making a donation or signing up to volunteer!