It has taken nearly ten years of hard work and determination for the Millington Family, but they finally saw their dream come to life in early June with the opening of Madison's Place. Madison's Place is the first all-inclusive playground in the East Metro; a playground where children of all ages and all abilities are able to play together.
Madison's Place was inspired by the Millington's daughter Madison, who was born in 2002. It was clear shortly after Madison was born that something wasn't right. Madison was diagnosed with Spinal Muscular Atrophy (SMA), a disease that caused Madison's spine to deteriorate and eventually made it impossible for her to move her arms, legs and head. Dana, Madison's mom, would take Madison and her 2 siblings to playgrounds, but Madison's wheelchair couldn't roll in the sand, and she couldn't use any of the playground equipment. Madison passed away in 2004 at age 2.
After Madison passed away Dana saw a story on a morning television show about an accessible playground in California named after a young boy who also died of Spinal Atrophy. Dana decided this was exactly what she wanted to do to honor Madison, so that other children with disabilities would not have to sit on the sidelines and just watch other children play like Madison had to. And with that, the dream of Madison's Place was born.
In order to build Madison's Place, the Millington's were tasked with raising $900,000, which they did through multiple garage sales, lemonade stands, American Idol and themed parties, countless other fundraisers, and finally just sharing their inspiring story with anyone that would listen.
After raising the huge amount of money, Twin Cities Habitat helped organize volunteers in the fall of 2015 to put the playground together. This type of build was a new project for Habitat, but after hearing the story of Madison, we were happy to help in any way we could.
The 16,000 square-foot park is wheelchair accessible, has playground equipment with braille, a rubber sur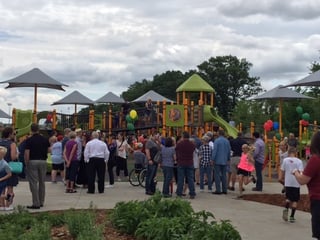 face, and even has playground equipment that will help children with their physical therapy in disguise. The colors picked for the playground equipment were chosen by children staying at the University of Minnesota's children's hospital. Woodbury is currently a finalist for the All American
City Award, due in part to Madison's Place.
The grand opening of Madison's Place was celebrated on June 4, 2016. Nearly 500 people came out to celebrate. Families of all abilities are now able to play together and feel welcome. We encourage you to visit the accessible playground at the Bielenberg Sport Center in Woodbury—it's quite an amazing place!