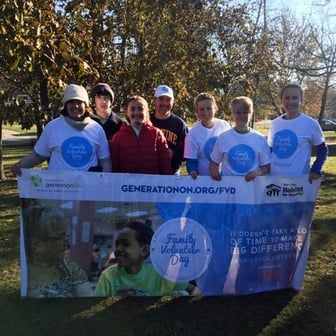 The weekend before Thanksgiving, thousands of families nationwide participated in Family Volunteer Day, completing volunteer projects in their communities. Family Volunteer Day is presented each year by The Walt Disney Company and supported by GenerationOn, the youth division of Points of Light.
In honor of the day, local families joined Twin Cities Habitat for Humanity to complete exterior chore services for older homeowners. These were two of the 10 projects completed this fall through our Age in Place (now called Age Well at Home TM ). Chore Services pilot. Age in Place is a new program at Twin Cities Habitat. Its top goal is to help older low-income homeowners safely stay in the homes they own and love, a desire shared by 90% of the growing Twin Cities senior population.
On November 18, families helped two senior homeowners in Roseville complete much-needed exterior chores. They spent much of the day raking leaves and cleaning gutters. At one of the projects, the homeowner talked about the daunting size of her yard and her discomfort with using a ladder to clean her gutters each season. She stressed that she had grown nervous about getting up on that ladder, and referenced pleas from her friends that she find someone to help.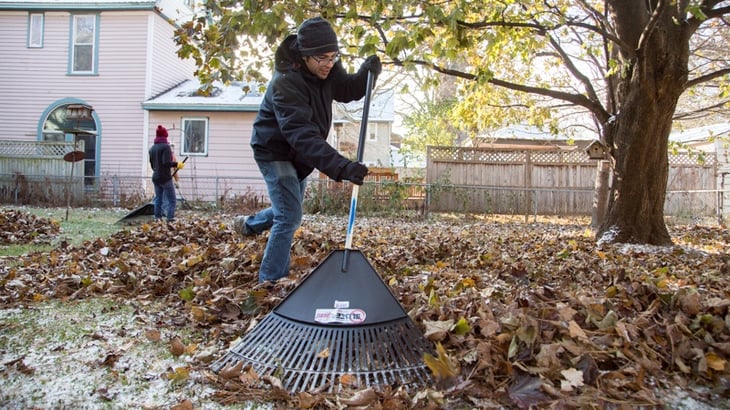 Twin Cities Habitat's Age in Place program was the perfect answer. Volunteers could safely and confidently climb up to complete the chore and work in a group to finish raking in a fraction of the time. Simple chore assistance like this helps homeowners age in place, so they can continue to feel safe and comfortable in their homes.
During lunch, volunteers discussed why they enjoyed volunteering as a family. Some volunteer together regularly, getting involved at other organizations like Feed My Starving Children and Second Harvest Heartland. Others were volunteering together for the first time. They all agreed that volunteering as a family instills in their children a value of community service. They discussed that kids who volunteer early learn to be more compassionate and continue community involvement later in life.
While fall raking and yard clean-up projects are complete for this year, we will need volunteers again soon! As a continuation of our Age in Place Chore Services pilot, we'll coordinate 10 additional projects this spring. It's a great opportunity for youth, families, faith, or community groups – volunteers must be 10 or older. If you'd like to be notified when Chore Services volunteer opportunities become available, please enter your name and email address in the form below.
Sign up here to be notified when Age in Place Chore Services opportunities become available